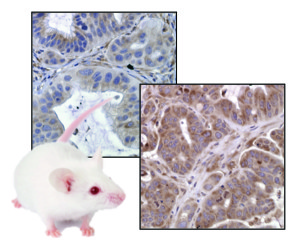 Endoplasmic Reticulum (ER) stress response proteins are produced by cells undergoing periods of stress and facilitate the folding of proteins. Interestingly, ER stress response proteins are also overexpressed in cancer cells, and are often associated with high resistance to chemotherapy and poor prognosis. Our data show that drug resistant PDACs are under constant ER stress, most likely due to the increased inflammatory response that is a major hallmark of PDAC. Our results show that the increased expression of GRP78, the master regulator of the ER stress response, is critical for chemoresistance in PDAC. We have shown that knockdown of GRP78 increases chemotherapy sensitivity in PDAC. Moreover, we believe that GRP78 expression blocks the mechanism of action of several treatment regimens that should be capable of inducing apoptosis in cancer cells.   We are exploring the molecular mechanism through which GRP78 regulates chemoresistance and identifying strategies to overcome the lack of efficacy of current standard-of-care treatments by using inhibitors of the ER stress response.
Related Publications
Gifford J and Hill R. GRP78 Influences Chemoresistance and Prognosis in Cancer. Current Drug Targets 2017 Jun Volume: 18 (E-pub Abstract Ahead of Print) DOI: 10.2174/1389450118666170615100918
Gifford J, Huang W, Zeleniak A, Hindoyan A, Wu H, Donahue T, and Hill R. Expression Of GRP78, Master Regulator Of The Unfolded Protein Response, Increases Chemoresistance In Pancreatic Ductal Adenocarcinoma. Molecular Cancer Therapeutics 2016 May;15(5):1043-52. doi: 10.1158/1535-7163.MCT-15-0774. Epub 2016 Mar 3.
Hill R, Li Y, Tran L, Garcia A, Hargan J, Kim C, Wang Y, Dry S, Donahue T, Herschman H, and Wu H. Delayed progression of pancreatic cancer development through cell-intrinsic activity of Cox-2.  Molecular Cancer Therapeutics 2012 Oct11(10):2127-2137. (Cover)