Guest post by

Kelly

 Heilman, Ph.D. Candidate in Biological Sciences
Spending time outside running, hiking, and generally exploring has always been my preferred form of stress relief. When I moved to South Bend, this was no different. Could South Bend be a good place for an outdoor adventurer, you ask? While we don't have mountains to run up and ski down, I discovered an active running community and several unique recreation opportunities in the area. From running, to backpacking, and exploring the region's outdoor resources, I'm listing my favorite opportunities that I wish I had known about earlier in my Grad Life here at Notre Dame.
If you don't see your adventure sport of choice featured below—don't fret! Some friends in my department & I co-founded a graduate jogging group (see JOGS below) because we realized there were no social running groups that currently served the needs of graduate students. So, if you would like to see a new group on campus, chances are you are not alone! Get out there and have an adventure!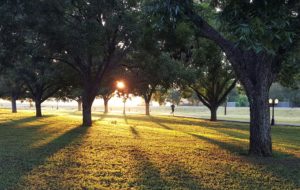 Organized Running & Adventure Groups:
JOGS (Jogging Organization for Graduate Students): A new SAO approved club that for ND Graduate Students interested in jogging! We host at least 2 runs each week (Runs this semester are on Tuesday and Thursday at 6pm), and our goal is to create a fun social network of Joggers/runners on campus. Email jogs@nd.edu for more information!
Fleet Feet Pub Runs: Every Wednesday evening Fleet Feet hosts a 5k pub/social run around ND campus, leaving from O'Rourkes on Eddy Street. You get to meet a lot of different runners (who run a lot of different paces) & several people often hang around O'Rourkes afterwards.
South Bend Adventure Club: Informal adventure group in the region whose members organize hikes, backpacking trips, kayak outings, and much more. I have organized some ski events & a Backpacking trip in the Ozarks with this group. The group's Facebook page is how events are organized.
Local Parks to Explore:
St. Patrick's County Park: Local favorite with some fun running trails, as well as many community events. They also offer cross-country skiing (including rentals) in the winter!
Potato Creek State Park: State park in Indiana with hiking & running trails, mountain biking, and a small lake. 
Warren Dunes & Grand Mere State Parks: Two different state parks in MI with sand dunes you can hike up, access to Lake Michigan, and some trails through the woods.
Get outside & adventuring!