In this guest post, Mandy Havert, Digital Research and Outreach Librarian, encourages graduate students to take advantage of the new spaces at the Hesburgh Library.
Four newly renovated spaces have opened in Hesburgh Library since April 2018. What's there and how do you use them?
First and second floor collaboration hubs opened in the northwest corner of Hesburgh Library and the Navari Family Center for Digital Scholarship and a portion of our Technology Row opened on the second floor, east side.
Reimagined for multiple uses, you'll find everything from group study and consultation spaces to multimedia classrooms and a data visualization lab. Come visit and see what is on offer.
Current floor maps available at: https://library.nd.edu/hesburgh-floor-maps

Room reservation status monitors display the availability of rooms that may be reserved for classes, meetings or group study. The information displayed is one-directional and does not update from the monitor itself.


A tip to share:

Those who use the rooms on a walk-in basis need to be prepared to move for those who have booked or scheduled the room via the online booking calendar system.
First Floor Collaboration Hub
Designed with our campus partners in mind, the spaces are prioritized for work with academic partners on campus, like the University Writing Center, which hosts Sunday-Thursday writing consultations in rooms 130 and 132.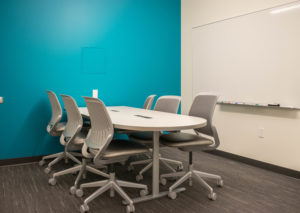 The first floor Collaboration Hub includes work tables and soft seating for individual and group study. Along the south wall, we shelve the materials for the Extensive Reading classes, materials used in foreign language instruction. Additionally: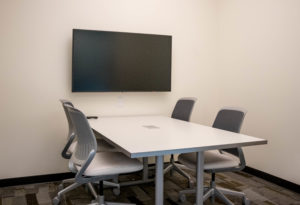 Second Floor Collaboration Hub
The space on the second floor, northwest corner of Hesburgh Library is another collaborative space that is home to instruction rooms, group study rooms available for walk-in use, study nooks, and videoconferencing rooms. The space is also outfitted with soft seating and open carrel-style tables for your individual or group study needs. To serve student study and research needs, the classrooms are left open for walk-in access. While this walk-in use is encouraged, scheduled use of the rooms for instruction or meetings take priority. You may be asked to leave the space when the rooms are booked.
A featured space in the second floor collaboration hub are the study nooks. These open but partitioned spaces are available on a first-come, first-served basis and are intended for groups of more than one person. Frosted glass walls function as whiteboard space.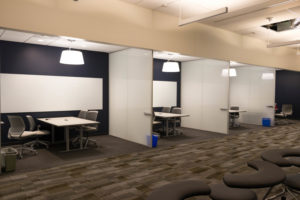 Navari Family Center for Digital Scholarship
Formerly located on the first floor of Hesburgh Library, the Navari Family Center for Digital Scholarship has moved and expanded in its new home on the northeast corner of the second floor of the building. The space includes familiar features, such as a dual-monitor computer lab, large monitors in the rooms and public areas, and research consultations and workshops with experts on digital scholarship tools and techniques, such as mapping, data analysis, and text mining and analysis. One of the classrooms now offers the ability to capture lectures, and a new data visualization lab has been added. The 3D printing, large format printing, new Legacy Technology Collection, and equipment lending services are consolidated into one Specialty Technology Room. Please see the Technology Lending link on library.nd.edu to learn about equipment you may borrow for your work here at the University. See space layout and room location information at https://library.nd.edu/floor/hesburgh-2nd-floor. Questions? Email cds@nd.edu.
Technology Row
Technology row is a workspace on the second floor that will open in two phases. Phase 1 is already open and provides workstations for use by members of the university community. Here, you can get work done and use other services located nearby.
The OIT Outpost Desk, formerly located by the Ask Us Desk on first floor has moved to the second floor. This dedicated service desk is located across from the grand staircase to serve you with your OIT Helpdesk needs, including diagnosing software installation, network and printing problems.
A new service called Media Corps has launched to help students in classes with multimedia assignments. The Media Corps Coaches are trained to offer peer-to-peer help with capturing, editing and producing media projects.
Contact Mandy Havert at asklib@nd.edu for more information..
Are you enjoying the new spaces in the Hesburgh Library? What is your favorite place to work or study on campus? Leave a comment below!