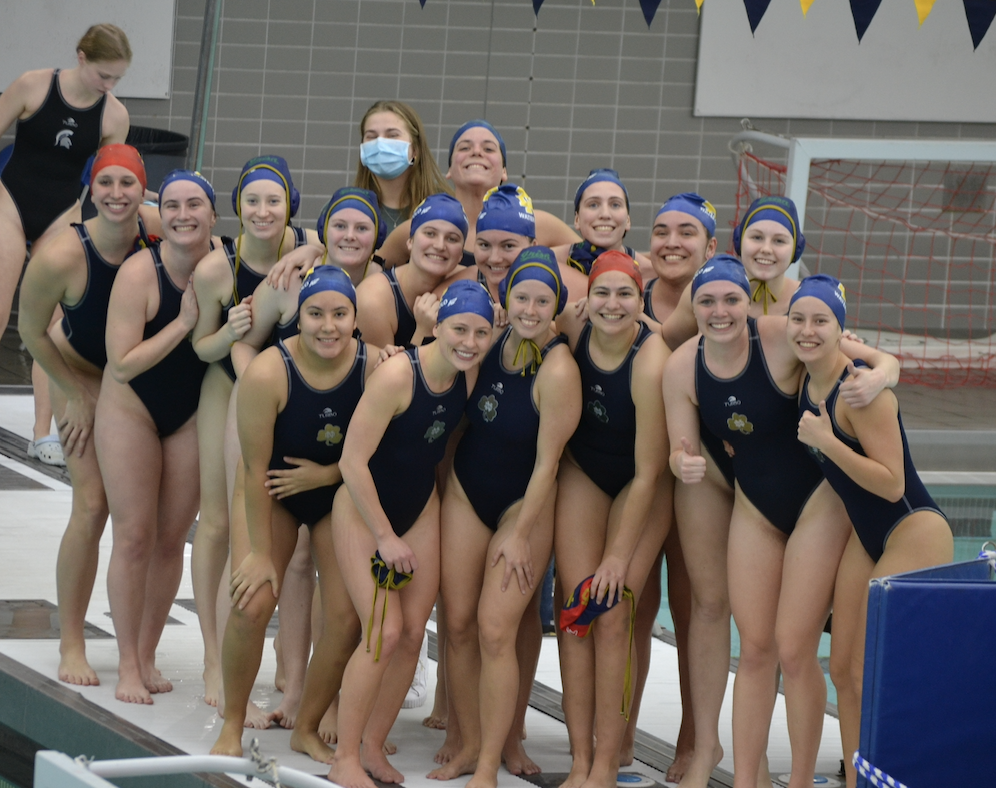 Our program began in the spring of 1995 when Mary Sundy, Bridgid Fitzpatrick and Katie McCoyd approached Brian Coughlin, then the captain of the men's water polo team, asking for their own game. A handful of women had played with the men for a few years, but there had never been enough to form a separate team. Coughlin made them a deal – he would get them a game if they could get nine women at practice every night. For three weeks after that, fourteen women consistently attended practices. True to his promise, Coughlin called a fellow captain at Bowling Green State University and they set up a tournament between four Midwestern teams. The original squad, comprised of nine women from Notre Dame and one from Saint Mary's, went to the tournament and proved to be far better than the other women's teams, having practiced with guys for so long. In 1996, the Notre Dame Women's Water Polo team was one of the original members of what would eventually become the Midwestern division of the Collegiate Water Polo Association (CWPA). Since 1995, the program has swelled from fourteen to twenty-five players. Our program has remained in the top 12 nationally ranked club teams since 2001, ranking as high as #1. For the past 7 years, Notre Dame has seen at least two players earn a First Team All-Midwest Conference spot and at least one named to the Second Team All-Midwest Conference. (Source: The Observer)
While we train and compete at a high level, we also welcome any students who have never played water polo before. Since our season is in the spring, we use the fall semester to review water polo fundamentals, to condition, and to teach team strategy to both experienced and inexperienced players. We usually compete in 1 or 2 tournaments toward the end of the semester to prepare for the spring. We begin competing in tournaments in January, traveling around the Midwest to compete against nationally ranked club teams and Division III varsity teams. In March, we spend ten days traveling up and down the coast of California on our annual Spring Break training trip. For the past several years we have participated in the CWPA National Competition in April. If you are a current Notre Dame, Saint Mary's, or Holy Cross student and are interested in playing club water polo, please contact one of the captains from the contact us page.
We are always glad to meet and discuss our program with any incoming or potential incoming Notre Dame students. If you are a current high school student considering Notre Dame and interested in playing collegiate water polo, please contact one of the captains from the contact us page. The tradition here in South Bend is second to none, and we're always looking for teammates who want to help us continue building.