I have been lucky to travel extensively within and beyond Jerusalem this summer. While most of my travels have been on school trips with my peers from my Hebrew class, for a time I was lucky to have my favorite travel partner by my side, my husband Ryan. While we are supposed to be avoiding English speakers as much as possible in order to stay immersed in our language of study, he is one 'Anglophone' worth making an exception for! Here are a few places Ryan and I visited, which I can now confirm are much more fun to experience "בזוגות"(bezugot)– Hebrew for 'in pairs' or 'with a partner'. 
First an overview of places we toured on the south side…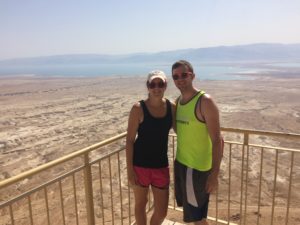 Hike up the ancient fortress of "

מצדה", 

Masada
Masada is a desert palace built by Herod the Great sometime around 37-31 BCE. It was one of many palaces he constructed for himself; this one was of course meant as a refuge if he was ever threatened. (He was a very paranoid man, even killing his own children for fear that they would take his crown.) Later, a group of radical Sicarii Jews fortified themselves in this place as a fortress against the Roman army. After a long siege, rather than be taken as prisoners and slaves of the Romans, it is said that these Jews chose to commit mass suicide instead. This story has been incorporated into modern Zionist national lore. As one Jewish young man on a birthright trip explained to his peers (and us) as we waited for the trolley to take us back down the mountain, this story symbolizes that Jews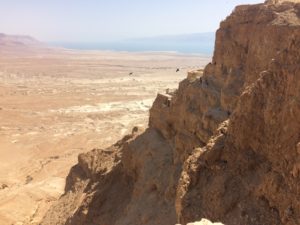 will always stand up for themselves and fight, even to the death, for the right to live here "freely". Like all nationalist tales, it is not clear whether such stories can contribute to peace with minorities in the region.
2. Swim and 'Mud' in the Dead Sea
Our next adventure was to the Dead Sea,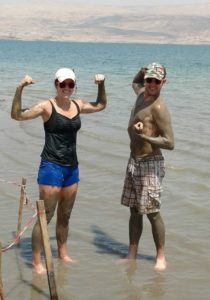 the lowest place on earth, snuggly surrounded by the Negev Desert on one side and the mountains of Jordan on the other. It is best to visit the Dead Sea in the winter as opposed to the summer months; however, while the locals are smart enough to avoid the heat, this does not stop plenty of foreign tourists risking the sun and temperatures over 110 degrees Fahrenheit. The water was so warm it felt like bathwater, and we only survived in it for about 30 minutes. However, the mud was still great–best free exfoliant a girl can get! And of course, there is nothing quite like floating effortlessly in the Dead Sea.
3. Hike and Cool Off in the Ein Gedi Springs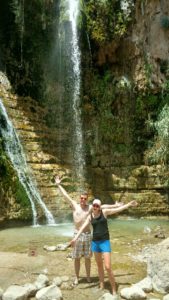 It seems impossible that anything could be green in the middle of the vast, endless Negev Desert. However, the Ein Gedi is an ancient spring that has kept the Bedouin tribes of this region able to dwell and survive here for hundreds of years. The Israeli state control of this spring for tourism has, of course, caused problems for these tribes. Keeping in mind these politics, we hiked a path cutting through the mountainsides, stopping to cool off by wading in waterfalls along the path. The water felt unbelievably refreshing in the summer heat!
We also took time to explore the northern region of the country…
4. A Boat Ride and Surprise Swim in the Sea of Galilee
One of my favorite experiences this summer was riding a boat designed to look like wooden vessels from the period when Jesus lived. Because the boat was electric, it was very quiet as we sailed across the Sea of Galilee where Jesus walked on water. The boat driver said that storms can come and go quite suddenly on the water when the wind shifts, and thus it makes sense that the New Testament says that Jesus calmed these waters. Since it was another hot summer day here, the boat driver told us that we could sit over the edge of the boat to dip our feet in–or even jump in if we felt inclined! It was too hard to pass up such an experience, so in we went with our clothes on! Again, it takes the right kind of travel companion to jump overboard with you into the Sea of Galilee. I was glad to be traveling 'with my partner'- bezugot!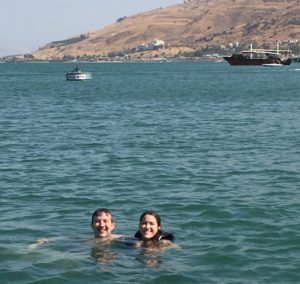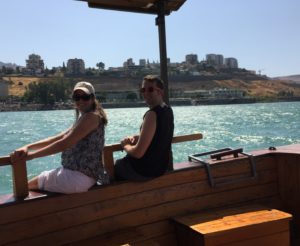 5. The Mount of Beatitudes
As Christians, Ryan and I found visiting sites from the time of Jesus to be quite a special experience here. I was lucky to visit the Church of the Nativity in Bethlehem where Jesus was born as well as the Church of Annunciation in Nazareth where it is said Mary lived. These two churches rest on spots with ruins from the the time of Jesus making them 'probable' for the actual locations of these events. There are also other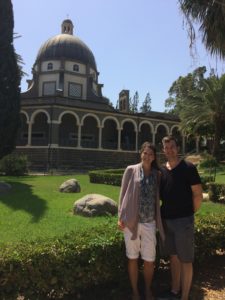 modern churches dedicated to aspects of Jesus's ministry that constitute only 'possible' locations for where events in Jesus's life might have taken place. One such church is the Church of the Beatitudes built by the Roman Catholic Church between 1936-1938 in honor of Jesus's teaching of the 'Sermon on the Mount'. While it is unclear whether this is the exact hill where Jesus would have delivered this sermon, it is said that Christians have paid homage to this area since at least the 4th century.Whether it is this hill or the next one over, the church and grounds are really beautiful. You cannot help but reflect on Jesus's words as you look out onto the hills and the Sea of Galilee.
As I have studied this region and the different aspects of the conflict here, I have done a lot of self-reflection on what my role as an outsider (white middle-class American Protestant women) can and should be here. Because of my American passport, I have had the privilege to travel in and out of both Israel and the West Bank (something that both Israelis and Palestinians are limited in, to different extents), and to listen to many stories of the diverse experiences of people who live here. As I think about the power I have to 'access' these places, I wonder how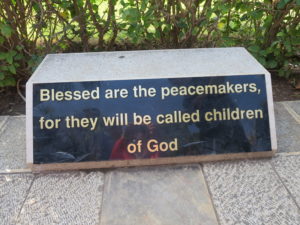 I can best use my power and privilege for good (and what the 'good' here even means). A few words have encouraged me along the way this summer: "Blessed are the peacemakers, for they shall be called children of God".