This week was filled with plenty of adventure, including a second exam!
Monday, I walked around my neighborhood. San Lorenzo is pretty particular. Just outside the Aurelian walls and east of Termini, it is known for being a bit duro, or hard: the streets and buildings look rough with graffiti everywhere and beer bottles in the piazze. This neighborhood, however, is one of the more lively quarters, especially since it hosts many of Rome's #1 university buildings. Because La Sapienza is so nearby, there are plenty of bars and restaurants in the area catered to suit poor college student bank accounts. It is also located near the Esquilino neighborhood, the hub of stranieri, or foreigners, in Rome. For this, there are many options in terms of Asian markets to shop for groceries.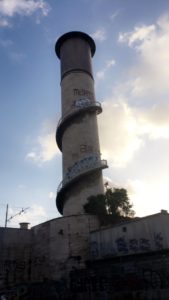 Then on Tuesday following class, I walked with some of my classmates down Via dei Fori Imperiali to the Colosseum and Arch of Constantine. Following that, we walked into Monti, one of the more hip neighborhoods in Rome, to grab lunch at a fast food pasta place called Pasta Imperiale (yes, they exist and they're fabulous) and then a gelato afterwards at a well known gelateria in Monti called Fatamorgana. That evening, I had prepared a non-Italian dinner for myself. The day before, I had marinated a piece of salmon. Then I sliced it to eat with rice, cucumber, seaweed, and egg. Later that evening, I had planned to meet again with Flora, my Italian friend.  As I waited for her, I sat on Via dei Fori Imperiali. There was a group playing live music and many people enjoying the unnaturally cool evening. It was so pleasant to sit within the ancient city in a contemporary context. We finally met up and then went together to a bar just near Colle Oppio. Hidden behind what seemed like ruined walls was an Indian themed bar with accents of Middle Eastern and Saharan African accents. There we watched a fire dancer perform and a live band playing themed music.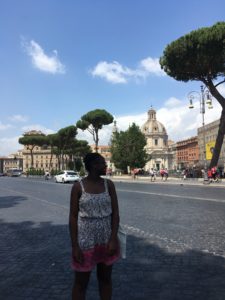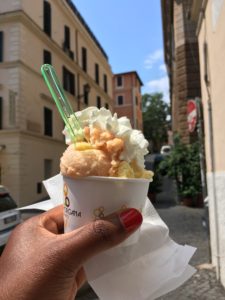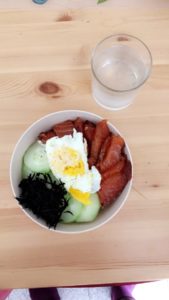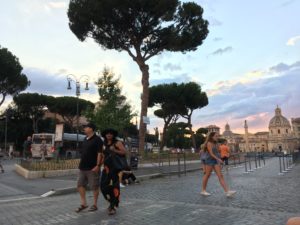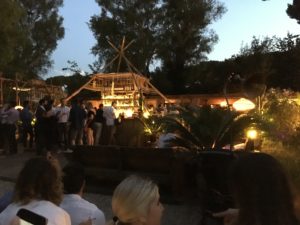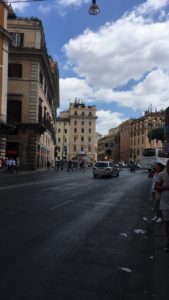 Wednesday after class, I had lunch with Huda and then we went on a mission to find a good panna cotta, which literally translates to cooked cream. We walked from Esquilino, where we'd eaten, to San Giovanni in a bar/pasticceria called Pompi. There, we found the custard dessert with the options of different toppings. I ordered frutti di bosco, or forest fruit topping.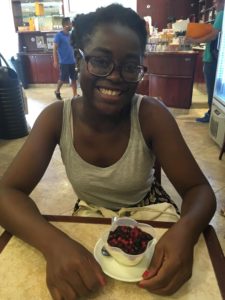 After deciding that Saturday I had wanted to go to Nemi, a small borgo famous for its fragoline, I didn't end up making it. I took the intercity bus from the station intending to make a change in Genzano. The only problem was the bus only stops if you request, and it's almost impossible to know where the stops are. After missing my point of change, I ended up arriving an hour outside of my destination. It was around 2:00 in the afternoon, I hadn't eaten since breakfast, and I wasn't going to make it in time to catch lunch in Nemi. I found the train station, but a bus ticket back to Rome, and got back within an hour and a half. Luckily, the tickets had only cost about 2,00 euro each so it was a cheap mistake to make.
Sunday, however, was by far the highlight of my week. Huda and I had made plans to go to one of the beaches near Rome. Since I had been to Sperlonga the year before, and many Italians rate it amongst the best near Rome, we headed there for our seaside adventure. We arrived at the train station and took a bus from the station to the city. Once we arrived, we each had a crema caffe', essentially a coffee frosty, to cool us down from the heat. As we walked the main via, we started to go down to each beach to see if we could rent an ombrellone and two lettini. The way Italian beaches work is this: restaurants and bars will own a plot of land which usually includes a strip of waterfront. This way, they can make money from renting umbrellas and beds to beachgoers. The first beach we asked was al completo, or full. We walked on to the next, also full. We checked each bar and restaurant: tutti al completo. We decided to backtrack to ask the restaurants we had passed earlier, and thankfully, someone had cancelled their reservation, leaving exactly one ombrellone and two lettini for Huda and I.