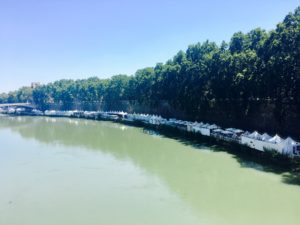 Week 2 was full of fun.
One of my classmates, Tegan, was traveling around Europe with her friend, and it happened that they passed by Rome for a few days. Tuesday afternoon following class, a few of my classmates and I met her and her friend, Audrey, for lunch at a mom and pop restaurant near Piazza Navona. We ate a typical Roman pasta, carbonara, and then went to Tazza D'Oro, a famous caffe', after lunch. There we each ordered granita caffe'. Granite are very famous all over Italy (specifically in Sicily), and are essentially fresh slushies. They can be ordered in flavors like limone, mandorle, and caffe'. Ours were made with a layer of fresh whipped cream, or panna, the coffee flavored ice chips, and then another topping of whipped cream.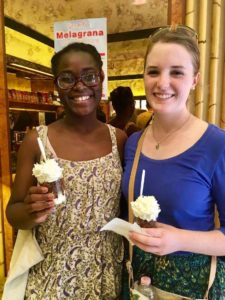 Wednesday I had my first midterm exam. It was over parts of grammar that I hadn't studied before, so I was quite nervous when I was going in. However, it wasn't as bad as I thought it'd be. Following the exam, I had lunch with one of the other ItaliaIdea students at restaurant near Sant'Andrea della Valle, very close to the hotel we used to stay in when I studied with the School of Architecture.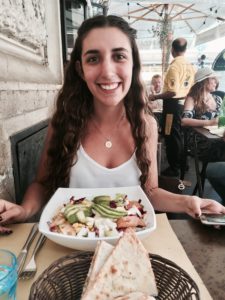 Thursday I got to eat at a pizzeria I had heard many good things about but had never gotten around to trying out. Pizzeria Baffetto, near Piazza Navona, had always had a line outside of it whenever I passed by. When we were seated, we ordered a half litre of white wine and our pizze. It didn't live up to all the hype I'd heard about it, but it was certainly a nice lunch treat. Following lunch, we hit Via del Corso to check out i saldi, or sales. In Italy, there are approximately two times a year when major sales happen. There's one that occurs through July/August, and one that occurs in February/March. Ironically, we all just bought underwear.
Friday, one of my classmates took us to her shawarma place. Huda, born in Syria but living in Qatar, had not eaten meat since she arrived to respect her faith. However, she found a little shop that served halal meat, and so she took us to the restaurant to get shawarma for lunch. I'd never had it before, but it was a flavorful treat for us all. Since the restaurant owner noticed that she kept coming back and bringing more friends with her, he gave us complimentary dessert: Syrian baklava! After lunch, I decided to treat myself with a pedicure. At this spa, Wellness Aquarium, there a tanks filled with garra rufa fish, who feast on the dead skin cells of feet. When I put my feet in, they flocked to my legs and began munching. It tickled, and I struggled not to laugh out loud. However, when I pulled my feet out at the end of the half hour, they were baby smooth!