Hello, my name is Posey McKeon, and I'm currently studying at Yonsei University (연세대학교) in Seoul, South Korea. It's been about 2 weeks (almost halfway through!) and I've already learned so much and had lots of fun. The following post was written and intended to have been posted last week when I originally wrote it. Thank you for showing interest in my travels and studies, and I hope that from reading my blog, you come to experience and enjoy South Korea just as much as I am.
a blog post from:
June 29, 2019
도착하는 게 – Arrival
     When I got off of my fourteen-hour plane ride from Chicago, I landed at the Incheon airport in South Korea, figured out the correct shuttle bus, and hail a taxi to take me to Yonsei University (연세대학교), where I will be staying and studying for the next five weeks.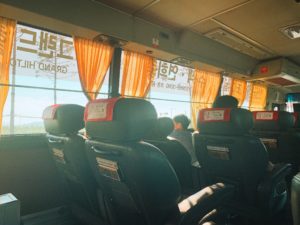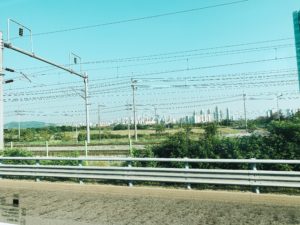 (Also, if that transport from the airport to the school seemed to smooth for someone who has never stepped foot in South Korea and is not even half-way to full-fluency in Korean, it's because- thankfully- the kind people who helped me along the way understood enough English and forgave me for my passable-but-not-amazing Korean. I'm still so grateful for the taxi driver (기사 아저씨) for taking me up all the way to my dorm because with two 30-40 lb bags, a girl like me would never have made it alone.)
The first and most important thing I've done here was meeting new people. The day after the check-in day was a placement test, which was to determine our level of Korean- that meant reading, writing, listening and speaking. After taking the placement test, I could've just waited outside the entrance of the building for the next shuttle bus to take me back to the dorms, but instead, I sat myself down by people who were in my program. From that stroke of courage, I received names and got my name out to others because I believe I would be truly successful in this program by engaging myself with my peers. Therefore, I've met some wonderful people already and hope to meet many more in the next five weeks here at Yonsei.
With my new friends, I walked, bussed, and rode taxis to explore the areas near Yonsei and other nearby universities. On just the second day here, after the placement test, I went with some new friends to Hongdae (홍대), a popular shopping and eating district named because of its locality to Hongik University (홍익대학교). When you just come out of the station, Hongdae looks like any other busy shopping street- like State St. in Chicago- hustling and bustling with people and cars coming and going from every direction. However, Hongdae becomes very different when you turn the corner and follow the alleyways; one comes upon a dominantly pedestrian metropolis with restaurants, cafes, street shops, and musical performers all around with a seemingly immeasurable amount of little nooks and pockets of more everywhere.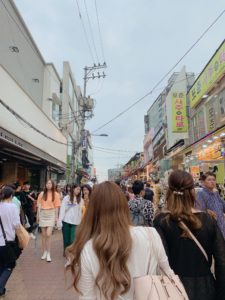 It was when I was getting to and walking around Hongdae that I truly felt how population- and densely populated- just the city of Seoul is. My first time to Hongdae was another test of my common Korean skills when I had to order some dinner. It went well enough that I got my food and had a delicious dinner that evening.
The next day was when we'd learn the level we were placed and begin our first day of class. I was put into level two! That was exactly where I had hoped to be, and while I was at first intimidated by the quick pace of the class and the exclusively-Korean directed classes, I realized that I could keep up with most of what both of the teachers said. The class is just challenging and quick enough where I am learning new vocabulary and more of the semantics of Korean.
I'm so glad how this experience has been going so far. The classes take up just the right amount of time to accomplish good learning while also still allowing for plenty of time to enjoy time with new friends, going to new places, and eating lots of delicious food. As I meet new people, it's always so interesting to hear each individual story and each person's personal experience of Korean- whether they grew up with Korean, learned it in school, or pursued it independently.
~
Thanks for reading and hope you enjoyed and look forward to future posts!
안녕히 가세요!