Recipient Profile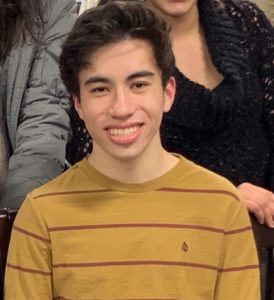 E-mail: bwong3@nd.edu

Language: Japanese

Location of Study: Hokkaido International Foundation Japanese Language and Japanese Culture Program
Program of Study: Hakodate, Japan

Sponsors: Center for the Study of Languages and Cultures, the Liu Institute for Asia and Asian Studies and the College of Arts and Letters
Blog URL: http://sites.nd.edu/sla2019/author/bwong3/
Pre-departure
A brief personal bio:
Hello, my name is Brenden Wong. I am a rising sophomore from Laguna Beach, California, and am majoring in International Economics with a focus in the Japanese language. On campus, I live in Keenan Hall and am on the board for the Asian American Association (AAA). I have never been to Japan before, and therefore am very excited and grateful for this opportunity to learn about the language and culture in Hakodate!
Why this summer language abroad opportunity is important to me:
The SLA Grant has enabled me to attend the HIF program over this coming summer, meaning that I will be studying the entire second year of the language. By completing Japanese level two over the summer, I will be able to enroll in level three during my sophomore year, and level four in my junior year here at Notre Dame. Furthermore, I will have the opportunity to take the advanced level of Japanese in my senior year. These opportunities are extremely important to me as I have a strong desire to become fluent in the language. Because my major is international economics, I wish to work in an environment in which both my knowledge of economics and the Japanese language are applicable. And this environment may very well be overseas in Japan, where my fluency of the language will be extremely important in the success of my career.
What I hope to achieve as a result of this summer study abroad experience:
Most obviously, I hope to gain mastery of level two of the Japanese language. I wish to do well in classes and therefore be able to transfer seamlessly into the third year course back here at Notre Dame. However, I equally value the experiences and relationships that I will make in Hakodate. I want to foster strong connections with my host family, the school, and the people of Hakodate, so that one day I may be able to reconnect with these friends through a more professional lens. Furthermore, I hope to do the same with my fellow classmates. Even though my peers may not be from Japan, I wish to befriend as many people as I can not only to just have these connections, but also to forge and hold onto lasting genuine friendships.
My specific learning goals for language and intercultural learning this summer:
1) At the end of the summer, I will be able to understand and apply all of the concepts learned in my HIF courses.
2) At the end of the summer, I will have strong connections and relationships with my peers and the people of HIF and Hakodate.
3) At the end of the summer, I will be able to confidently have a basic level conversation in Japanese with a native speaker.
4) At the end of the summer, I will be able to read, write, and remember all of the kanji covered through levels one and two of the Japanese programs.