Recipient Profile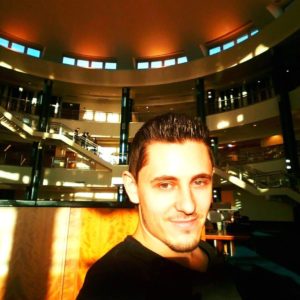 E-mail: hsimsir@nd.edu
Language: Persian
Location of Study: Yerevan, Armenia
Program of Study: Persian language summer school 2019, Yerevan, Armenia – ASPIRANTUM
Sponsors: Center for the Study of Languages and Cultures, the College of Arts and Letters, and Liu Institute for Asia and Asian Studies.
Blog URL: http://sites.nd.edu/sla2019/author/hsimsir/
Pre-departure
A brief personal bio:
I am a doctoral candidate in the history department. My research interests include late Byzantine political and socio-religious history, the question of Ottoman foundation, Turkish history in Asia Minor, and interfaith relationships between mystic, millennial, and messianic movements in the Islam and Eastern Christianity. I also hold an MA in history from Sabanci University, where I wrote my thesis about the Babai Rebellion in Rum Seljuks and its impact on western Anatolian socio-political developments. At Notre Dame, relying on Byzantine and Ottoman primary sources, I plan to write my thesis on the relationship between the Ottoman center and the peripheral entities covering a time period from the Babai Rebellion to the era of Mehmed II. I joined the Notre Dame community in 2018. Previously, I attended Modern Greek summer schools at the University of Athens in 2017 and 2018. Beside learning Arabic and Ancient Greek at Notre Dame, I plan to improve my Persian skills through attending summer school in the following periods.
Why this summer language abroad opportunity is important to me:
I have chosen this particular language program, first of all, because it provides intensive coursework that offers peer-to-peer mentoring with a very low student-to-teacher ratio. I have already taken one semester of beginning Persian, and I believe that the Armenian School's program is the best one to get me to the next level of study with its communicative teaching method in the target language. Secondly, I chose this program because participation in a language program in Iran would be very difficult, given the county's tense political relations with the United States. Furthermore, and for the same reason, I plan to continue my Persian language studies in Turkey in summer 2020. Although it is not a popular destination for American tourists, Yerevan, the capital of Armenia, draws many Persian tourists during the summer months. The program organizer, Dr. Khachik Gevorgyan, has told me that I will be able to meet and speak with many native Persian speakers in Yerevan. Furthermore, Armenia, with its unique cultural heritage, is the perfect place for my studies in Roman, Byzantine, and Persian cross-cultural connections. Additionally, I look forward to joining one of the monthly Iranian Studies conferences organized by the Department of Iranian Studies at Yerevan State University. My advisor, Dr. Alexander Beihammer, has encouraged me to join this Persian school in Armenia next summer. He has also advised me that Armenia is the very best option for its unique position between the Christian and Islamic worlds. After attending the Armenian School of Languages next summer, I plan to begin a rigorous study of primary texts in the fall and spring of 2019 in preparation for comprehensive exams the following spring.
What I hope to achieve as a result of this summer study abroad experience:
The primary sources from the 13th century's Anatolia were mostly written in Persian language and I need to improve my Persian skill to reach these primary sources and focus on the relationship between the Sufi brotherhoods and the Christian communities in the 13th century. Thanks to some primary sources which were translated into Turkish and English, we are now able to trace this relationship back to a degree. However, many of them are not translated such as many 'gazavat-nama' and without learning Persian, it is not possible to do a full research in this field of study After my return from this summer school opportunity, I hope to have a well-grounded intermediate reading skill which would surely contribute me in my primary source readings. Additionally, I will continue to learn Persian by joining some summer opportunities. In Turkey, at Bogazici University, Persian is taught by a professor by the name of Barry Wood who is assigned in the department of Turkish Language and Literature which I earned my bachelor degree from. Also as far as I investigated, another university in Turkey, Ibn Haldun, also announces Persian Summer School for every summer which I also keep in my mind to join for the next summer.
My specific learning goals for language and intercultural learning this summer:
1. At the end of the summer, I will be able to reach some primary sources in Persian written in 14th century Anatolia.
2. At the end of the summer school, I will be able to talk with the native Persian speakers which contributed me to improve my Persian skills.
3. At the end of the summer school, I will be able to improve my cross-cultural and interconfessional understanding.