Recipient Profile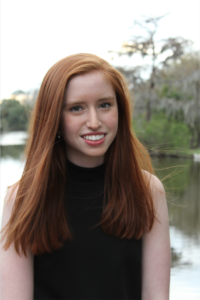 E-mail: epatton2@nd.edu
Language: Spanish
Location of Study: Valparaíso, Chile
Program of Study: International Studies Abroad
Sponsors: Center for the Study of Languages and Cultures, College of Arts and Letters, and Kellogg Institute for International Studies
Blog URL: http://sites.nd.edu/sla2019/author/epatton2/
Pre-departure
A brief personal bio:
My name is Ellanor Patton, and I am a rising junior studying Political Science and Economics. On campus, I am involved in BridgeND, kiND club, and I have participated in several CSC seminars, most recently the Migrant Experiences seminar. Having grown up in New Orleans, Louisiana, I am deeply invested in shaping more equitable institutions and creating public policy which benefits underserved populations. I am eager to participate in the SLA so that I may be able to better communicate with the millions of Americans whose first language is Spanish.
Why this summer language abroad opportunity is important to me:
With the SLA grant, I will be able to intensely accelerate my acquisition of the Spanish language. While I started college with little to no Spanish, I have since taken as many Spanish classes as I can, and increasingly, I find myself enjoying conversing with classmates and others in Spanish. Through the International Studies Abroad program in Valparaíso, Chile, I look forward to cementing my conversational skills and continuing to work toward fluency in Spanish. I view knowledge of Spanish as a top priority of my Notre Dame education as it opens the door to many opportunities within my potential career paths. I am majoring in political science and economics and am considering going into either law or public policy with an emphasis on criminal justice reform. As such, the SLA grant is a fantastic opportunity to gain the skills necessary to communicate with clients who otherwise may be under-represented in our legal system and legislative process.
What I hope to achieve as a result of this summer study abroad experience:
I hope to gain the fully immersive experience which no classroom can replicate. While staying with a host family, I want to gain insight into normal Chilean life, learning from my host family how to cook authentic dishes and discussing politics with them. The host family will be a fantastic support system for me as I have never lived outside of the United States, providing comfort for me and giving me around-the-clock opportunities to further my Spanish. As a political science major, I want to gain knowledge of other political systems, so that I may better understand the strengths and weaknesses of the United States'. Not only will the host family be the ideal situation for me, but the city of Valparaíso will be, too. As a smaller city located outside of the metropolis of Santiago, Valparaíso offers the city-dwelling feel, yet it still maintains the sense of uniqueness of culture which can get lost in larger urban areas. I look forward to getting recommendations from my host family and being able to experience Chile as locals do, exploring the rich history and heritage of this colorful area during my SLA experience.
My specific learning goals for language and intercultural learning this summer:
1. At the end of the summer, I will be able to communicate with native Spanish speakers about the intricacies of the Chilean political system, and I will be able to identify how it differs from that of the United States.
2. At the end of the summer, I will be able to speak, read, write and listen at a level of proficiency equal to two semesters beyond my current Spanish coursework placement at Notre Dame.
3. At the end of the summer, I will be able to cultivate friendships in which Spanish is the primary mode of communication.