Recipient Profile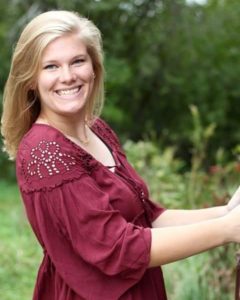 E-mail: sgenz@nd.edu
Language: Arabic

Location of Study: Amman, Jordan
Program of Study: Qasid Institute
Sponsors: Center for the Study of Languages and Cultures; College of Arts and Letters
Blog URL: http://sites.nd.edu/sla2019/author/sgenz/
Pre-departure
A brief personal bio:
My name is Sarah Genz and I am a rising junior double-majoring in Arabic and Psychology from Lakeville, Minnesota. I am on the ND softball team. My freshman year at Notre Dame was my first experience with Arabic, so I am very much looking forward to the opportunity to increase my proficiency this summer.
Why this summer language abroad opportunity is important to me:
I consider a study abroad program to be critical to my language acquisition goals and future career endeavors post-graduation. I am an Arabic major, and I believe that with this statement comes the responsibility to have a full appreciation for and knowledge of the corresponding culture. It is my opinion that a language cannot be learned in isolation from the culture's social and religious beliefs. This is the type of awareness that cannot be learned in the classroom but has to be experienced in person. I plan to work in counter-terrorism for a law enforcement agency to assist in the fight against the rise of extremist groups. It is very important to me that I have a healthy understanding of the Middle East and Islam before starting down this career path. I also wish to achieve fluency in Arabic and to be able to converse smoothly with a native speaker, and this can only occur if I am surrounded by the language in its culture. Living in Jordan for the summer will give me endless opportunities to push myself out of my comfort zone, learn more about Middle Eastern cultures, and increase my Arabic proficiency.
What I hope to achieve as a result of this summer study abroad experience:
I believe this summer will be crucial to my language acquisition skills, and I expect that it will radically improve my pronunciation, vocabulary, and sentence structure. Arabic is such a different language from English, especially since there are sounds in Arabic that don't have an English equivalent. Being around native speakers will help me smoothly pronounce any word that I come across, even if it is unfamiliar to me. Also, vocabulary is the key to fluency in any language because if you don't know the word, you just don't know the word. This summer will expose me to topics of conversation that haven't presented themselves in class or our textbook, and I look forward to being able to learn how to express myself in a greater number of categories.
My specific learning goals for language and intercultural learning this summer:
1. By the end of the summer, I will be able to watch the news and read an article in Arabic without difficulty in understanding.
2. By the end of the summer, I will be able to hold a conversation with a native speaker for an extended period of time in the Levantine dialect.
3. By the end of the summer, I will be able to discuss international relations and politics and express my own opinions in Arabic.
4. By the end of the summer, I will be able to write a longer essay in Modern Standard Arabic about mostly any topic.