Recipient Profile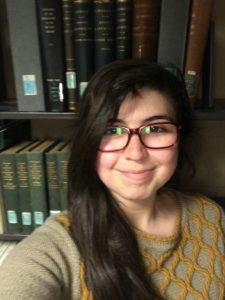 E-mail: ljean@nd.edu
Language: Irish
Location of Study: An Cheathru Rua, Ireland

Program of Study: NUI Galway International Irish Language Summer School
Sponsors: Center for the Study of Languages and Cultures, the College of Arts and Letters, and the Keough-Naughton Institute for Irish Studies.
Blog URL: http://sites.nd.edu/sla2019/author/ljean/
Pre-departure
A brief personal bio:
I am finishing my second year as a PhD student within Notre Dame's Department of History. My research focuses on the culture of honor in Late Medieval Irish-speaking Ireland, particularly the ways in which Irish women in this period interacted with and shaped that honor culture. I am predisposed towards using anthropological methods in my research, particularly relying on linguistic analyses in order to draw out marginalized voices and experiences.
Why this summer language abroad opportunity is important to me:
As someone who studies Irish-speaking Ireland, my goals for the program are many and varied, if only because I see so much potential for my own studies and teaching within such a program. I've spent a great deal of time picking up Irish in a number of ways, some far more successful than others. At this point I do think the missing piece of the puzzle for myself as a scholar, a teacher, and someone who wishes to be able to communicate within Irish is to involve myself within the sort of immersive program available through NUIG, particularly as I have never studied Irish in the Gaeltacht before. In essence, while I don't expect miracles from the program, I do foresee it as being a major turning point in my formation as a scholar and as a person. For me, achieving this would not be possible without the SLA grant.
What I hope to achieve as a result of this summer study abroad experience:
For the last four semesters I've taken Irish language classes, painfully learning to speak as Gaeilge. I am more than willing to admit that I am far from a natural when it comes to spoken language of any sort, though what I lack in natural ability I try to make up for in effort and time. Reading and translation come far more easily to me. However, it's really the immersive speaking and cultural components that have drawn me to the class at An Cheathrú Rua, particularly as I had decided early on in my Irish studies at Notre Dame to focus on the Connemara dialect. While I still believe I have a great deal more I can learn in general, I think being fully immersed within an Irish language environment for a month will greatly accelerate not only my ability to speak but will increase my holistic understanding of the language.
My specific learning goals for language and intercultural learning this summer:
1. At the end of the summer I will be able to more confidently speak Irish and begin to engage with the language at a more professional level.
2. At the end of the summer I will be able to improve on my current level of grammar in order to facilitate not only my continued Irish language learning process but be able to more effectively communicate in an Irish academic setting.
3. At the end of the summer I will have reached the B2 level proficiency in Irish according to the Common European Framework of Reference for Languages and will be able to sit the exam for that proficiency level.