Recipient Profile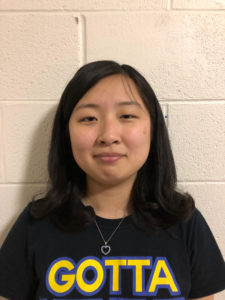 E-mail: rwang6@nd.edu
Language: Japanese
Location of Study: Hakodate, Japan
Program of Study: HIF Japanese Language and Japanese Culture Program
Sponsors: Center for the Study of Language and Cultures, College of Arts and Letters, Liu Institute for Asia and Asian Studies
Blog URL: http://sites.nd.edu/sla2019/author/rwang6/
Pre-departure
A brief personal bio:
My name is Rachel Wang, and I am a freshman majoring in Political Science and Japanese, with a supplementary major in Global Affairs, here in Notre Dame. Though I hail from Watertown, Massachusetts, I spent the last eight years of my life before college in Shanghai, China. I've been interested in the Japanese language ever since high school, and I cannot wait to embark on my journey to Japan this summer. よろしくおねがいします!
Why this summer language abroad opportunity is important to me:
My SLA Grant is extremely important to me, as it is the main source of funding for the HIF program and its related fees; if not for the grant, I would probably not be able to attend the program due to the expenses of the program and traveling to/living in Japan for two months. HIF, in turn, is instrumental to my academic pursuits: it allows me to skip a year of Japanese at Notre Dame and free up space in my schedule to pursue not only a Japanese double major but a Global Affairs supplementary major within four years. As I have always wanted to learn a third language, the SLA Grant will also help me achieve that goal, and the knowledge of another language will also be of use when I am job-hunting in the near future, whether it be in the realm of government work or work for international corporations.
What I hope to achieve as a result of this summer study abroad experience:
At the end of my study abroad experience, I hope to become more proficient in Japanese – this includes both learning more grammatical structures and vocabulary and getting better at pronouncing words in Japanese. I also wish to understand more about Japanese culture and Japanese society through interviewing people to complete my SLA requirements and working on my HIF independent study project, which involves the investigation of a local issue and interaction with local residents of the city of Hakodate. Most importantly, I wish to become a more well-rounded global citizen: it is said that one can only begin understanding a culture by learning their language, and by learning more languages (and through such, learning more about Japanese culture), I can become more adept at maneuvering the nuances in each culture and being respectful to people I meet.
My specific learning goals for language and intercultural learning this summer:
At the end of the summer, I will be able to speak, read, write, and listen at a level of proficiency two semesters beyond my current Japanese coursework placement at Notre Dame. At the end of the summer, I will be able to converse fluently in Japanese with native speakers about Japan's current societal problems, politics, and foreign policy. At the end of the summer, I will be able to show more tolerance and awareness towards taking intercultural risks and recognizing the differences between inherent cultural norms that may seem strange compared to our own.