Recipient Profile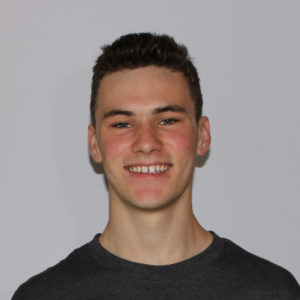 E-mail: swagy@nd.edu

Language: Irish

Location of Study: Gleann Cholm Cille/Gleann Fhinne, Ireland
Program of Study: Oideas Gael

Sponsors: Center for the Study of Languages and Cultures, the College of Arts and Letters, and Keough-Naughton Institute for Irish Studies
Blog URL: http://sites.nd.edu/sla2019/author/swagy/
Pre-departure
A brief personal bio:
I am currently a sophomore and majoring in Business Analytics with a minor in Irish Language and Literature. On campus, I am the treasurer of the Notre Dame / St. Mary's Irish Dance Team. Also, I continue to Irish dance competitively with my school back in Columbus, Ohio. This summer I will be interning at Fiontar agus Scoil na Gaeilge where I will do various tasks while being immersed in the Irish language. After that, I will go to Gleann Cholm Cille and Gleann Fhinne to experience the Gaeltacht.
Why this summer language abroad opportunity is important to me:
Receiving this SLA Grant is extremely important to me because I am excited to meet many different people from across the world who also share in the love of the Irish language. As of now, I know about fifteen students and/or teachers who speak Irish at Notre Dame. I think that it will be very beneficial for me to meet other people from different backgrounds so that I can continue speaking with them via email/text after the Gaeltacht. This will allow me to retain my knowledge and skill of the language. Also, I will be taking Intermediate Irish II directly following my trip to the Gaeltacht. This experience will allow me to be more comfortable speaking and writing in Irish. Also, during the spring of 2020, I will be attending the National University of Ireland Galway. This area is full of Irish speakers and I am excited to be able to communicate with them as well.
What I hope to achieve as a result of this summer study abroad experience:
Receiving this SLA Grant to experience the Gaeltacht will be so rewarding. During my internship at Fiontar agus Scoil na Gaeilge, I will be speaking and working in Irish everyday. I am excited to go to the Gaeltacht after this so I can improve on the technicalities of the language. My internship's job is not to correct me, but to help me to communicate in the language. However, the Gaeltacht will help me nail down the parts of the spoken language where I struggle in the most. This experience will help me to gain skills that I wouldn't be able to in America or in class. When I participate in this program, I will have to give up my first language and force myself to speak Irish for the entirety of the trip. Also, in this program, participants are encouraged to take part in the many Irish recreational activities offered. These activities, which include dance, poetry, and music, are centerpieces of Irish culture. The Irish language is embedded in all of these activities and will allow me to actively use the language in other settings rather than communication. As an Irish dancer myself, I would love to see any differences there might be in the Gaeltacht compared to Columbus, Ohio.
My specific learning goals for language and intercultural learning this summer:
1. By the end of the summer, I will be able to communicate in Irish with full conversations and expand my vocabulary than what it is currently.
2. By the end of the summer, I will be able to note key differences between Gaeltacht culture and the culture of the rest of Ireland.
3. By the end of the summer, I will be able to identify and learn the Ulster dialect. As of right now, I have only really delved into the Connacht and Munster dialects.
4. By the end of the summer, I will learn why others from all different backgrounds decided to study Irish and come to the Gaeltacht.