Recipient Profile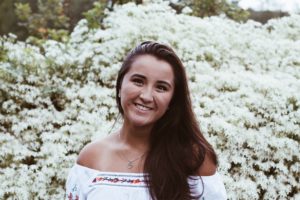 E-mail: gklein@nd.edu
Language: French
Location of Study: Paris, France
Program of Study: Alliance Française
Sponsors: Center for the Study of Languages and Cultures and the College of Arts and Letters
Blog URL: http://sites.nd.edu/sla2019/author/gklein/
Pre-departure
A brief personal bio:
I am an International Economics and Global Affairs supplementary major at the University of Notre Dame. I am passionate about world cultures and jump at any opportunity to learn about and experience them. I have been fortunate enough to travel and intern in London for the past two summers which has fostered this passion even more. At Notre Dame, I am involved in Best Buddies and Matriculate, a fellowship that trains college students to help gifted low-income high school students through the college process.
Why this summer language abroad opportunity is important to me:
This SLA Grant is important to me because I believe it is the crucial step I need to finally take my French to the next level. I am very confident in my reading and writing abilities, but I need the immersive experience to make this skill truly useful moving forward. Furthermore, I was raised to appreciate and remain open to all cultures, and I have a passion for Global Affairs. I have decided to pair this passion with a focus in International Economics and French. These specialities will equip me with the skills I need for my career and to hopefully touch as many lives as possible no matter the physical and cultural borders that divide us. A second language is essential in the field of international studies which is why I have chosen to focus on French in addition to my Tagalog and English speaking abilities. Having already worked in London, I know how crucial French is to opening up your network to not only Europe but North Africa and parts of Asia as well. The acquisition of French will help me remain competitive in the global business field when it comes time to pursue a career after graduation.
What I hope to achieve as a result of this summer study abroad experience:
At this point in my experience with French, I am comfortable in the academic environment, and I contribute meaningfully to in-class discussions. By no means do I think that an opportunity to study French abroad this summer will have me leaving a fluent speaker, but I do think that it will instill in me the confidence I need to excel in my speaking abilities. At this point, an immersive experience is the key I am missing to reaching the level of French that I have been working so hard to attain. My end goal is to have both basic and meaningful conversations with other French speakers, read the French newspaper, and watch French productions without subtitles. In addition to my French speaking abilities, I hope to further my appreciation for French culture in all its diversity. I have spent years studying and analyzing it, so I am itching for the opportunity to experience for myself. By interacting with and learning from people of a different culture and language, I hope to become more humble, patient, and understanding as I step out of my comfort zone and into the world.
My specific learning goals for language and intercultural learning this summer:
1. By the end of the summer, I will be able to confidently approach a native speaker and hold my own in a stimulating and engaged conversation.
2. By the end of the summer, I will be able to articulate my specific skills, work experiences, and career hopes to a business contact or future employer.
3. By the end of the summer, I will be able to pick up and enjoy a French book without the crutch of a French dictionary by my side.
4. By the end of the summer, I will be able to navigate around a French speaking city with ease and bring non-French people around.