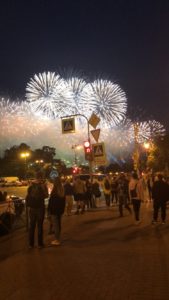 The Scarlet Sails holiday was an interesting experience that occurred back in June. I decided to write about it as it is an exciting local holiday that takes place in St. Petersburg. According to official historical sources, the holiday celebrates the end of the school year and celebration for graduates who go from childhood to adulthood. The holiday takes inspiration from a children's book by Alexander Gin by the same name. It originally began in the 1970s in the Soviet Union but did not last very long. In 2005, the event was brought back and has been celebrated every year since. The event usually occurs at midnight on the Sunday into Monday closest to June 21st. The event is marked by a planned fireworks choreographed to music, the sailing of a ship with scarlet red sails, and lots of free entertainment put on by the city of St. Petersburg.
To many people, the holiday has the same meaning as one would find officially at museums and through historians. However, the holiday is celebrated by many more people, not just graduates and students. The free entertainment and the centralizing of the festivities in the center of the city encourage many to come to the center of the city near the Neva River and partake in the festivities. The holiday is also accompanied by consumption of alcohol and partying, though it is rather tame as the holiday usually takes place from Sunday night into Monday morning, and many individuals still have work the next morning.
For us students, it was a debate between seeing the fireworks and celebration and going to bed at a reasonable hour as we still had class the next morning. I decided to still travel the 1 hour from my home to the center to see everything that was going on. Overall, it was a fun evening despite not getting to bed until about 2:00 am, although it was still quite bright out as the city is experiencing the White Nights of summer. I hope if I am given the opportunity to visit again during the summer, I will be able to experience even more of the celebrations.