Dia diaobh! This first blog is a bit late as I have been so busy every day and have limited access to WiFi. Currently, I am writing this post in the beautiful Gleann Fhinne, but I spent my first week in the amazing Gleann Cholm Cille. I arrived in Gleann Cholm Cille, County Donegal on July 13 after leaving my internship in Dublin. I was amazed by the scenery on my way to my accommodation; there were mountains and sheep everywhere around me. I was lucky enough to stay in the Ionad Siúl which was conveniently located between the school and the "city" center. Also, it was only a ten-minute walk away from the beach in which I swam a few times! The beach was wonderful despite it being a bit chilly and the current was very strong. Over the course of one week, I learned and did many exciting things. Every day, we had class for five hours with necessary tea/coffee breaks in between. At the end of the week, I felt that I gained an immense amount of vocabulary and felt more comfortable with Irish word structures. For example, I learned a few different ways to greet someone in the morning. I can say "Maidin mhaith," "Dia duit ar maidin," "Dé I do bheatha," or "Móra duit." In order they translate as: "Good morning," "God to you this morning," "Light in your life," and "Móra (Pagan goddess) to you." I thought this was very useful as I saw many different people on the way to school, so I knew many different ways to greet them. I also learned very important rules to tell the difference between masculine and feminine nouns; in Irish, it is crucial to know the difference. Before Gleann Cholm Cille, I had a rough idea as to when a noun was masculine or feminine. However, I learned four useful rules that I can now use to tell if a word is feminine: if the word ends in a slender consonant, words ending in "lann," words ending in "óg/eog," and words ending in "cht" and are more than one syllable." This rule will surely help me with the rest of my Irish learning.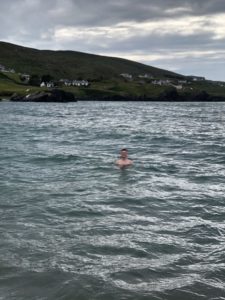 Me swimming in the ocean at Gleann Cholm Cille
Every night, Oideas Gael hosted a cultural event and everyone would go to one of the two pubs afterward to practice our Irish. I met life-lasting friends during these times. We learned sean-nós songs, céilí dances, and poetry. As an Irish dancer, it was fun to participate in the céilí dances and I even got to perform for everyone a couple times at the pub! The pub's atmosphere was fantastic. Each night, there would be students of all ages playing flutes, whistles, fiddles, and accordions. Also, people would sing, and I would occasionally dance. On top of all this, I would practice my Irish with other students of all ages. I met people from Ireland, Wales, Luxembourg, Germany, France, and England. It truly was a fantastic experience.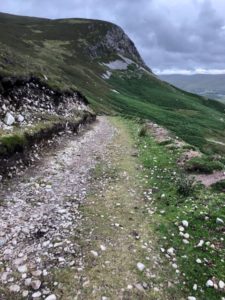 Beautiful mountains in the Gleann
Now, I am staying in Gleann Fhinne; it is another Gaeltacht region about two hours away from Gleann Cholm Cille. It is much quieter here and more remote. I will keep you updated on how much I learn and experience…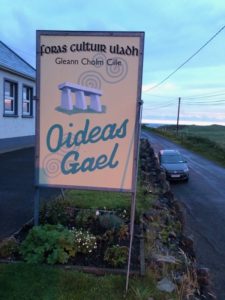 The main sign