It's my last day here in Gleann Fhinne. I've been in Ireland for more than two months now and it is definitely bittersweet leaving. My time in the Gaeltacht has really helped me get a good grasp on the Irish language.
During the last few nights of my trip, I tried to soak up the Irish language and atmosphere of Gleann Fhinne. I walked to the Angels' Well, a holy well in Gleann Fhinne. It was a bit hidden and hard to find, but it was beautiful, nonetheless. Also, my friend and I watched sheep for a while because they are so interesting. One night, we were walking home from the pub and there were three sheep that escaped from their fields standing in the middle of the street. It was rather funny. Also, I had a new teacher during the last couple days of my trip and he was fantastic. He clarified a few things that I was struggling with. For example, the word "súil" can be used in different contexts. The word on its own means eye; however, if I said "Tá súil agam," that would mean "I hope." I often was confused about that structure and I am happy that he clarified it.
The Angels' Holy Well
Overall, I had a wonderful experience in the Gaeltacht for the past three weeks. Gleann Cholm Cille and Gleann Fhinne were definitely the most beautiful places that I have ever been. Also, I learned a great deal of Irish and I cannot wait to practice my new skills during the next semester. I hope I can go back next year because it was a fantastic experience!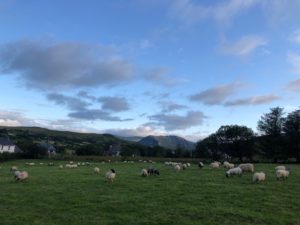 Beautiful view of my front yard