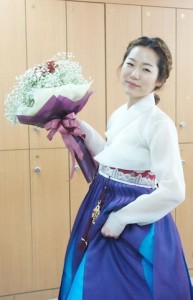 Name: Jihyun Park E-mail: jpark19@nd.edu Location of Study: Tours, France Program of Study: Institut de Touraine Sponsors: Nanovic
A brief personal bio:
Graduating a foreign language high school in Seoul, Korea, I came to study in the U.S. for the first time. I've wanted to write novels, ultimately a fantasy story, since I was 15, in both Korean and English. In order to build up good plots and solid characters, I thought it was most important to know how humans think and act, so I've chosen a major in Psychology. My volunteer experiences in Cambodia helped shape my vision of working in a non-profit organization in the future. One of my short stories, "The Two Horses," was published in 2013.
Why this summer language abroad opportunity is important to me:
From my childhood fondness for French literature, I found that the French and Koreans share common sympathies. I admired the works of Alphonse Daudet, Bernard Werber, Jean-Paul Sartre and many others. As a prospective writer, I wanted to fathom how deeply French literature could appeal to Koreans. So I first needed to understand not only its language but also its cultural spirit to fully grasp its message without loss in translation. The opportunity given by the SLA grant will greatly help me to dive deeper into studying this delicate linguistic monument below its translated—muted—surface. Also, I came up with a psychological question with regard to multilingual abilities: what happens to the brain when we read the same book in different languages? How do we process different modes of linguistic communication? I deemed this grant to be a great chance for me not only to acquire a foreign language, but also to probe areas for future research on my own.
What I hope to achieve as a result of this summer study abroad experience:
I hope to develop proficiency in French language to the level of communicating comfortably with the native speakers on diverse matters ranging from academics to politics to arts. I will absorb the francophone culture, history and literature with the help of many valuable resources available at the institute, so that I can be more prepared for my own literary work and future devotion to an international non-profit organization. Not only going through the rigorous academic work, I will also take the chance of having a host family. We will be able to learn about cultural differences. If given a chance, I will try to learn some home-cook recipes, or we can even go on a weekend trip together. I will get the sense of living as a member of a French family. Sometimes after class, I want to venture out and find little places—an old bookstore, a cheap, good restaurant, or even a corner of a small café—that will constantly give me an impression that I'm in a different place yet I'm still sharing a common sentiment of humanity. Through this opportunity, I will live, learn and love with a refreshed mind.
My specific learning goals for language and intercultural learning this summer:
1.     By the end of the summer, I will be able to communicate in French with native speakers on topics such as art and literature.
2.     By the end of the summer, I will be able to write a short story in French and translate a short work of any of the French novelists into either English or Korean, or both.
3.     By the end of the summer, I will be able to understand the efforts and visions of the UNESCO headquarters in Paris in preserving French literature and translating valuable literary works around the world, especially Korean and English, into French, or vice versa.
4.     By the end of the summer, I will be able to recognize the similarities and differences in sympathies and thought processes among the United States, Korea, and France.
My plan for maximizing my international language learning experience: I will contact Secours Catholique, a non-profit organization in a service of the Catholic Church, and volunteer in fighting against poverty around the neighborhood and promoting international social justice. I will actively seek to take part in supporting the poor and restoring human rights of the people in Tours. Other than that, the city of Tours has a variety of cultural venues: find arts museums, the Grand Theatre, the natural history museum, and the Centre for Contemporary Creation. I can enjoy "Tours sur Loire," a huge summer festival that incorporates outdoor cinema, restaurants and concerts over the docks in the town center. I will also visit the old castles on the Loire Valley and study the history of the region. I will be open and caring toward others and hopefully make a variety of native or international friends in my classes and around my neighbor. We can join sport clubs or take art or cooking classes together. We can check out new exhibitions or take a trip to Paris, which is only an hour away by train. Constantly interacting with others in French will greatly help honing my language skill.

Reflective Journal Entry 1:
It's been a week since I came to Tours, France. The weather has been nice so far, a little chilly for July. When I arrived at the train station all by myself, I was nervous and excited at the same time. Now I'm no longer nervous but only happy and in peace. Tours is a lovely city with a tramway that crosses North-South and the Loire River East-West. Everything was exactly what I imagined: an old cathedral, antique city plaza with lots of crêperies and summer music concerts at the romantic open-air café ("Guinguette") by the Loire. The atmosphere is generally peaceful, calm and gentle. People are nice, unlike the prejudice that the French are a little bit grumpy, and nicer when I try to speak in basic French. But just in one week, my French got much better when it comes to ordering food, shopping, asking for directions and introduction. It was largely thanks to Madame Remion, my homestay family. She is very old but such a lively person who enjoys helping me with my French. She always keep TV or a radio turned on in the well-lighted kitchen in the morning. And she is a wonderful cook, thank goodness, so every dinner we talk about (I mostly listen) French culture, her good-old memories and the war over a glass of rosé wine. Some of the best dinner were "purée de pois cassés aux saussices et aux croutons" and pork steak and mushrooms in crème sauce with spinach. Rhubarb purée is my favorite dissert. I was surprised that the French people actually have baguette at every lunch and dinner. My house is a bit far from the institute, about thirty minutes away by tram and on foot, but when I have time in the morning I love walking all the way because I get to enjoy the magnificent view on Pont Wilson. On the first day at the institute, I took a level test and had a galette with tomatos, ham and cheese for lunch. I walked around the rue Nationale and discovered that there were lots of "soldes" (sales) going on in most of the clothing stores. I bought a one-month bus card at "filbleu" and some international stamps at the post office. After that, I went to the café Guinguette. There were many people picnic-ing, reading books or playing guitar, with a glass of beer by the side. It was not so crowded, only filled with the droning sound of those French talking from the distance and fresh, breezy air of the Loire in the afternoon. Sitting on a stone bench and thinking how I was so lucky to be in this place, I wrote letters and cards to my friends. I was happy and content, since I could finally be in a place with limited access to the Internet, with relaxing nature, and with more writing on my own and French everywhere. After that I visited Guinguette often in the afternoon with my friends and enjoyed a cold beer. I also visited Cathedral St. Gatien and there was an opera concert at the Psalette cloisters. Musée des Beaux Arts is free for the students with a student ID card, so I didn't miss that either. Tours is definitely the city of art and music, but not a touristic place with lots of foreigners. How great is it?
Reflective Journal Entry 2:
It can be a little stressful during the first weeks of class where I had to constantly put effort into making friends. But since everyone in the institute was from different countries, we didn't feel so different from each other. French was the common language, not English. You should not speak in languages other than French in class or to anyone working in the institute. I made friends from the United States, Spain, Italy, Norway, Bolivia, Japan, China, Korea, Belgium, Mexico, Switzerland and more. We sometimes explore the good, cheap restaurants around the institute, but most of the time we get baguette sandwiches and fruits at a supermarket since it's cheaper and they taste good, too. There is an office "Vie Etudiante" where one can sign up for many different classes and excursions for a reasonable price. For the two months of my stay, I signed up for the châteaux excursions (I've already been to Chenonceau, Chambord and Amboise) such as Azay le Rideau, Villandry, Chartres, Loches, and Blois, and also for the famous Mont Saint-Michel and Saint Malo since it rained when I visited there last time. Really, I never wanted to miss the chance of being so close to the Loire Valley. Other than the excursions, I signed up for the cooking classes and wine classes, so I would learn how to make "mini-ratatouille au chèvre," "tiramisu à la framboise," "tartines tourangelles," "moelleux au chocolat," and "crumble aux légumes d'été"—I honestly didn't know most of the cuisines but they were French, so why not? I'm also going to taste the wines and cheeses of the region because thankfully, I am over 18 and that's the legal age to drink in France. Every Wednesday has a free French film cinema in one of the classrooms, and I've watched "The Princess of Montpensier" and "Café de Flore" so far. They have French subtitles, so it really helps listening comprehension. The films are all very interesting and… French. I'm looking forward to see other films every week. You can get the free ticket from the librarian at the library, which is located just above my classroom. There are computers in the resource room, and many students study in the library after class until its closing time, which is 6p.m. I borrowed a poem selection by Guillaume Apollinaire for two weeks. There are also activities called "animations" in Vie Etudiante, so every day has a fun thing to do and most of them are free of charge. For example, on Monday (July 7) was an origami and Asian calligraphy tables in the yard by the cafeteria, Wednesday had swimming in the lake or scavenger hunt, Thursday "Wall Art" exposition and Friday "Atelier Photo Artistique." I participate in almost all the activities because it's a great chance to meet new friends and explore outside the school. Every Tuesday night has "Café des Langues" at the café Guinguette (by the Loire) where you can meet people in the institute and practice French or exchange foreign languages. Literally, there are so many things you can do to improve your French outside the classroom. So many museums and concert places have spectacles during this time in the summer that you can't even see half of them. Do you wish to try new things, learn new culture and hone your language skill in such intense period of opportunities? Diligence, passion and curiosity are the answers.
Reflective Journal Entry 3:
As I have stated in my initiatives, I was all ready to absorb the French culture, literature and history in. I went to the expositions of many different artists, normally those born in Tours. My favorite was the works of Gilles Caron, who was a photojournalist during the 20th century. He covered various big turmoil all around the world with proximity and candor, including la Guerre du Viêtnam, la Geurre des Six Jours and le Printemps de Prague. What captured me the most was the photos of the Mai 68 manifestations, where the students and laborers stood up in 1968 against the old-fashioned conformities of the past that did not go along with the ideas of liberty and equality. I had seen a movie "Après Mai" at DPAC but to be honest, I had little idea on what it was about. This time, I could closely look at the pictures and into the faces of the struggling young people, and I could actually learn about the real history. I chose this subject for my presentation project in class, and the more I learned about the era of general disagreement (proves a famous photo of a sullen girl standing in front of a wall that says "Professors, vous êtes vieux… votre culture aussi."), the more it reminded me of 5.18 Gwangju Movement which happened at around the same time in Korea. The two events were basically the same in that they raised the voice of the suppressed classes such as students, laborers and women and in that they made a huge impact on constructing their societies as they are today. One of my French friends I made here, who is a history teacher at a high school, even told me that one cannot talk about French modern history without Mai 68. I was motivated to learn more about French history while I was here and even after going back to the United States. I felt so much love and thanks to their blood and tears, to their effort of creating today's France of true liberté, égalité, fraternité. Thanks to them, thanks to all French history, I could be here right this moment.
Reflective Journal Entry 4:
One should definitely take part in the excursions as many as possible while in Touraine. Through the institute, I could enjoy pleasurable, convenient trips around the region in a relatively cheap price with my schoolmates, accompanied by the professors/guides who explained history and fun facts about the cultural heritages. My two most memorable trips were Mont Saint Michel and Château Villandry. It was my second time at Mont Saint Michel, so I could more easily follow the professor speaking in French. I still couldn't believe that it took nearly a thousand years to construct and reconstruct the monastery into what it looked like today. The island is on the marsh, and it looks better when the water level is high. I was not so lucky both times I went there, but instead I had a brief fun moment walking on the sunbaked marsh around the monastery. Mont Saint Michel is a magical place that draws thousands of tourists from all over the world each year, and I could clearly see why I wanted to come here again myself. Its awe-inspiring artifact among the grand nature harboring a long history was more than just a simple landmark of France; it continued to be alive and to allure those who wished to search for their own spirituality among the pilgrims. (One counter-spiritual tip for anyone who is planning on visiting there: you can ask for the galette samples for free from the first two souvenir shops near the entrance of the "town": Est-ce qu'on peut goûter la galette, s'il vous plaît?) Villandry had the most beautiful garden I have ever seen, perhaps even better than the one at Versailles. It had various sections divided according to the types of plants: medical herbs, edible herbs, decorative flowers and so on. I loved the vast area of lavenders at the consumable plant section and also the long walking aisles all covered with grape vines where you can freely pick and taste grapes in late September. From on top of the stairs I could see different shapes of the flower patches, which signified their own meaning according to the form in which they were planted. For example, the red roses in the heart-shaped areas signified the blooming of ardent love. There are almost a thousand old castles along the Loire Valley, and one can learn numerous histories of politics, economy, romance and drama of France by visiting them and absorbing the storied atmosphere. If I were to be in another region in France, I wouldn't have had chance to see this side of beauty lying deep under the French culture and sympathies.
Reflective Journal Entry 5:
I've been very active in my artistic domain since I came here. I continued writing on my own, from journal to short stories and poems, but also I began writing poems in French, largely thanks to Apollinaire who, with his experimental pieces, inspired me to be more free and confident. There was Concours de Poèsie at the institute, where students could submit their own poems in French. I had thrown in three of mine, and the professors loved the one about still life. Luckily I got nominated the first place winner and received small gifts like chocolate, macaroons, travel-sized books and a pencil. Writing poems in French was very interesting since its specific pronunciation made it possible for even the most unlikely words to rhyme each other (for example, the endings of "parfum" and "matin" are almost the same). Other than writing, I had also started painting at an atelier. The day I came here and saw the Loire, I saw the late sunlight all scattering on the surface of the river and thought of painting a pointillism oil painting myself. I saw an advertisement of the art atelier from the institute bulletin board, and registered right away for 24 hours of class where I could freely use their paint materials and ask for some professional advice. This urge to paint was created by the simple but beautiful nature I'd been seeing around here, but also by the Van Gogh exposition at Musée d'Orsay that I visited right before I came to Tours. Of course I was largely touched by my favorite artist's beautiful works, but an Englishman who was standing right behind me also gave me a new point of view in appreciating art. He was talking to his girlfriend that, when he was in Louvre, he was rather upset how people just looked at a painting and then turned around saying, "Now I've seen that one." That was not the way to appreciate an art; to fathom its beauty, one had to know its story or the artist's style of creating certain effects and provoking certain sympathies. And this remark made me be humble. After painting an oil painting by myself, I realized how enduring a painter had to be, and how the colors and textures could be made only after such meticulous, calculated effort and consideration put into. So when I went to Rijksmuseum and Van Gogh Museum in Amsterdam for a short weekend trip, I was more than touched by the paintings—something in me was genuinely, emotionally and spiritually transformed. Even after I came back to Tours, the way I saw the light, the way I saw the textures of the skins and objects changed a little bit. I learned to appreciate all forms of art, or more generally all human endeavors, that attempted to preserve tiny bits of moments of our lives in a beautiful way.

Reflection on my language learning and intercultural gains, my summer language abroad experience overall, and how I plan to use my language and intercultural competences in the future:
Even though I couldn't get a place for a volunteer work (the whole month of August was "vacances") and UNESCO didn't accept single visitors, I found my own way of compensating for my unfulfilled goals. I have read plenty of articles on the UNESCO website and I have developed a community awareness by talking with the professors or different random (usually homeless) people I met on the street of Tours. Believe it or not, I made friends with an old man whose name I never asked, who was always sitting in the corner of Boulangerie/Patisserie Honoré of Rue Nationale. He didn't have a left index finger, and he had a bad arthritis on his knees (it was pronounced almost the same). He was Czech but used to live in Valencia so he spoke Spanish. I didn't speak Spanish but I could understand "muchas gracias" whenever I brought him something: a baguette, normally, some fruits, and when it was very hot, a small carton of gazpocho (cold Spanish soup made with vegetables) from the supermarket. I would sit beside him and use hands and French and English and Korean to communicate with him. He recognized me when I was going to and from the institute and he smiled. Today was my last day in Tours, so I bought him the last baguette and said, "I, moi, yo, go to, America. Amérique. Bye bye." We hugged, and I left. Of course my French has improved a lot, I earned so much valuable experience while I was staying here at Tours. I was talking with a French friend about the differences between the Americans, Koreans and French. I told him maybe I was thinking too much, to the point that it sometimes affected my perspective on reality and it became harder to stick to it by working hard. His response was quite surprising, so I could still remember clearly. According to him, the French don't pose unnecessary questions; instead, they do. When they want to go out and drink, they go out and drink. When they want to sing and dance, they sing and dance. They just do it. Because nothing changes but the fact that you are still standing here, in this world, right this moment, with these people. I felt different now, not only because my process of converting among Korean, English and French in my head has become a little bit different (and more rapid, thankfully). I felt different now because I understood how to speak in a language that is not spoken by words. There are still so many things I wish I had done here. But I was rather happy for that, because it meant I have a reason to come back to this place one day.