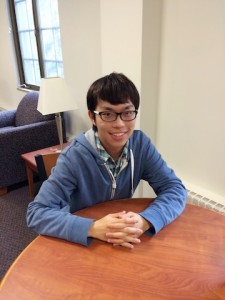 Name: Li Xu
E-mail: lxu4@nd.edu
Location of Study: Munich, Germany
Program of Study: Intensive 4
Sponsors: Innsbruk Fund

A brief personal bio:
My name is Li Xu, and I am from Wuhan, China. Right now, I am planning to major in business and German. I was on the Dean's List for my first semester. At Notre Dame, I have joined a variety of clubs such as Asian American Association, SIBC, and German Club. I also enjoy jogging and listening to music in my free time.
Why this summer language abroad opportunity is important to me:
The desire to learn, to challenge myself, and to promote my intellectual development leads me to apply for SLA Grant. As a freshman, I plan to have a secondary major in German. Therefore, my summer language study can help me both improve my language proficiency and prepare me for the challenging major courses. Academically, I want to fully grasp important literary works such as Goethe's the Sorrows of Young Werther and Faust, which I have been fascinated to read and comprehend in their original contexts since the beginning of my German study. In addition, I am also planning to major and have a career in consulting, which emphasizes teamwork. A successful team needs more than people who have great technical skills such as data-analysis; it also needs people with good communication skills, problem solving, and diverse backgrounds. My summer language study will teach me to interact with native speakers in their language and to communicate well with people from different cultures. Not only will I learn to resolve problems independently, but I will study at the best institution of language study, an experience that not many people would ever have in their lifetime. In a word, this summer study would improve both my language proficiency and the capacities that I need in academics and even future careers.
What I hope to achieve as a result of this summer study abroad experience:
I want to attain an advanced level of language proficiency, know more about German culture, and boost my personal development. The four-week-long program at Goethe Insitut is the next brick that helps me get closer to truly mastering the language. The exceptional quality of the program at the Goethe Institut will help me not only to meet my linguistic and academic goals but also prepare me for my future career path. I will also immerse myself in the culture and frequently interact with native speakers in order to make the most out these four weeks. Moreover, studying at the best institution of German study has been a dream since I was a teenager. This time, without the presence of my parents, I will be totally independent and fully responsible for myself, which can then shape me into a better individual. Should I receive the grant, I will commit myself fully to the study, not just because I want to succeed in the language, but because I want to succeed in my academic trajectory and career path.
My specific learning goals for language and intercultural learning this summer:
At the end of the summer, I will be able to communicate in German with native speakers on academic and cultural topics such as foreign policy and the Sorrows of Young Werther by Goethe.
At the end of the summer, I will be able to demonstrate significant tolerance for ambiguity and a willingness to take intercultural risks by engaging in cultural and linguistic interactions that are beyond my level of mastery and comfort zone.
At the end of the summer, I will be able to fully understand a variety of materials and utilize certain good patterns that I find in the reading in my German writing.
My plan for maximizing my international language learning experience:
To take a full advantage of the program, I will attend a plethora of cultural events organized by the Goethe Institut such as tandem evening, visits to museums, and sight-jogging. The tandem evening program pairs students up with native speakers who want to know more about students' home countries. This program cultivates the friendship between Germans and me, which allows me to continue practicing my language outside the classroom. To immerse myself fully in the culture and art, I can explore the various museums. The sight-jogging is a special sports activity that allows its participants to jog thorough many famous places. While doing an activity that I enjoy much, I can also interact with a native speaker who is also an art history specialist. He or she will then accompany me and explain the history of those famous places at the same time. To interact with native speakers even more, I plan to visit some universities and to reach out to German students by having conversations with them at the student activity center. More than to practice my language, I will also be able to recognize and fully comprehend the educational differences as well as cultural ones among US, Germany, and China. If possible, I hope to revisit some German friends of mine and my family to renew the friendship and to improve my language proficiency.

Reflective Journal Entry 1:
I have never been to Berlin, though I lived in Munich for a year, when I was fourteen years old. It is a city that I have heard and read so much about, but I still feel that I know nothing about it, as my departure date is approaching. The first few days can be rough, because I will probably suffer from jet lag and often find myself lost in the streets. Nevertheless, the excitement at the thought of studying in Berlin definitely overweighs the anxiety. I expect to attain a higher level of German as well as get a better understanding of the culture after this four-week stay in Germany.
By the way, I have thought it would be really warm during the June in Berlin, but one of my friends, who is also a recipient of SLA Grant, told me that it was actually sort of cold despite the sunshine. She has already been there for two weeks, so I guess that I would better trust her and bring some warm clothes.
Reflective Journal Entry 2:
It's already been a week since I arrived in Berlin, and I'm gradually getting myself immersed in the city. I lived in a district around Charlottenburg, a famous castle built in eighteenth century. My landlady—nice and energetic—was once a music teacher at a kindergarten. She loves African music, so it's no wonder to see some African inspired decorations and instruments. However, she doesn't often stay at home; instead, she likes spending most of her time in a park near Spandau, because she thinks the weather is perfect for going sunbathing every day. Also, I have a roommate from Mexico, a rising junior who is studying architecture in a Mexican university. He will study abroad for one semester next year in Germany, so he wants to start learning German from this summer. We've became good friends since the very first night when we met, and we have a lot of common interests as well.
The class at Goethe Institut has gone smoothly so far. I think it is great to have a small class with just 10 classmates from over the world who share the same passion for German. We all have different backgrounds and learn the language for various reasons, but we get along with each other very well. Our teacher is really passionate about discussion. Every day, we will read one long article from a German newspaper or magazine, which is also the base of our "debate" during the class. Though slightly difficult, most articles are relatively new and exciting, and their topics are relevant to our daily life. I find it interesting that the discussion will always end up with European politics, even if the topic is not so much about that area. Nevertheless, I have learned a lot about Europe from those discussions.
Since the next Monday was Pfingsten Tag, I wouldn't have any classes. Therefore, I decided to go to Munich over the weekend with a friend. The highlight of this three-day trip for me would be the visit to the Neuschwanstein Castle on Saturday, which is located in the suburb of the city. It took about three hours for us to get there from our hotel, and the sunshine was really strong, so we were pretty much exhausted after we arrived. However, once we entered the castle, the feelings of exhaustion would just disappear, because it was truly stunning to see those beautiful interior decorations that have been kept so well for years. Moreover, the castle had a wonderful view of the surrounding area. It was a little bit disappointing that cameras are not allowed inside the castle, so I could not prove to my other friends how amazing it was. During this trip, I also tried one famous cuisine of Munich: Schweinbraten, which is namely roasted pork. Trust me, it was absolutely delicious!
Speaking about food, I also finished one journaling task that requires us to identify a popular local dish. I chose the Currywurst—a sausage that is cut into slices, soaked in sweet but spicy ketchup, and then sprinkled with curry powder. Sometimes, it is even better to eat it with a piece of bread or some fries. You can now have this food basically in every German city, but my landlady told me that it was originally invented in Berlin. Once, I observed its preparation closely, and I thought that it would be easy for me to cook this food at home. Maybe, I will give it a try after I get back to China.
Reflective Journal Entry 3:
I feel that I am getting into the swing of things during the second week. My German class is going well, and I'm truly learning a lot. The teacher were very strict with us, making our German expressions more precise. For example, I once wanted to say: something is doing more bad than good. I translated this sentence word by word from English into German, but my translation was not approved by my teacher, because it was not the way that a native speaker would express the same meaning. Similar cases happened a lot in the class, and they have helped me realize many errors that I have never thought about before.
One advantage of Goethe Institut is that it offers a variety of cultural events. Our teacher especially recommends those events with one famous specialist of Goethe, who led a guided tour to the Berlin Wall this week. I used to think that there was only one wall that divided the city into two parts, but I have learned from the specialist that there were actually two walls, between which a dead zone existed. When we were near one previous DDR office building, the specialist told us one impressive story. He described that one DDR officer who once worked at the office in the sixties used a simple pulley to help his whole family flee to the West Germany. According to our guide, the reason why he succeeded is that there was just one wall in the sixties, a decade when lighthouses had not been well established. In addition, people in the higher rank did not think of the possibility that their officers would flee to the West Germany, because these DDR officers were treated relatively very well. There were many similar stories in the sixties, but it became very hard to abandon DDR later in the eighties.
The highlight of this week is definitely the World Cup. Everyone in the city was crazy about it! Since my roommate is from Mexico, he and I went to a Mexican restaurant to watch the game on Saturday. Some of our friends at Goethe Institut came to support him as well. Surprisingly, there were also many Germans in the restaurant who cheered for Mexico. It was great to talk with them in German.
I also finished journaling task six during this week. I interviewed three locals about their attitudes towards the United States. They are all familiar with the American pop culture such as the Hollywood blockbusters and the Billboard hits. Moreover, all of them have been to the US before, and they loved New York the most, describing it as a city full of energy and diversity. Two are big fans of President Obama, because they think that he is both humanitarian and believable. My landlady, however, criticized Americans for using the word, "friend," too much, because it seemed to her that everyone is everyone's friend in the US. In Germany, you will say someone is your friend only if you two are true friends. My landlady said that she and her real friends would still meet each other two or three times a week, whom she has known for over thirty years. Except this, she thought of the US rather positively.
Reflective Journal Entry 4:
Since our previous teacher will soon go on vacation, we have a new one this week, who comes from the southern part of Germany. We basically follow the same daily routine, reading an article from newspapers or magazines and then having a discussion about it. However, the new teacher will show us a painting or photo every day and ask for our interpretations on it. She studied art in college, so most of the pictures are relatively famous art works. This exercise has helped us know how to describe visuals in German, which is also very useful in our daily life. At first, I thought that it was such a bad idea to change the teacher, but I now find it great, because we can hear some different expressions and have some new linguistic practices
On Monday, some of my friends and I heard that there would be a giant screen at the Brandenburger Tor that transmitted the match between Germany and Portugal, so we went there to watch it. There were so many German fans who wore the team jerseys and waved the national flags. I do not want to exaggerate their enthusiasm, but, every time when Germany scored a goal, they screamed and clapped so loud that I felt as if I could be deaf. Moreover, after Germany won the match, everyone was extremely excited, and a few fans would just give high-fives to each stranger that they passed by.
This week, I also finished a modified version of journaling task two that asked us to identify one current controversial social topic. In class, we read one article about a plastination exhibition in Berlin that has now caused much controversy. My classmates had a debate on it. On the one hand, some of my classmates think that this exhibition can have educational value, because it offers an opportunity for the public to know more about the human body. Even, it can inspire some young students to study medicine and conduct further researches into this field. On the other hand, others think that it is quite horrifying, because most plastinates have weird poses. To be more specific, there is a plastinate that holds his own skin in his right hand. Furthermore, this exhibition is at the Alexanderplatz, a place where young children will often be around, so those show pieces can potentially have a negative impact on them.
Reflective Journal Entry 5:
Time is flying in Berlin! I cannot believe that this is my last week in this amazing city. On the last day of class, my classmates and I went to a small cafe near the Goethe Institute to celebrate the end of these four wonder weeks. Our second teacher also joined us. Unfortunately, two of my classmates were not there for some reason, and our first teacher was still on vacation. We had fun nevertheless. It was amazing to spend a month with all of these talented and friendly people, and I have learned a lot from them.
Also, I was able to bid farewell to most of my friends at Goethe face to face. We all come from various countries and speak different languages, but we have managed to talk with each other in German for most of the time during these four weeks. I hope that we would have the chance to get together in the future.
During this last week, I also finished the journaling task one that requires me to identify some idiomatic expressions. I have chosen two slang. The first one is: Lieber den Magen verrenkt als dem Wirt was geschenkt, which means that it is better to eat up all the food in the restaurant. The second is: Was man nicht im Kopf hat, hat man in den Beinen, which means that you have forgot something. Most of locals that I have met understand these slang and use them sometimes as well. However, they won't use them very often, because they are a little bit too long.

Reflection on my language learning and intercultural gains:
I am extremely grateful that I was able to take a German course at the Goethe Insitute this summer with the help of CSLC. Not only have I gained a better understanding of the German culture, but I have also made much progress on my language learning. After these four weeks, I can now read a long article in German with relative ease. If I encounter some new words, I will also be able to guess their meanings in context and try to explain them in German. In addition, I have improved my pronunciation as well as my listening comprehension. Overall, I am satisfied with myself.
Reflection on my summer language abroad experience overall:
The SLA program provides me a firsthand insight into the power of globalization, which has connected people from over all the world together to some extent. To be more specific, we can now have classmates from various countries and use the same language to communicate as a result of globalization. And it is surprising to find more cultural similarities than differences among us as well.
I would advise those students who have interest in SLA grants that they should apply for them right now! I also want to suggest that they stay positive about everything that they might encounter while they are abroad. It isn't a bad idea to embrace things that you have not expected at all. Last but not least, I think that it is great to stay together with a local, and, if there is such an option, they should choose it without hesitation.
How I plan to use my language and intercultural competences in the future:
To maintain what I have learned, I will keep reading German newspaper articles or literature every day. Also, I think that I will utilize Deutsche Welle more, a German international broadcaster that is similar to BBC, for the practice of listening comprehension. As for the future plan, this SLA experience can help me prepare for the possibility of studying or working in Germany, because I will be able to adjust myself to the environment faster.