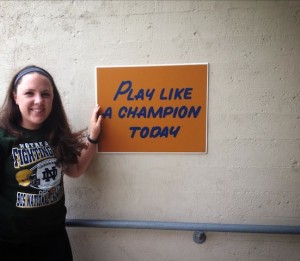 Name: Pauline Hickey
E-mail: phickey4@nd.edu
Location of Study: Freiburg, Germany
Program of Study: Intensive 4
Sponsors: Innsbruk Fund

A brief personal bio:
My name is Pauline and I am a Marketing major/German minor at Notre Dame. I have taken German since high school and am very excited to be traveling to and studying in Freiburg this summer!
In my free time I like to play and watch sports. I am from the Boston area, so I am a proud Red Sox, Celtics, Bruins, and Pats fan. I also love to watch the Irish!
Why this summer language abroad opportunity is important to me:
Due to the strict requirements of the business school, studying abroad in Germany is not a possibility for me during my junior year. Getting the SLA Grant is the perfect alternative because it allows me to go to and study in Germany and not get behind on my business requirements. In fact, it allows me to get ahead in my minor and free up time in my schedule.
No experience compares to learning a language in its native area I am grateful that the SLA Grant affords me this priceless opportunity. I plan to use what I learn in Freiburg in future German courses back at ND, as well as later on in my business career.
What I hope to achieve as a result of this summer study abroad experience:
I hope to earn credit toward my German minor by passing a test which will take place at the end of the program. Beyond this, however, I hope to enrich my knowledge of the German language and culture by being very hands-on in my experience.
I refuse to be idle with my time. After classes end on the weekdays, I hope to engage my classmates in conversation, visit museums, taste authentic cuisine, and travel around the area. I hope to maximize my short time in Germany in order to learn as much as possible.
My specific learning goals for language and intercultural learning this summer:
1) At the end of my program, I will have passed the exam that will count as a 3 credit Notre Dame course.
2) At the end of my program, I will have broadened my German vocabulary and knowledge of German grammar and be able to converse more fluidly than I currently do.
3) At the end of my program, I will be more confident in my German skills and better able to discuss more intricate topics as well as take more risks in both speaking and writing.
My plan for maximizing my international language learning experience:
The primary way I will take advantage of the program beyond the classroom is through the Kulture und Freizeit (culture and free time) Program offered by the institute. This program is guided by Goethe Institut employees. Through the program, I will explore the local theatre, music, museums, and cuisine. All of the tours are run by native German speakers, which will provide me with yet another way to work on my conversation skills.
Additionally, I have signed up to have a roommate in Freiburg- ideally the only language we will have in common will be German- which will also help my conversation skills as well as broaden my worldview.

Reflective Journal Entry 1:
This is more of a pre-program post than a pre-departure post, as I have already made it to Germany. I am currently in Frankfurt where I will spend two days before heading south to Freiburg, where my program actually begins. Right now I am mostly sleeping and adjusting to the time change. I did manage, however, to take a city tour on one of the hop-on hop-off buses. Frankfurt is a big banking city and while I did really enjoy the tour and the sights, it is overwhelming to be here alone. I am looking forward to getting to Freiburg, where I will know a few other ND students and will make many more international friends (I hope!) with whom I can travel and explore Germany.
I have not interacted with many Germans yet, but I have understood the German I have heard. This should be a good sign for my program. I am shooting for one of the mid-level classes, but I guess my placement also depends on the levels of the other students.
I know this first post has not been too thrilling, but there is much more adventure to come. At this point, I'm excited to start my program and make friends, yet nervous about traveling alone for the next few days and getting situated in Freiburg. Lastly, I am hopeful that my German skills will help me in these endeavors.
Reflective Journal Entry 2:
Guten Tag! I have just completed my first week here in Freiburg and so far it is going well. I was very happy to get here and start making friends, and so far I have met people from Australia, Brasil, Greece, Switzerland, France, Canada, Saudi Arabia, and other countries. Although we are all very different, we are united in our endeavor to learn German. I placed into the B2.1 level, which is an upper level intermediate, and so far seems to fit my skill level. One of the biggest problems for me and some of my classmates is that we are fairly advanced in German and want to say more complex things but speak very slowly because it is hard to get our thoughts out properly. I am hoping to overcome this and sound more conversational over the next few weeks. Another aspect of being in the B2.1 level is that I have afternoon classes, so in the mornings I can sleep in a little, do homework, exercise, and explore the city.
The city of Freiburg is fabulous. It's very manageable because of the Münster (a huge, beautiful cathedral built in the 1200?s) and two old towers that serve as landmarks, making it virtually impossible to get completely lost. The Altstadt (old city) also has a ton of restaurants and shops as well as a central train station which makes it very easy to take day trips. Our guest house is just outside the old city, near the train station. It is a very pretty and convenient walk over the bridge every day to class or into the Altstadt. So far, I have loved walking into the city to try the various local specialties. I think the pastries and butter pretzels are probably the best, but I have also tried dönner (turkish meat dish), Currywurst, and sauerkraut. I hope to try Schwarzwaldkuchen (black forest cake) by the end of the trip, since I am living in the middle of the black forest!
The Kultur und Freizeit Program (culture and free time program) has been great so far- I visited Baden Baden this past weekend and I will be going on a hike through the program this weekend. I think the program is the best way to do these little excursions, since they are guided by people who know what they are doing/where they are going. Baden Baden was gorgeous and while I did not go into the hot springs (it was over 90 degrees all weekend and I did not need to be hotter), I did explore the city, and took a tram up a mountain for a spectacular view. But yes, it was extremely hot here all weekend, and Germans do not have air-conditioning. Anywhere. It was very difficult to cool off, but it looks like we are through the worst of it now. Luckily, the weather should be perfect for my upcoming hike.
This past week has flown by, and I know the next will do the same. I will post an updates soon with all that I have done! Bis dann!
Reflective Journal Entry 3:
I can't believe I am just over half way done with my time here in Freiburg! I also am astounded at how much I have done recently. In class, it seems we are flying through topics and grammar structures, and outside of class I am meeting many interesting people and experiencing more German culture.
I think this weekend was my favorite so far. On saturday, I went on a trip with the Kultur und Freizeit office to a lake called the Schluchsee. I really didn't know much about it before heading out on the trip but as soon as our train started winding through beautiful mountain passes I knew I was in for a good day. We arrived at the Schluchsee train station (called "Aha Bahnhof" which I thought was hilarious) and started walking. Getting away from the city for an afternoon was exactly what I needed. A long walk along perfect nature trails around a beautiful lake making conversation with Germans and other international students- could it get any better? Yes, it could and it did. After an hour or two of walking, we came to a small restaurant/stand along the trail. I had what I will describe as a life-changing cappuccino and split an apple strudel with a friend. Needless to say I felt pretty German. Then we continued walking around the loop back to the train station. I was having such a good time that I didn't realize we had walked about 10km! The next day many people went on another trip to the Bodensee (or lake Constance in English) but my roommate and I stayed behind and wandered into the city. We spontaneously decided to hike up a hill at the far end of the city and were rewarded with an amazing view. Our little walk turned into a 4 hour city tour. Overall this weekend was filled with spontaneity, which is why I think I enjoyed it so much.
The World Cup or Weltmeisterschaft also started a few days ago. Normally I would not care too much about this but being in such a soccer-crazy country and studying with soccer fans from all over the world, I have gotten pretty into the games. More on this in my next post. Right now I am off to get ready for class and another day of German fun!
Reflective Journal Entry 4:
Reflective Journal Entry 5:
Reflective Journal Entry 6:

Reflection on my language learning and intercultural gains:
Reflection on my summer language abroad experience overall:
How I plan to use my language and intercultural competences in the future: