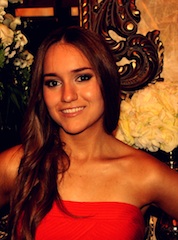 Name: Shadia Ajam
E-mail: sajam@nd.edu
Location of Study: Muscat, Oman
Program of Study: Summer Arabic in Oman: Arabic Language in Oman (ALIM) 2014
Sponsors:

A brief personal bio:
I grew up in Brownsville, Texas, a city on the border of Mexico. I am a rising junior majoring in Political Science, Arabic, and Spanish. After this summer I will be studying in Santiago, Chile for the fall 2014 semester. Being half Mexican and half Syrian, Arabic has always been a language I wanted to acquire and am looking forward to the opportunity to study it in Oman
Why this summer language abroad opportunity is important to me:
Ever since I can remember it has been a goal of mine to learn not just another language, but Arabic in particular. My father who is originally from Syria was not around much when I was younger to teach me the language. Once I grew older it became hard to learn without some kind of instruction or immersion. I have an Arabic name and I do not know Arabic; I am Syrian but have never traveled to the Middle East. This is why I feel I am unable to identify with a large part of who I am. Only now am I beginning to realize that my lost identity, split into three countries (my mother is Mexican), symbolize who I am. I am planning on attending law school after I graduate and specialize in international or immigration law. Through this I hope to do some work in the region or in some capacity associated with it.
What I hope to achieve as a result of this summer study abroad experience:
By spending a summer in Muscat I hope to become fluent in Arabic and be more familiar with Middle Eastern culture. I'm hoping that this experience will allow me to take more advanced courses in Arabic, because I will be able to think in Arabic, and that I'll be able to relate to Middle Eastern culture more. When I return I want to be able to use all my social media in Arabic as well as read Arabic news. Most of all I'm hoping I can hold a conversation in Arabic with my father and all my relatives from his side of the family. Obviously I'm hoping that this experience will grant me a skill that will open several doors in my career path.
My specific learning goals for language and intercultural learning this summer:
At the end of the summer, I will be able to think in Arabic.
At the end of the summer, I will be able to carry a conversation with native speakers with confidence.
At the end of the summer, I will be able to pronounce the Arabic alphabet without an accent and read Arabic text without hesitation
At the end of the summer, I will be very familiar and comfortable with Middle Eastern culture.
My plan for maximizing my international language learning experience:
Besides the CIL's peer facilitator program, the institute also offers periodic excursions to places like Sultan Qaboos Grand Mosque, Omani wadis, and a 4,000 year old village, Misfat Al Abreyyin. I plan on attending as many of these outings as I can. Also offered by the institution is a program called "Student 2 Student" that links each student with an Omani of the same gender that I plan on participating in. The CIL campus is near Sultan Qaboos University, the largest public university in the Sultanate, and after speaking to an administrator at CIL it is "very easy to interact with organizations and events there– musical, cultural, artistic." I plan on finding a club/organization once there and attend events hosted by the university. And, lastly, if I have the time I also plan on taking pointe classes once a week at "The Music Palace at Oman," a small, local business that offers both music and dance classes in Muscat. When I am not attending these activities, I will be spending most of my time exploring the city (safely) and its surrounding regions, exercising my Arabic as much as I can.Bottom of Form

Reflective Journal Entry 1:
I arrived to Muscat yesterday night. I was welcomed by one of the staff members from the International Center for Learning at the airport, bought a calling card, and exchanged the cash I had for Omani Rials. After that we headed to hotel Hussin al Khaleej where I'll be staying for the duration of the program with three other roommates who are also American. Today we made our way to the CIL campus for a brief orientation over Omani culture and what typical school days will be like during the week. For lunch we were served hindi food cooked by a local Omani woman named Shadia also. It was absolutely delicious. Afterwards we went on a tour of the city and got to stop by the Bait Al Zubair Museum that showcases Omani artifacts. Once we finished we headed to the Al Alam Palace–the ceremonial palace of His Majesty Sultan Qaboos of Oman. The palace was surrounded by beautiful green gardens, intricately designed buildings, and an incredible view of the gulf of Oman. Finally, to end the day we headed over to one of the more visited/tourist areas in Muscat, the Muttrah Souq. The Souq is a large indoor market place full of household goods, shoes and ready-made garments. Further inside, you can enjoy the mixed smells of frankincense, perfume oils, fresh jasmine and spices. I tried lemon mint tea for the first time while I was there, it was freshly made and tasted delicious. I can't wait to try more of the fresh juices. I have yet to go out to dinner at a local restaurant but I might head out to dine out with a couple of friends from the program this afternoon! The neighborhood I'm in is filled with Turkish restaurants and cafes so we might head there. Also, this morning I headed to a local grocery store on my own and was heavily stared at. But, then again, everyone seems to stare at the foreigners here. The local Omanis are so welcoming and friendly, though. While at the airport one man noticed I was about to insert my sim card into my phone and started helping me out making sure I got it working. Tomorrow we'll begin class, inshallah, and be done in the afternoon. I'll check back in a week before…or after we head out to the desert next weekend! ma'a as-salamah.

Reflective Journal Entry 2:
It's been a little over a week since my last post. Since then I've been to several places around Muscat and Oman. I have class from 8:00 to 3:30 from Sunday to Thursday. My first two classes focus on grammar and conversation given by a professor named Amani. My second class, given by a professor named Hind, focuses on reading and writing. After class we either have a presentation given by a professor or we speak with our peer facilitators in Arabic for two hours. We get together with our peer facilitators three times a week. Mine is named Muhammed, an Omani who lives about two hours outside of Muscat and studies at Sultan Qaboos University. I think I'm probably learning the most when I speak with him because I'm actually applying what I'm learning in conversation. And my conversational and listening skills still need a lot of work, but I see myself quickly improving every day both with the classes given in all Arabic and my time with the peer facilitator. Also, the environment for learning here is awesome because I'm living with girls who are either more advanced or at the same level of Arabic as me, so finding help isn't hard.
This weekend I traveled to the Sharqiya desert with a group of students from the program. we left early Friday and got back to Muscat midday Saturday. So, we spent the night at a small camp in the middle of the desert where we met some bedouin. They told us a lot of stories about Jinn encounters, supernatural creatures in Islamic mythology. I wasn't able to sleep because of this and a huge tarantula my roommates found in our hut. Despite the heat, bugs, and supernatural creatures the trip was incredible. With little light pollution we were able to see so many stars and even part of the milky way. The bedouin also taught us how to dance and took us dune bashing which was awesome. This week we met up with a friend of a friend I am staying with whose name is Habiba. She is Omani and lives here in Muscat. She took us to the Royal Opera and she treated us to a nice dinner there. Afterwards, we made our way to Love Street here, a street where young people go to "flirt," but not really. Habiba and her cousin told us that whenever they would drive through the street they would never dare speak to any boys because then that makes you too available, then word gets out that you are too available, then no one will marry you. The culture here is fascinating and I learn more about it every day.
Yesterday the Institute took us to Sultan Qaboos Grand Mosque. A friend I'm staying with lent me her Emirati abaya (a loose over-garment, essentially a robe-like dress worn by most Muslim women here in Oman) that had beautiful, intricate detail embroidered along the sleeves, back, and chest. along with a matching hijab. All women must be covered when entering any mosque. The Grand Mosque was incredible. We were taken to the women's prayer room first which was fairly small but still beautiful. Next, we walked over to the men's prayer room which we were told was much larger and more beautiful, and indeed it was. Although I almost had a heat stroke wearing the abaya, it was definitely worth it!
These have been the highlights of my trip so far. Later this week me and two other friends are planning on taking a trip to the mall with one of our teachers, Amani, to get our nails done and treat her to some Pinkberry (YES THEY HAVE PINKBERRY HERE). And on Saturday we will meet up with Habiba again and go to the Muttrah Souq, a large marketplace here in Muscat that sells authentic Omani items. Ok, wallah I have to go do laundry now. I'll check in next week with more on culture and my progress with the Arabic language, inshallah!
Reflective Journal Entry 3:
Marhaban! Since the school was organizing another desert trip for the group of students who did not have the chance to go last time, I visited Dubai with a couple of friends and just got back this morning. The Emirates is truly an amazing place. With its discovery of oil in 1996, Dubai underwent a drastic change from being a poor pearl-fishing village to being dubbed the City of Gold. The city boasts the Burj al-Arab (most expensive hotel in the world), man made islands, and the world's tallest building—widely catering to tourists. So, because of this, I did not learn much about actual Emirati culture. In fact, there is only one restaurant in all of Dubai that serves authentic Emirati cuisine. The number of foreigners living in the United Arab Emirates reached a combined total of 8.26 million in the latter half of 2010, representing a total expat population of 88.5% of the UAE's combined population. That means only 11.5% of the population is comprised of native Emirates. This can be widely felt while visiting the city. For example, there is only one restaurant in all of Dubai that serves authentic Emirati cuisine, and the calls to prayer (much like catholic church bells) are still announced from the minarets of mosques, but are heard less throughout the city compared to Muscat.
During my stay I visited the largest mall I've seen in my life, Dubai Mall, the Burj Khalifa (tallest building), and Jumeirah Beach. Walking through Dubai Mall is fascinating, not just because of the luxurious stores and architecture, but mainly because of the GCC (Gulf Cooperation Council which includes: Suadi, Oman, Qatar, Kuwait, and Bahrain) natives walking around in their beautiful garments. The men will usually wear a dishdasha (a long ankle-length garment with long sleeves) with a keffiyeh (head dress). Natives from each country have a unique way of wearing their keffiyeh. Men from Saudi will usually have a red and white checkered keffiyeh on while the men from the other GCCs will usually wear a white keffiyeh but with a different folded design. Men from Oman are easy to distinguish because they are the only men who wear embroidered pillbox hats called kummas. As for women, a traditional garment worn by all women from the GCC countries is the black abaya, a long flowing black gown that is worn over their clothing, and paired with a shell a piece of material used to loosely cover the head. The head garment will vary for many women. Some will choose to wear the niqab, a garment which only shows the eyes common among Saudi women, shela, or hijab.
While watching Glee in my hotel room it as very much filtered to remove certain words. Also, the UAE loves their Sheikh. This can be seen by looking at the several pictures of him on buildings and pretty much everywhere while driving. Also, his biography was found in the best sellers section in Dubai Duty Free inside the airport, which wasn't surprising.
Besides Dubai, my week was amazing. My conversational skills have improved immensely and I am no longer scared to speak to natives in arabic even though my pronunciation still needs work. I was so happy when the people in immigration read my name and asked me if I was Arab, and I was able to answer back in Arabic confidently and engage in a small conversation with them. I've had a lot of perks thanks to my Arab blood, like free wifi at our hotel and some free postcards courtesy of a Saudi. I could get used to living here.
Lastly, this past week we had our first student to student event, an activity that pairs each student with a student from Sultan Qaboos University. I met a girl named Maryam who was studying to be an air traffic controller, in fact, several girls were studying to be air traffic controllers which was surprising. She told me she was trying to find scholarships to study in the U.S. and that her dream school was NYU. Afterwards, I did some research and sent her some links that will, inshallah, help her find a scholarship. This week we have our final exams then I fly back to the U.S.! It has been an amazing three weeks so far, I'll check in next week with more on my last week here! Masalama 

Reflective Journal Entry 4:
Marhaban! Tomorrow I fly back home. It's been an amazing month here in the gulf. I've been immersed in a fascinating culture, met some incredible people, and learned so much. This last week I finally got the chance to grab some Pinkberry at City Center (one of the malls here) with Amani, my teacher. My other teacher, Hind, drove down to Al-khoud, our neighborhood, to help a couple of friends bargain for some tailoring they had ordered at a local store. The store had charged them 10 rials for each piece (equivalent of $26 and several locals insisted that the price was too high. Of course, when my friends agreed to pay that amount they had no idea it was too much. When it was time to pay our teachers argued with the owner and insisted that they were taking advantage of my friends. He wouldn't change the price. "If you want me to change it then call the police." So, our teachers called the Omani police and after an hour they arrived. After some arguing (although the police laughed along with the shop owner in the end) they lowered the price. A lot of people will try to take advantage of the fact that you are a foreigner here, the first ones being taxi drivers. Oman is known to have a culture of bargaining. Because of this, I've learned to play the game well.
On Wednesday night we had a last dinner with Habiba's cousin, Malak. We headed over to Shakespeare and Co, an Emirati restaurant chain with just one branch at "The Wave" in Oman. The Wave is a public-private venture between the Government of the Sultanate of Oman and the UAE-based Majid Al Futtaim Properties.The next phase of development will see four luxury hotels and a 50-unit retail area at the marina village, to form the commercial and leisure hub of the community. The Wave is just one of several examples of how Muscat is rapidly developing its infrastructure and on the path to attracting more tourists. Malak's mother owns a women's salon and spa here in Muscat and we had the chance to go and see it last week. Her mother insisted that we have a photo shoot so she could do our makeup. So, we all got our makeup done by Malak and her mother and had a photo shoot. As the name suggests, only women are allowed into the salon. There is even a lock on the front door to make sure men don't just walk in. This is because muslim girls who go into the salon take off their hijabs while there, and women must be covered at all times in the presence of a man who is not a close family member.
Yesterday some friends and I drove to Al Sawadi beach. The beach was empty and we had lunch at a small resort, where I tried camel meat for the first time. The meat was so soft that it was hard to keep the burger in one piece. But, it was delicious nonetheless. I was a bit scared because there's a virus going around called respiratory syndrome coronavirus (MERS-CoV). The animals have been suspected as the source of this virus. But, I'm still here and healthy so inshallah I won't be the next victim. Also, I got my henna done today before I leave. I googled some designs and found a Moroccan design I really liked. They were able to create the exact design on my hand and it's beautiful. The ink will last about a week. Omani women will usually get henna done before weddings, but will still get it done just for fun.
On Thursday, the last day of our session, the Institute organized a small graduation ceremony where we all received our diplomas. My stay here has been incredible and I hope this is only one of many visits I will be making to the Middle East!
Reflective Journal Entry 5:
Reflective Journal Entry 6:

Reflection on my language learning and intercultural gains:
Reflection on my summer language abroad experience overall:
How I plan to use my language and intercultural competences in the future: