After struggling for several weeks trying to complying with the Russian Visa requirement, I finally arrived in Moscow on June 7th. While I was waiting for the driver to pick me up, I talked to the first Russian local I met to purchase a local SIM card. The first thing that came to my mind when I tried to speak Russian was: Wow, I really should have studied harder back in school. With a mixture of Russian, English and body language, I was finally able to purchase the plan I wanted.
On my way from the airport to Moscow State University where I am going to study at, I was able to glance at the city for the first time. It was nothing like the stereotypes that we always hear of. The temperature was normal, even warmer than South Bend. The city was new, showed little sign, if there was any, of a decaying economy.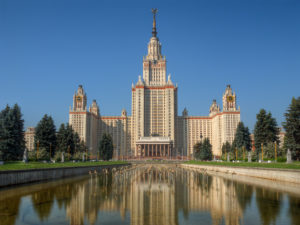 After almost an hour's drive, I finally arrived at Moscow State University, my home for the next month. Moscow State University is the most prestigious school in the country and was established in 1755. It took me almost one hour to finally find the rector who was in charge of moving in issues. I was assigned to a double with a Russian post-doc student. Although the room is called as a double, it is actually a room divided into two singles with two people sharing the bathroom and toilet. You may think Russians are cold, as no one walking on the street would smile like people do in the states. My roommate said or did nothing as she saw me move in to my room until I knocked on her door and started introducing myself. She is actually very nice and friendly, giving me her number and telling me to ask her for help if needed. Later that evening I met with the orientation guide from my program. She gave me a tour around the university and helped me buy some daily necessities. We also ran into other students of my program accidentally, and went out together later that night.