We're back! As I mentioned in my last post, a group of Sant'Anna students and I had the opportunity to visit the beautiful island of Sicilia this weekend. We packed a lot of activity into a short amount of time but it was well worth the experience. We began our trip with a 45 minute flight from Naples to Catania on Friday morning and arrived in Sicily around 11:00 am. From Catania we took an hour-long bus ride to our hostel in Giardini Naxos, the beach town neighboring the popular tourist destination of Taormina. We spent Friday on the beach in Giardini Naxos trying some authentic Sicilian cuisine before we took the short bus ride to Taormina for dinner. At dinner we had some very entertaining and enthusiastic waiters who provided us with a great first night in Sicilia. After a big group dinner they gave us a free taste of the most popular Sicilian desserts: cannoli, cassate, pistachio gelato, granita… it was all delicious. And to top it all off, the restaurant had a gorgeous view of the Sicilian coastline at night.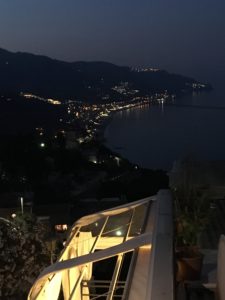 The next day we took a snorkeling boat tour along the coast and met some American Marines stationed in Sicily who were completing their scuba certifications on the same boat. They were all a little shocked to finally be talking to Americans again after five months in Sicily but they were happy to have some compatriots for once. Two of the Marines convinced the boys on the trip to do some cliff jumping as well, and it was definitely worth the experience. Like they said, how many opportunities would I have to cliff jump in Sicily again? The photo below is a shot of all the boys in our group before the sun got the best of us on the open water (From left to right: Rob, Nick, me, Tyler).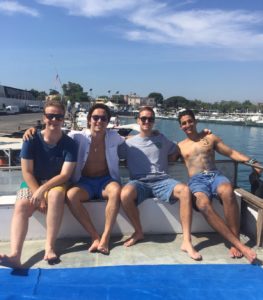 After our boat experience we decided to go back to Taormina again, except this time we wanted to spend a few hours in the center of town. Doing so was a great choice. Taormina is as beautiful as all the photos on the internet make it out to be. The town is built into the side of a mountain so the views from just about anywhere are breathtaking. The first thing we did when we arrived was visit the Ancient Greek theater located at the highest point in the city, and from there I captured some magnificent photos.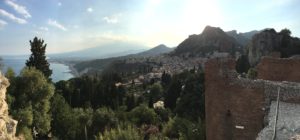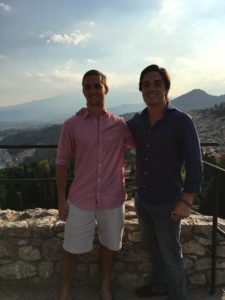 After walking around for a while, we made it to the main piazza where we took a rare full group photo against the beautiful skyline. Finally, we ate another fantastic dinner in Taormina and then returned back to Giardini Naxos for the night to have some dessert and relax at a restaurant right on the beach (From left to right, beginning with the back row: Rob, Nicole, Vera, me — Sophia, Tyler, Megi, Nick).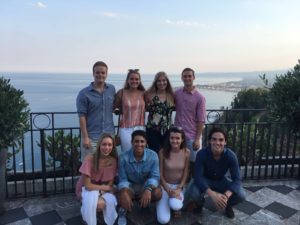 Sunday consisted of planes, trains, and automobiles. First we took a bus from Giardini Naxos back to Catania airport. From there we flew into Naples. And finally we took the train from Naples back to Sorrento, arriving at 9 pm after leaving the hostel around noon. Today we were all exhausted in class, but it was definitely worth it. I truly cannot wait for my next visit to Sicilia.