Being born in the summer, I've had the opportunity to celebrate my birthday in many countries. This year, I had the good fortune of celebrating my birthday in Beijing! Being of Chinese descent, I can or cannot have a birthday cake, but I must have my longevity noodles. I'm so happy to be able to try a bowl of authentic Chinese longevity noodles (长寿面)。
The tradition of the longevity noodle dates back to the Tang Dynasty (618-907). Legend has it that Emperor Xuan Zong was facing financial troubles during his reign but was able to trade a purple shawl for a bowl of longevity noodles on his birthday. To understand the symbolism and hidden meaning within Chinese architecture, interior design, literature, lifestyle is to understand Chinese culture. Food is also an important reflection hopes and aspirations of the Chinese people.
There are many various ways to prepare these noodles. At home, my mom would cook it Singaporean-style rice noodles (mee sua) with eggs, vegetables and meat. In Beijing, the noodles are usually made of wheat to prevent breakage and served in a plain soup with vegetables and a poached egg.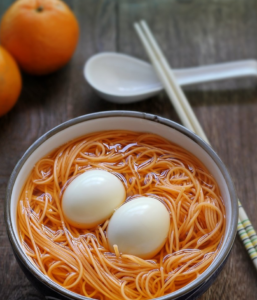 Longevity is about hoping and wishing for wealth, health, happiness and a long life for the birthday celebrant. Chinese culture and society value believe that without life, there is no meaning. Therefore, the Chinese value a long, prosperous life tremendously and what better dish than noodles to embody the concept.
The noodles should be made of entirely one strand and should not be cut when being eaten as it would mean cutting one's lifespan short.
I am very happy and blessed to be able to spend my birthday in Beijing this year, and to understand the meaning behind my annual longevity noodles, as I also hope and aspire the same things as the Chinese.