Generally speaking, I took time this week before leaving again for Chinon to explore more of the cultural opportunities which Tours has to offer. Namely, I visited the Musée des Beaux Arts which is located in a old house adjacent to the cathedral, pictures of which I included in my first blog post. On top of its location, the museum also boasts a beautiful garden which at the time of my visit was being planted and a giant Lebanese Cyprus tree in the center courtyard. The museum's collection itself is impression because it covers art ranging from the ancient Greeks to present day with exhibits on realism and impressionism, just to name a few. As I mentioned in my first blog post, there is an outdoor farmers' market located around the daily indoor market named Les Halles every Wednesday morning. Once again, I snuck away from the institute between classes to purchase raspberries and was again infinitely impressed with their quality and flavor. There is also a flower market on Wednesdays which I imagine would be beautiful to visit and photograph.
This weekend I returned to my host family's house in the countryside (near Chinon) with hopes of completing more tasked outlined on the SLA website. Fortunately, doing so presented the perfect opportunity to investigate the cuisine of the Touraine region and the unique characteristics which make it so special. Rather than go out to dinner, I went grocery shopping with my host family's children, Matthieu and Antoinette, who were extremely helpful in explaining the dishes we would be eating for dinner, particularly the regional specialities. The two specialities I choose to explore were "rillettes" and "chèvre." In French, "chèvre" literally means goat but it is also the name given to the cheese made from goat's milk. While chèvre is common all over France, Tours and the surrounding region, such as Chinon, offer some unique varieties which I had the opportunity to taste this weekend. Namely, I learned that Sainte-Maure de Touraine, a cheese with a government-controlled appellation, is unique for two reasons; the first is that the milk with which it is made is not pasteurized as it would be in the United States and the second is that in order to be officially Sainte-Maure de Touraine, there must be a piece of straw through the center of the cheese in order to secure its authenticity. Compared to cheese in the United States which is made with milk which has been pasteurized, chèvre made with "lait cru" provides a stronger flavor. Moreover, Sainte-Maure is aged differently that other goat cheeses I have had in the U.S. so the drier texture was a new experience which I truly enjoyed.
While cheese is served after the principal plate during a french meal, rillettes are commonly served as an appetizer in the Touraine region. This weekend I had the opportunity to experience two different types of rillettes. The first variety was made from geese and the second, and my preferred, was made from duck. Essentially, rillettes consist of meat and fat from the chosen animal which is then cooked with wine for a period of time which allows the meet to become extremely tender before they are served with bread or crackers. I learned this weekend that the wine used to make rillettes is often local white wine from the Loire Valley, a fact which increases the authenticity of the dish. My experience with this dish was enhanced by the fact that for dinner on Saturday night, after the appetizer of rillettes, I tried rillons which are larger pieces of pork similarly prepared but meant to serve as an actually plate. Overall, this weekend provided me with an opportunity to try two products, Saint-Maure de Touraine and rillettes, which I have frequently seen in markets across Tours but had not previously ventured to trie.
In Chinon, I visited a chapel which traces its history to the second century when the well located there was founded by the Gallo-Roman civilization. Moreover, the frescos from the 12th century, although faded, were nonetheless impressive. I was also able to visit the Fortress of Chinon which is unlike other château because its purpose was truly defensive rather than an elegant escape for a king. Finally, on the return to Tours, we stopped to see the château Villandry which is world-renowned for its gardens. With that being said, I plan on returning this Wednesday so that I can actually experience on of the Loire River Valley's cultural icons.
Musée des Beaux Arts and surrounding garden (Tours)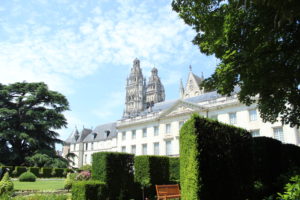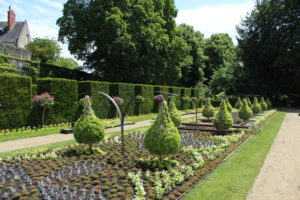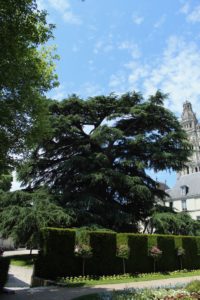 View of the Vienne River from the Forteresse de Chinon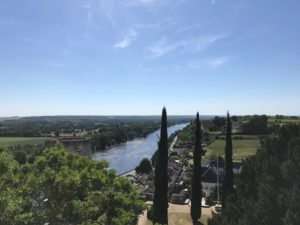 Bell Tower of the Fortresse de Chinon