After another week in Tours, I have noticed further improvements in my vocabulary, fluidity of speech, and utilisation of more advanced concepts. At the same time, however, the difficulties of learning a language have been reinforced. For exemple, this past Wednesday, I went to the outdoor farmers' market which is held outside of the indoor market named Les Halles which I mention in other posts, and when I went to purchase  raspberries, the man at the stall asked me English, "which one do you want?" Something similar happened to me a few days later at a café. While it is likely that he was just trying to assist someone learning the language, such events do from time to time make me second guess my confidence and ability to speak French, this experience demonstrated an occasional dilemma of learning French. Despite this , the weekend I spent in the country side, near Chinon, was incredible helpful for my acquisition of vocabulary and provided a truly immersive and demanding language experience. My host parents' children, Antoinette and Matthieu, came to the family's house in the country side for a weekend as well. Nonetheless, the weekend provided a chance to stop and reflect on words and phrases which I would have otherwise been forced to forego in a typical daily interaction. (I was also able to help Matthieu with his English.)
In Tours, I took time this week to explore some areas which I previously had not been to. Such adventures were rewarding because they allowed me to see the "Hôtel de Ville," a small but not the less beautiful church, and two separate public parcs where locals go to read, chat, or simply enjoy the beautiful spaces which their city provides for them.
On another note, considering the current political climate in the United States, it was not long before my host family, professors at the institute, and my friends from other countries whom I have met asked me my opinion of the US government. Of course, these conversations were useful for me because I was able to turn the questions around in order to learn more about foreign perceptions of the United States.
Talking to my host family about politics is consistently interesting because France itself is in a unique place politically. Emmanuel Macron, the month-old president of the republic, took French politics by storm by avoiding the traditional left and right in order to find himself president. As my host family has expressed to me, however, it is difficult to truly know what Macron will do because he is part of neither the traditional left or right, a sentiment which has been echoed by them concerning President Trump. Aside from politics, a lot of conversation at dinner has concerned the differences in education and the french workplace. My host family admires the economic system in the United States because, although it is more demanding, it permits for greater mobility which does not exist in France and has been the cause of high unemployment since the financial crisis of 2008. In terms of education, the great competition the exists for entrance into the so-called "grandes-écoles" is something I never appreciated. French students sometimes undergo two years of preparation just to prepare themselves for entrance exams. Interestingly enough, my host family travelled to the United States in 2000 with their children in order to  visit relatives, one of whom was actually a French instructor at Notre Dame. On a cultural level, the Laumonnier's very much enjoyed the natural beauty which the United States has to offer and commented on the country's geographic immensity.
At the Institut de Touraine, one of my professors, Alain Maydat, took a strong political position concerning the United States. For example, he was very surprised to learn the fact the the refusal of service to homosexual customers in stores was such a large point of contention in the United States. Similarly, he expressed concern to me and the class over issues of women's rights and police brutality, both of which are problems facing the United States and France alike. Professor Maydat, being consistently concerned with the social problems the United States faces, drew a parallel between education in France and the United States, particularly business school, because his own son had gone through the process of acquiring loans to be able to attend such an institution. In this instance he recognized the common problem of student debt between the two countries. Also on the theme of education, Alain affirmed his support of laïcité, or secularism, which the French Republic upholds. I gathered that while the separation of church and state exists in the United States, it is a value held far more dearly in France. To conclude, Alain once asked us the differences we had noticed during our time in Tours between our respective cultures and France's. I took this opportunity to say that I found the French to be far more quiet and reserved than Americans, a comment with which Alain agreed.
One of my favorite parts of being at the institute has been getting to meet students from not only around the United States but around the world and communicating with them in French. I thought that my friend Jennifer, who is from Taiwan but attends Tufts University in Boston, would be a perfect candidate to gather opinions about the United States because, although she is not a native speaker of French, she went through the first year of college as I did but from a completely different perspective. To best summarize her description of American culture, she used the word "diversity." In Taiwan and in France, the culture is fairly to very homogenous and the parts that do not conform are often confined. While this can be true in the United States, Jennifer found that Americans embrace trying different things and encountering new people. While Americans would love to meet French university students, the inverse is not necessarily true. Moreover, she commented on the pride which Americans have in being American and the individualism which accompanies that. Lastly, she stated that Americans are very friendly and willing to help. I think this is definitely true but I also would like to add that the stereotype that French people are rude is not. Sure, people in Paris can be difficult but one finds elements of that in any large city where everyone is in a rush…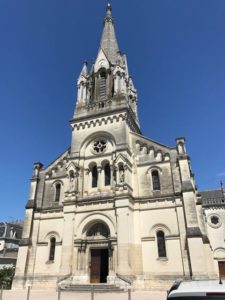 Hôtel de Ville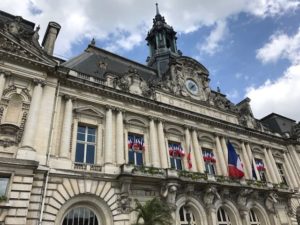 Jardin de Prébendes d'Oé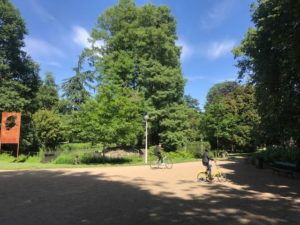 Jardin Botanique