The end of week four at the institute was difficult because many of my friends from other American universities, namely the University of Alabama and Wake Forest University, finished their respective programs and returned to the United States. Fortunately, however, a new "session" of classes starts next week so I have hopes that I will be given the chance to meet more students from across the globe. This Wednesday I took advantage of Tours' public transportation (one of Europe's greatest assets in my opinion) to go to Villandry, the home of a château and accompanying gardens (pictures attached). While my visit was cut short by the rain, I have to say that walking around the perfectly manicured gardens was one of my favorite experiences thus far. I know understand why my host family urged me so much to go. While the château itself is pretty (I did not actually go inside), the gardens are something not-to-be missed. This week I also went to the Basilica of Saint Martin with my host family to get a detailed explanation of Saint Martin's life and the specific components of the "Year of Saint Martin" which has been ongoing for over a year. Last week I went to the bookstore and bought a few books in French, some of them written by Albert Camus, in an attempt to pass my free time in a productive way while making use of the public parks here in Tours (another one of Europe's greatest features). I must say that while it does not happen all of the time, it is rewarding to recognize vocabulary which I have read. Lastly on the cultural front, I attended a light show at the cathedral which actually occur every night during the summer. The illuminations tell the story of Tours in approximately 18 different "scenes" to provide, in the shows entirety, something truly spectacular even without any prior knowledge of the city's past.
In addition to exploring châteaux and trying to catch up with some of France's best known literature, I have worked to expand my knowledge of French culture through talking to native speakers. Considering the absolutely historic elections which have swept France over the past two months, I wanted to learn more about what citizens think of their new president, Emmanuel Macron. While a lot of French citizens have strong feelings toward Mr. Trump (while I am writing this it was announced that he will be in France to help the French celebrate Bastille Day), I have been confused by M. Macron himself and the general public attitude toward him. For a little bit of context, here is some information I gathered from the news and daily discussion in class: Macron defeated Marine Le Pen of the far-right Front National but did so but a historically less significant margin than other candidates. This fact is even more interesting considering the voter turn-out was very low for both the presidential and legislative elections. Furthermore, Macron's "party," Le République En Marche (LREM) is more of a movement than a traditional political party and therefore is not well defined. With these facts in mind, I sought out individuals to get their specific opinions on Macron as an ordinary person and as a political.
Because I have grown closer to my host family during the past four weeks and the fact that we regularly discuss current political affairs over dinner, I decided that it would only be natural to get their opinion on the political environment which seems to transcend multiple facets of daily French life. Being supporters of the traditional right, the party known as Les Républicains, the Laumonnier's were skeptical of Macron's political agenda because they view him as being too liberal on the social front. Moreover, the Laumonnier's expressed their discontent with the future prospects of French education. They fear that the more generous criteria for the BAC, the large exam which students take upon completing high school, will continue under the Macron administration. Lastly, the Laumonnier's called attention to the relationship between Macron and his wife Brigitte who is 25 years his senior. For the Laumonnier's the essential intrigue in Macron's personal life, an intrigue which I believe is not uncommon, is that the relationship between the two started when Macron was a middle school student. Regardless of this fact, the essential problem which Marie-Dominique and Hervé have with Macron's movement is that it is simply too young and not well defined. Simply, Macron was a socialist part minister under François Hollande, with whom the Laumonnier's vehemently disagree and whom they think was overall an unsuccessful president, so they feel that Macron's own political heritage is deeply tainted by these facts.
In addition to interviewing Marie Dominique and Hervé and seeing as I had just recently, I stayed after class one morning to get the opinion of one of my new professors on the entire LREM phenomenon and its long term impacts on the French political scene. Marie-Pierre expresses the sentiment that many people, including some who supported Macron's presidential bid, were becoming increasingly concerned about whether or not the new president would be capable of accomplishing all that he promised. As a teacher Marie-Pierre allowed us to directly engage with the Macron political wave by having us analyze his speech in which he set the stage for his presidency. We, along with Marie-Pierre, came to the consensus that by calling upon historically significant French presidents and making extremely clear the choice which the French people made, Macron demonstrated in implicit and explicit ways the greater role which France can play in international politics. Despite all of the excitement which Macron has generated over the past few months, Marie-Pierre was quick to remind me that voter turnout in this spring's election was markedly lower than it has been historically. Therefore, while Macron gives the appearance of being a unifying force, one must not forget that many French simply did not go to the polls to elect him.
In another interview, I discussed Macron's impact with my other new professor, Sylvie Bertrand, who showed me the picture of Macron's new cabinet and Macron's presidential portrait to help explain some of the impact which Macron has had on French politics. In the photo of Macron's cabinet, the diversity and unity which the new president preaches were noticeable. Despite the unity for which Macron strives, however, Sylvie explained her discontent for the fact that Macron changed the position in charge of women's affairs from the level of minister to secretary, seemingly lowering the position's importance and sending a message that the republic and administration will direct less attention to this issue despite its apparent social liberalism. The real problem in this demotion, however, lies in the fact that as a secretariat position, the "agency" will receive less funding from the national budge. Sylvie put it well by saying that while Macron can project an image of promoting women's rights but his administration with be objectively less capable of promoting them. In terms of the portrait of Macron, every detailed seemed to be meticulously planned from the clock which sat on Macron's desk to the very fact that the portrait depicts Macron inside and in an office rather than outside in a natural setting. Sylvie expressed her admiration for then symbolism contained within the portrait and said that it is a show of good will on behalf of Macron to work diligently to realize what he promised to voters (despite growing doubt).
In a few weeks Macron will meet with both the national assembly and the senate at the Château de Versailles in order to discuss his intentions for his term. Most nearly everyone, regardless of political affiliation, expects him to unveil sweeping changes to the traditional French political system. While it is impossible to know whether Macron's youthful energy and ambitions will lead him to success or failure, one thing is certain; the foundations of French politics have been irreversibly altered.
Garden at Château de Villandry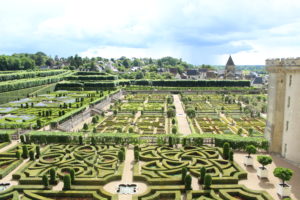 Château de Villandry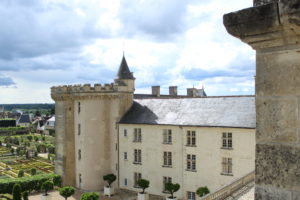 Jardin d'eau at Château de Villandry
Illuminations on Cathédrale Saint-Gatien in Tours