Something really interesting about my classes at SNU is that they feature Korean economics, business, culture, and language. For example, in my marketing class, we often talk about Korean corporations and big conglomerates such as Samsung, Sulwhasoo, Korean Air, Hyundai, and LG. At Notre Dame, I've heard many professors say something along the lines of "Let's focus on the US and not go international" in the context of economics or business. This new perspective, aside from the US-centered one I was used to, was very refreshing and insightful. We often compared and contrasted Korean companies to American companies and had many meaningful discussions. 
On the 26th, I performed and presented my brand audit on Sulwhasoo, a Korean cosmetics brand. This was really my first time thoroughly researching and exploring the various facets of what a brand audit entails.
Friday the 28th was my last day at SNU before having to move out Saturday morning. I knew it would be a bittersweet day as I would have to say my goodbyes to the friends that I have met during these wonderful 5 weeks. As we all travel long and short distances to go back home, whether that be to Canada, California, Philippines , Vietnam, France, Australia, London, or South Bend, Indiana, I know that we will all cherish the moments that we have made in Seoul. To my world-class professors, thank you for introducing me to a world of endless possibilities perspectives and and helping me better discern my path. To my friends, thank you for allowing me to share my culture with you and in return, allowing me to learn about your cultures as well. I was so proud to represent Notre Dame in Seoul and will never forget my enriching summer experience.
After the closing ceremony, my friends and I went all out and explored the city. We stayed up until 5 in the morning, reminiscing on the past 5 weeks and enjoying each other's company one final time. We went to noraebang (karaoke), ate good street food, explored Gangnam, and more.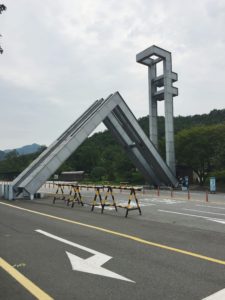 SNU's main gate. Affectionally nicknamed "sha" (샤). This icon points to the university's complete original Korean name "국립서울대학교" which means Seoul (서울) National (국립) University (대학교). By taking the ㅅ, ㄱ, and ㄷ characters, architects were able to construct this avant-garde design. Many visitors and students like to take pictures in front of the sha, not unlike how people who visit Notre Dame take a picture in front of the dome.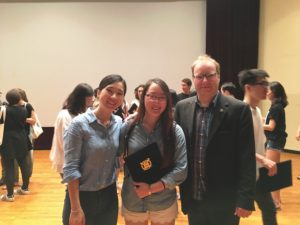 Professor Chris Baumann (Macquarie University, Sydney, Australia) and TA (Ph.D under Baumann at Macquarie)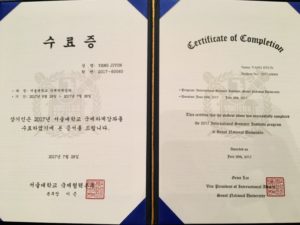 The left side is the Korean version of the right side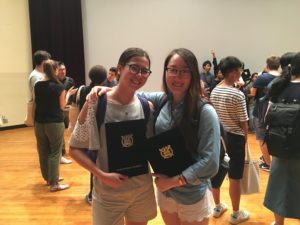 We made it!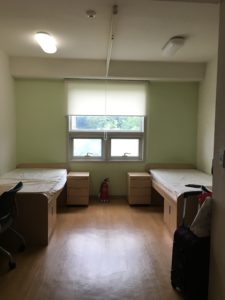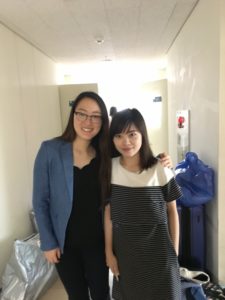 My dorm room after we moved our stuff out//My roommate who is from Hanoi, Vietnam but studies Korean language and culture at her university in Hanoi.