In my final week,  I travelled around a bit and have lots to record, so I won't waste any time!
Last Thursday was a national holiday: Saint Peter and Paul or "Pope's Day," so we had the day off of school and work.  Due to the holiday, the whole house decided to go out together.  Edy took us to a local open-air market type-thing in three taxis and I am almost positive we were the only tourists who graced the "Expo" with our presence.
The fair with my housemates was most definitely a fun way to spend the day, and afterwards, we decided to do some more shopping at a shop in town that gives discounts to volunteers and students associated with Maximo Nivel (my organization). The ladies at the shop love to hug and shower their clients with lots of love, and in our case, this love was showered in the form of dressing everybody up in traditional Peruvian garb for a photoshoot near the storefront.  After our stop at "Asunta,"  I went to the market to pick up something for Rosa and Vaneza, my dear teachers,  in preparation for my final days of classes.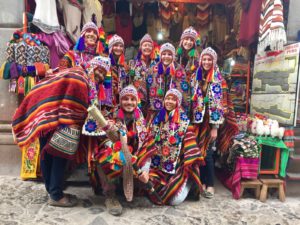 I couldn't quite believe my time was already coming to a close. So, I was sad when my final day of class rolled around, but it didn't really feel like my last day of class. In the night time, instead of dinner at my host family, Vaneza and I went out for Pollo a la Brasa at this chicken place right across the street from my house.  
The next night, I watched Disney's Tangled on Netflix with the Spanish voice-over until around 10:45pm and then called it a night in preparation for my Sacred Valley and Machu Picchu tour. Sidenote: I found that I was really able to grasp a large majority of the movie in Spanish, far more than I would have been able to during the first few weeks.
The first stop was Pisaq in the Sacred Valley.  Pisaq is situated on a hill overlooking a valley and was complete with the classic terraces indicative of Incan agricultural engineering.  In the mountains behind Pisaq is a wall of curiously small holes as though a giant came down from his beanstalk (or in this case maybe a potato stock even though that doesn't exist but, ya know, Peru) and took his giant pencil and poked at the mountain for a while.  Our guide explained that in those holes were once thousands upon thousands of mummies that the Incas had placed in the mountain, but that the Spanish later excavated.  The Quechuan people during the time of the Incas mummified their dead in fetal position and placed them in the earth with the believe that they should go back to the Pachamama (mother earth) the way that they came into the Earth.
After lunch, we went to the Ollantaytambo ruins, which were very interesting, beautiful, and like every activity this week, involved many, many, many stairs.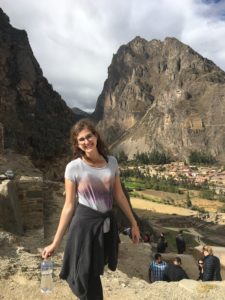 Our train to Aguas Calientes was the next stop after Ollantaytambo and so, our tour guide dropped us all off at the train station about an hour before departure time.  It started to sprinkle a little, but nothing too drastic.  We all boarded the train in time and had a pleasant ride.  We had to wake up at 4am to eat breakfast at 4:30am in the hotel and meet our guide at 4:45am in the lobby.  After a quick breakfast, we all walked down to the bus-top in the dark morning and stood with the long line of tourists and their guides waiting for the buses up the mountain.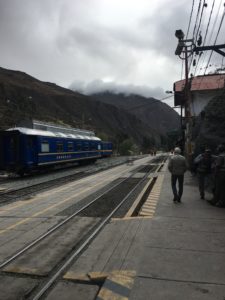 We finally got in a bus around 5:45am and road the windy road up the mountain. The sky was barely lit and it was misty all around.  It felt as though I was in the middle of the jungle of an Indiana Jones movie, or more specifically in the Indiana Jones ride at Disneyland as I was being jostled and jerked around the curves of the jungle-y looking mountain.
When we first arrived in Machu Picchu, we couldn't see much of anything.  There was one point when the guide said, "Alright chicos, look at that tree straight ahead" and I thought "what tree?" For the majority of our tour, Machu Picchu just looked like floating ruins in a mess of thick, white, fog.  
It was all interesting, but I couldn't quite figure out of what it was the everybody was so eager to see and take pictures.  It wasn't until we climbed a little higher and the fog finally disbanded a bit that I realized why 5,000 people a day flock to Machu Picchu.  Atop the hill, I could gazed upon the delicately placed ruins resting at the base of the misty hill in all its grandeur—the classic scene printed on the front of many a postcard.  All of the Inca Ruins that I have seen have been INCAredibly impressive, but this was the most beautiful of all of them just based on sheer location and the gravity of the construction tucked into the lush green hills at the gateway of the Amazon Rainforest.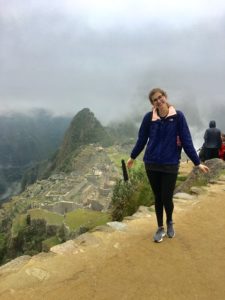 After our guide departed and we were finally able to get a taste of the beauty of Machu Picchu, we decided to start to make our way to the Machu Picchu Mountain trailhead.   In Machu Picchu, there are two additional hikes to a higher elevation on either side of the ruins: Machu Picchu and Huayna Picchu.  Because the path up Huayna Picchu Mountain is extremely narrow, only 500 hikers are allowed up the mountain everyday: 250 in the morning and 250 in the afternoon, and for this reason, if you want to hike Huayna Picchu, you have to book this hike about 6 months in advance.  More hikers are allowed up Machu Picchu mountain, but unfortunately, for me, this is the longer hike.
I don't know exactly how many stairs I hiked up that day, but according to some travel website on the internet, I hike 2,000 steps…so I'm going to go with, I hiked 732,993,938 steps.  The hike up the mountain was all stairs and all stairs for well over an hour and a half.  I huffed and puffed my way up each flight of stairs as we climbed higher and higher into the mist and the fog.
We finally exited the trail and were back near the main attraction where the fog had cleared up a bit more.  We snapped a few additional pictures, took in the sights one last time, and then were on our way…but not without getting the Machu Picchu passport stamp!
A few nights after Machu Picchu, I took an overnight bus to Puno.  The bus, to my surprise, was actually quite nice.  
Our guide came for us at 7 and we took a shuttle to the docks of Lake Titicaca along with a family from Mexico City and a retired Swiss couple.   Our guide was charming and very thorough.  
In the bay of the lake, we first visited the floating islands.  There are about 100 of these floating islands with about 5-6 families living on each island.  They build these islands out of reed and compact dirt-type material and to be quite honest, I am still not quite sure how they build the islands, but however they do it, it is very impressive.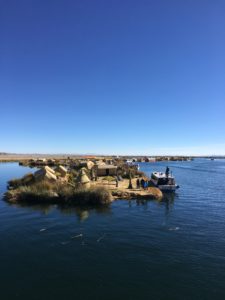 We took a short boat ride, according to the islanders, in the "mercedes benz" of boats to a neighboring island, and then took a two and a half hour boat ride to Taquile Island.
This ride to the island provided for the perfect napping opportunity and before I knew it, we had arrived in Taquile.  Taquile is an agricultural island and because it is situated in deep waters, they do not have a regular trout supply for food.  There are not very many animals on the island, so most of the people are vegetarian.  It wasn't until 1992 that the government sent teachers to the island to educate the people.  To this day, teachers still come to Taquile on Monday and go back to mainland Puno on Friday.  The views from Taquile were absolutely breathtaking and the water shone a deep blue.  For lunch, we ate outside on a little terrace in a family house and had quinoa soup and the choice between trout (supplied almost exclusively for visitors) or an omelette.  I had the omelette, finished my meal with some muña tea (good for settling the stomach) and then we continued back to the boat.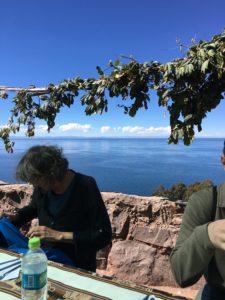 On Friday morning, I took a tour of the Salt Mines and Moray. Out of all works of Inca ingenuity I have seen during my time in Cusco (and I have seen quite a lot or ruins), I think the Salt Mines were the most impressive. The ancient people during the Inca Empire discovered a spring with a high concentration of salt in the water, and decided to construct an intricate irrigation system to direct the flow of the water to different rectangular shaped pools.  Once the pools that they formed filled up with the salty water, the people would obstruct the flow of the water and wait for the sun to evaporate the water, leaving behind the salt.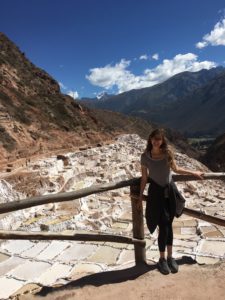 To this day, the people of the community still collect salt with the same system that the Incas implemented.  I found this ancient system of salt collection absolutely fascinating, I think because for me, it was the most tangible encounter with the Ancient Civilization.  For weeks now, I have been learning all about this civilization as I walk on the same ground that the Incas treaded upon years ago, and even amidst all of that I find it quite challenging to really grasp the fact that a once powerful civilization with real people and ideas and a real way of living resided  in the same area where I was going to school and buying street food everyday, just by looking at worn-down and partially-standing stone ruin after stone ruin.  But here, in the salt mines, I could actually see a fully functioning feat of Inca ingenuity at work. The difference between the salt mines and the ruins is that the salt mines are not ruined…they are still functioning just the way they were when the Incas ruled.
After the Salt Mines, we went to Moray, which are circular agricultural terraces. Though there are many theories of the uses of Moray, nobody really knows the real purpose.  Some think that the Incas used these terraces to experiment with different crops and methods of farming.  Supposedly, from top to bottom, each terrace decreases in temperature by a constant degree. Whatever the case may be, it is certainly impressive.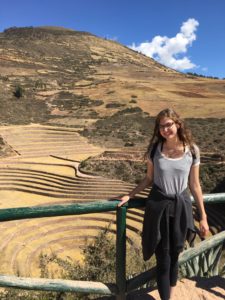 Though by this point, classes were over,  it didn't feel right to leave without saying one last goodbye to Vaneza, my lovely Spanish teacher! I said a quick and emotion-filled goodbye, and walked back home along the same path that I had taken for the last seven weeks for the last time.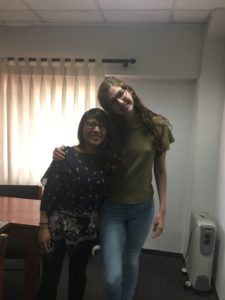 Back at home, I started the tortuous process of packing.  Almost everybody in the house had an excursion planned for the next day which involved an early morning wake-up call, so though it was Friday, nobody really felt like going out after dinner…with my 5am pickup time, I was one of the last ones out of the house for the day!
So, as my little last hurrah, we all went to our favorite bakery for one last slice of chocolate cake. Once back at the house, I said my final goodbyes, sadly headed back up to my room to get ready for bed, and made sure I had everything in order for my departure.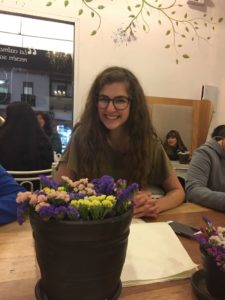 Coming back home is so incredibly bitter-sweet.  Though of course I miss my family more than words can describe and am so thrilled to be able to see them, I am so sad to close the chapter on this wonderful experience.   I have learned so much and am so grateful to the Center for Languages and Culture for making this possible.  My Spanish-speaking ability has increased by leaps and bounds thanks to this amazing opportunity.  Not only was I able to finally hone in on my Spanish skills, but this journey to Peru provided me with an unbelievable cultural experience.  I never would have thought that my first trip outside of U.S. soil would be to Peru, of all places, but I am so incredibly grateful that it was.  
Welp, it seems that is all for this journey!! This Peruvian adventure is over, but I pray there will many more adventures to come!
As the Peruvians say, Chau!