Hola!
This week the house was very full!! One night, everybody in the house went out for picarones (sweet-potato donuts) after dinner, and we filled the whole restaurant.  I really like living in a house with a lot of people.  It not only gives me an opportunity to practice my Spanish, but to engage with people from all over the world.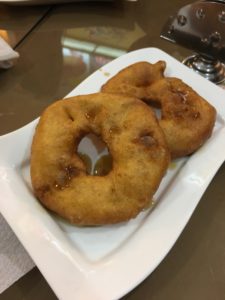 On Friday, my morning teacher, Rosa, cancelled class and sent us on a "cultural-learning tour"…in Spanish, of course!! It was a hot day and our little class of five hiked all over the city.  We were able to explore a little more of San Blas, which is the artisanal district just behind and above the Plaza de Armas.  Our guide took us to a look-out point wherein we could see the whole city.  It took quite a lot of huffing and puffing to get up there, but the view at the top was absolutely breathtaking.  I loved San Blas and the charm of its narrow streets and artsy shops.  I decided then and there that I wanted to come back to San Blas!
During our tour, we also walked around the Quechua museum just beside the Qorikancha. We were able to see the plants that the dyes came from, learn about about Inca folk-tales, and learn a few phrases in Quechua!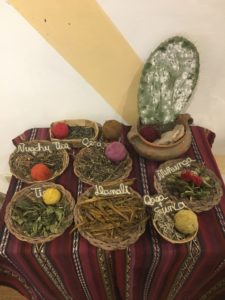 After the tour, a girl from my class and I decided to try a popular vegan restaurant in Cusco. The food was very fresh and absolutely amazing.  The restaurant was small, and they have shared tables which provided an interesting way to meet with other people.  We struck up a conversation with some volunteers from Colorado and also sat next to some women from Germany.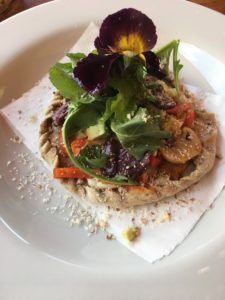 The next day, my host-father's son took a few of us from the house out for sushi.  It was really strange trying to figure out the names of different rolls in Spanish, but fun all at the same time!  Afterwards, I decided to go back to San Blas to do some shopping at the artisanal fair open on Fridays and Saturdays.  This not only gave me the opportunity to shop for souvenirs, but also to interact with the local artists in Spanish.  My favorite interaction happened completely by chance after I randomly wandered down a small pathway just off the San Blas square.  The pathway opened up to a little sculpting-atrium area, shop, and small museum.  I was the only one there and the woman I were able to have a lengthy conversation about the difficulties of learning another language. It turns out that she had been trying to learn English for the past three years and gave some kind words of encouragement.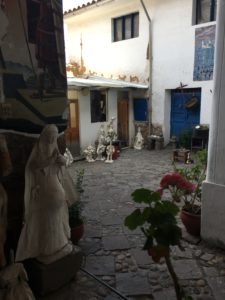 I also learned that I was standing in the house of a renowned Peruvian artist who, during his life, was famous for making statues with distinctive long necks.  Artist, Hilario Mendivil, was inspired by the long necks of the llamas and alpacas, animals characteristic of Cusco, and decided to endow his human sculptures with the same trait. It was a very unique experience, and I am so glad I wandered into the museum!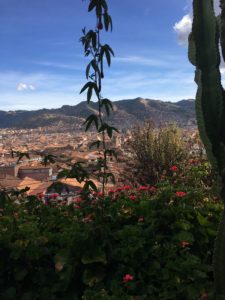 It was a beautiful day, so afterwards, I sat on a ledge overlooking San Blas and read Matilda in Spanish.   I decided to venture up to the higher lookout point to do some reading, and it started to lightly rain.  It was a beautiful and peaceful day in San Blas.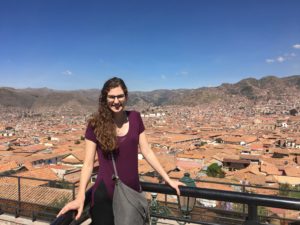 I even discovered the secret entrance to the restaurant that overlooks the whole city.  I ordered a milkshake and tried to read a little more, but I was completely mesmerized by the spectacular view.  The more time I spend in Cusco, the more I fall in love with the city and the beautiful culture!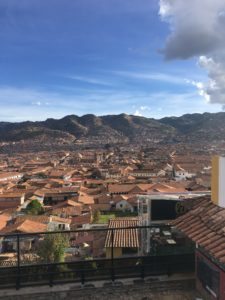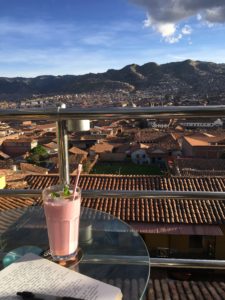 Also! Fun fact: The Quechua flag is rainbow, which means you can even find rainbows in the food!