Hola!
This week got off to a very sweet start…chocolate class! Though Bean to Bar might sound like some new trendy exercise fad or something, I would not recommend this class to the health-minded individual. Let's just say, cut to the end of class and find me spooning liquid milk chocolate with a popsicle stick into my mouth—good times. Overall, it was a high-energy, and very informative class.  We learned how to shell cocoa beans, roast them, and ground them by hand with a mortar and pestle into a paste. From that paste, we made both aztec-style hot chocolate, and hot chocolate with European-Spanish influence.  The Aztec hot chocolate was very bitter and unfortunately not totally true to the original because we omitted the human-blood ingredient 🙁  The hot chocolate with European influence included cloves, cinnamon, more sugar, and milk, which made for a much richer and sweeter hot chocolate!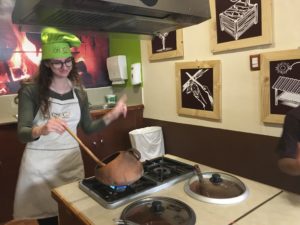 After that, we got to make our own chocolate candies in molds with a whole bunch of add-ins to choose from.  I haven't eaten all of my flower-shaped chocolates yet, but my favorite so far has been the milk chocolate with crushed almonds, brazil nuts, and sea salt.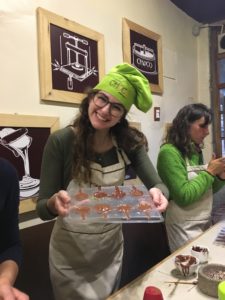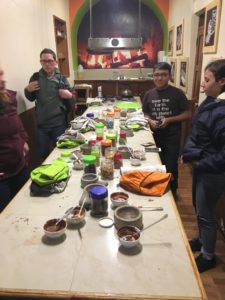 Yesterday, was one of my favorite days because I got to test my comprehension and I really felt like a local! My really spunky, amazing Spanish teacher Vaneza, two other girls, and I went to the movies!  The movie theater was in two-leveled, very American-looking, indoor mall. The movie theater was teeming with people all yelling theater times, seating preferences, and combo numbers in Spanish. I had no idea what was going on amidst all the chaos! Luckily, Vaneza was there to take care of it all and somehow, we ended up in one of the last few seats available for the 6:50pm showing of Mujer Maravilla (Wonder Woman).  They have a very interesting system wherein you must buy your tickets, select your seats, and purchase all your food items in the same transaction at the ticket counters downstairs, and then you have to keep your receipt and take it upstairs to concessions, and you also need that same receipt to get into the theaters. They had this really cool tray contraption that holds both your canchita (popcorn) and sodas and hooks into your armrest!  I really enjoyed the movie and found that it was the perfect choice for the eager-to-learn Spanish student such as myself.  This is because Wonder Woman is an action-packed film, so the dialogue is not too extensive which made the film a bit easier to understand.  I very much loved my theater-going experience!
Vaneza made sure everyone got home safely and walked me right to my door where Edy was happily waiting to heat up my chifa (Chinese food) dinner, despite the fact that it was already 10:00pm, and I was full of popcorn.
Spanish classes are going well. Mornings with Rosa have had a bit of excitement lately with recent strikes.  The bus fare rose from 70 centimos to 80 centimos which led to city-wide bus strike two days in a row.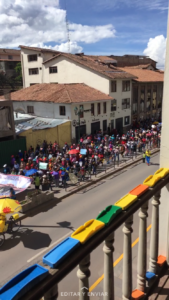 I first experienced the strike when I was walking down the street to school and heard a stampede of people, loud screams, chants, and noisemakers coming from behind me.  Before I new it, a bunch of kids came charging at me, and I quickly dashed down the street and turned the corner to safety.
It wasn't until that same group of people came marching down Avenida el Sol and past my classroom that I learned that it was the University students protesting the bus fares.  The next day, the bus drivers, along with the citizens, also went on strike.  I found it interesting to learn that here in Cusco, the buses are actually owned by the bus drivers and they pay for their own gas and get together with the other people who own buses to decide the bus routes.  This private ownership of buses explains why the buses are named things like "Batman" and "Zoro," but it also explains why the bus drivers went on strike—they collectively raised the bus fare in response to a raise in the price of gas, which they were protesting.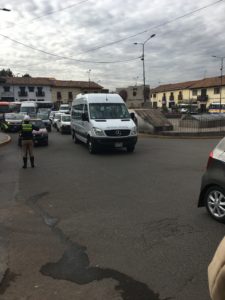 There have also been various other fair-wage protests, which is a serious issue in Peru.  Many laborers work for very little to no pay.  Today, the construction workers were on strike marching past our classroom.
Needless to say, even in the throes of conjugating en el pluscuamperfecto de subjuntivo, there never seems to be a dull moment!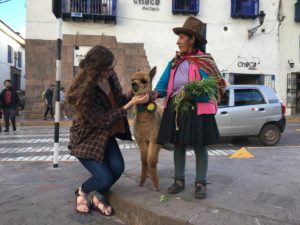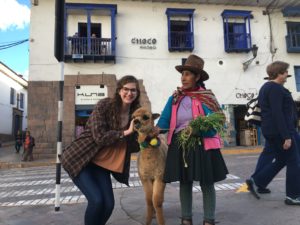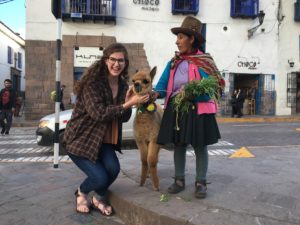 That is all for now!