Hola!
Other than my hour lunch break, I am in class from 9am-4pm, which leaves just enough time after class to do a little something before I have to be back for dinner. This past week was a busy one, so here is a quick overview:
Monday: Museo Inka

Tuesday: Choco Museo tour

Wednesday: Ceramics class

Thursday: Bought two books

Friday: sickness 🙁

Saturday: more sickness and spanish movie watching

Sunday: mass in Spanish, movies in Spanish, recovery!
On Monday, Vitoria (my roommate), two other girls from Maximo, and I, went to the Inca Museum after classes. I love learning about the rich cultural history of Cusco.  It is evident that the Incan roots are very much a part of the culture today.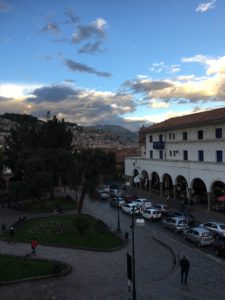 On Tuesday, a few girls and I decided to go to the chocolate museum! The Choco Museo offers free tours, and more importantly free samples. We all decided to sign up for the "Bean to Bar" class that they offer for the following Monday.
On Wednesday, they had a ceramics class at the language school with a renowned Peruvian sculptor. In all truth, I would have paid the 6 soles just to play with a giant wad of wet clay for an hour and a half.  Due to this, I wasn't too devastated when I knocked my cup of water on my clay model of the Qorkichancka just as I was leaving class.  I probably could have salvaged my wet replica, but when I went to pick it up, it broke in right half. I decided that at that point, it was best to just say my final goodbyes and walk away, Qorikancha-less.  
An hour and a half of ceramics class and all I had to show for it was a sad excuse for a cup. One of my housemates (our whole house ended up at ceramics class) mentioned that it kind of looked like a honey jar, so I snagged a random toothpick from the table, inscribed "HONEY" on the side of my creation, and called it a day.  Although I do not think I have a future career in sculpting, I really enjoyed being able to learn a bit more about the significance of different pots throughout Peruvian history.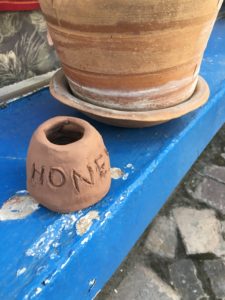 After class on Thursday, I wandered into a little hole-in-the wall bookstore and bought two books in Spanish to practice some reading.  I decided I would buy a classic novel that was originally written in Spanish, which  would serve as a rewarding challenge, and I decided I would also buy a simpler book, just in-case I wasn't up to the challenge quite yet. After standing in the book-store completely overwhelmed with all the choices for far too long, I finally walked out with Matilda by Roald Dahl and Cien Anos de Soledad by Gabriel Garcia Márquez.
Although I might not be quite ready for a book like Cien Anos de Soledad, I think it is a nice tangible language goal. For now, I am really enjoying reading Matilda and being able to write down words and phrases that are unfamiliar and also being able to reinforce the vocabulary and grammar that I have learned.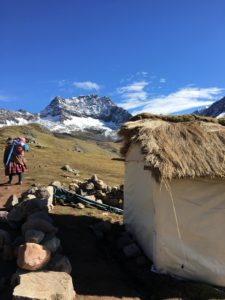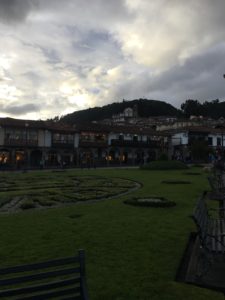 I had planned on going out with the rest of the house after dinner on Friday night, but Friday night had other plans for me.  After dinner, I wasn't feeling very well, so I went to lay down, and I woke up with a fever. My weekend consisted mostly of sleeping and half-conscious movie watching. It wasn't all terrible because Peruvian Netflix has so many more movies to offer than Netflix in the US and I figured out how to change the language to Spanish! The voice-overs are not at all distracting and this way, I didn't feel as though it was a wasted weekend.
Over all, week two of classes in Cusco have been amazing! I am loving having to struggle through the language, and I really feel that I am improving. This experience has been incredible! That is all for now!