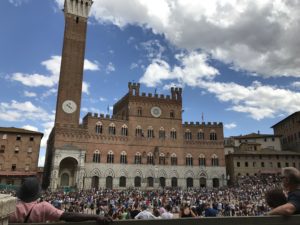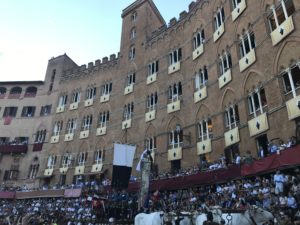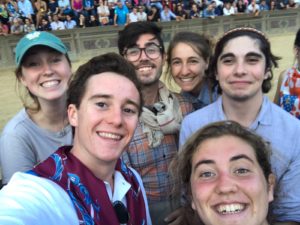 On Tuesday when Rebecca, the teaching assistant in my language class, returned after an absence of a few days and I asked her where she had been, she replied simply: "il Palio". For the Sienese, it is obvious that the four days of the Palio are a culmination of year long preparation and something never to be missed. For a foreigner, it is impossible to understand the exuberance of victory, the crushing pain of defeat, and the centrality of the Palio to the lives of those deeply involved in contrada life.
The two horse races per year are the pinnacle of excitement and surrounded by parades, passionate (inebriated) singing, and festive meals, but there is much more to contrada life than these spectacles. Originally created by the guilds and for military purposes, the contrade are social and family units. Children grow up and learn together, young adults socialize, and adults share a profound connection with their contrada brothers, sisters, nieces, and nephews.
While visiting the Torre (the best contrada), a wise Professor told us that the contrada organizes programming for the children whose parents work during the Palio. During a visit to Pantera with Professore Andrea, I learned that it is not just during the quattro giorni, but all year long that adults in the contrada care for and pass down knowledge and traditions to the younger members.
My host brother, Alfredo, told me about the special bond that forms between young adults of the same contrada. They form very tightly knit social groups which, in his opinion, create negative social divisions. From his perspective, heavily participating in contrada life limits one's social circle and experiences. For example, his ragazza is of the rival contrada to his own and they both choose to limit their participation in their respective contrade. The youth who decide to participate in this lifestyle, however, have an unparalleled community.
The Palio and the contrade are examples of living history. From the centuries old costumes worn during parades with drumming and flag twirling to the communal dinners that fill the narrow medieval streets to their capacity with tables of revelers, those who participate in contrade life embody tradition and create a family.