On my last post I gave my first impressions of Tokyo the city. This time I'm going to go into what ICU campus life is like. And I guess the best place to start off would be the campus itself.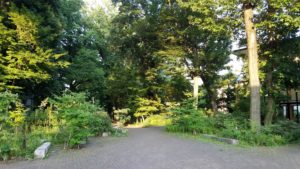 By American standards, ICU has a rather small campus. You can walk nearly the entire perimeter in around 25 to 30 minutes. But despite this, ICU is the largest campus in the greater Tokyo area. The campus is also a stark contrast to the sprawling city in that it's so incredibly green.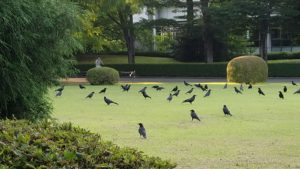 It really is calming to stroll around campus when the weather is more manageable. As you pass the many trees on the campus, you're very likely to be bitten by mosquitoes, cawed at by crows, and distracted by the buzzing of cicadas. Of the three, I'm really only fond of the crows. During my first few days in Tokyo I really didn't like the overgrown, somewhat empty, and small campus, but it has definitely grown on me.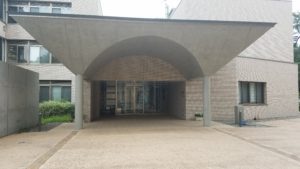 The dorm I live in took a little getting used to. The security system, power management, and trash disposal of all things were similar but strange enough to keep me confused for a few days. Our key cards are used to get into and out of our rooms, the floor we live on, and the dorm itself. They act as a way to check in and out, but ICU's system is a little strange. If you don't sign in with the key card, you can't get out and vice versa. It is actually possible to lock yourself into your room or floor even if you have your key card with you. At first, this was pretty cumbersome, but I adjusted to it well enough.
Then there's the trash… This is more of a general gripe for living in Japan rather than a specific attribute of ICU. Where we Americans have a simple two part disposal system (recycling and non-recycling) in Japan sorting trash is a bit more complex. You have four main categories: combustibles, non-combustibles, paper wastes, and PET bottles. In the first week I often stopped to ask myself "can I set this on fire?" And if the answer was no, I still had to decide whether the non-combustible material should be considered plaster or glass/metal. Weeks later, it's less of a hassle, but just barely.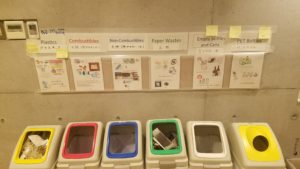 The last and arguably most important part of ICU is the academic experience. Essentially, what's it like to go to school here? The summer courses in Japanese program basically offers one large course centered around learning the Japanese language. Each week we cover new grammar points, improve our listening and reading skills, and learn new words as well as new… kanji.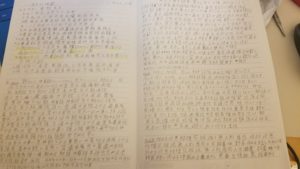 Why does kanji get italicized? Glad you asked. Kanji is easily my least favorite part of the Japanese language. It is one of the three "alphabets" used in Japanese alongside hiragana and katakana. However, where hiragana and katakana are phonetically based like our alphabet, kanji is based on Chinese characters. This means that every symbol is essentially its own word… And there are over 5,000 of them. And unlike Chinese characters where each symbol has its own sound, Japanese kanji can have multiple sounds as well as multiple meanings… And we learn about twenty new kanji every three days. So. Much. Fun. To learn.
Outside of the detestable kanji I genuinely enjoy class. Grammar is fun and interesting to me, and I'm pretty proud of how far my reading and listening comprehension has come since the start of class. Probably the best part of class, however, is being able to interact with native Japanese speakers in new ways. Our teachers are knowledgeable, helpful, and amiable, and they often make it easy to approach them with questions. On top of all of the language study, the course also offers cultural activities for us to participate in. More on those wonderful experiences later.
So that's ICU in a nutshell. I've touched on what I consider all of the major parts of living and studying at ICU. In the next post, I'm going to rave about the cultural activities I managed to go to through the University and how they've help my understanding of authentic Japanese culture grow. Until then, here are some bonus pictures of the campus: