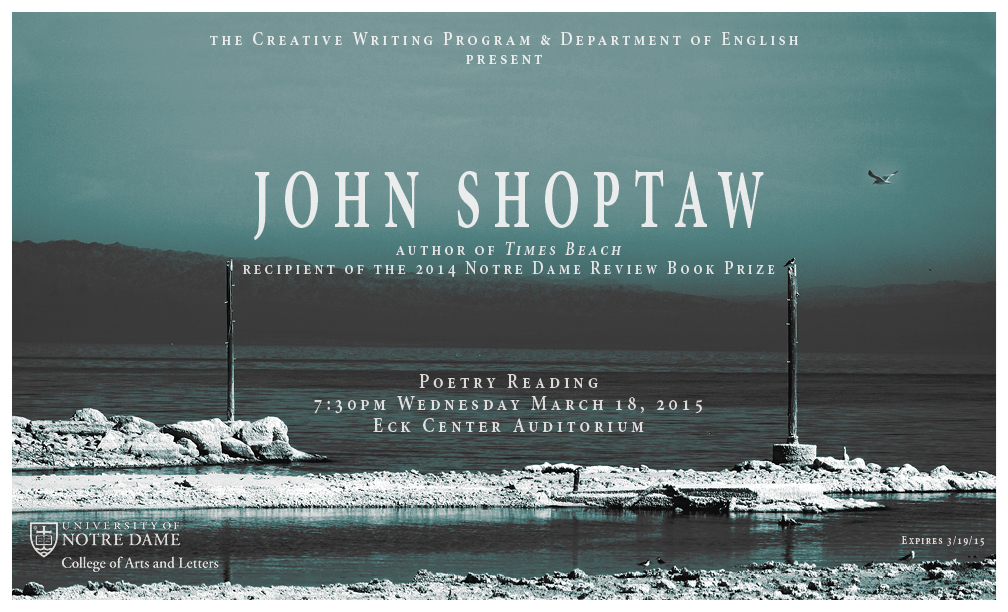 What does it take to win a literary prize? Come and find out with John Shoptaw on March 18, 2014 at 7:30 PM in the Eck Center Auditorium.
John Shoptaw is the second winner of The Notre Dame Review Book Prize. His first collection of poetry, Times Beach, will be published in the spring of 2015 by the University of Notre Dame Press.
Poems from Times Beach have appeared in The Colorado Review, Common Knowledge, The New Yorker, Notre Dame Review, A Smartish Pace, and elsewhere. His other publications include a critical volume, On the Outside Looking Out: John Ashbery's Poetry (Harvard UP) and the libretto for the opera Our American Cousin (BMOP sound; composed by Eric Sawyer).
John Shoptaw was raised in swampeast Missouri. The poems of Times Beach dwell on the time-places of the Mississippi watershed. He teaches ecopoetry and poetry writing in the English Department of the University of California at Berkeley.
This reading is free and open to the public. We hope to see you there!
Kyle Muntz