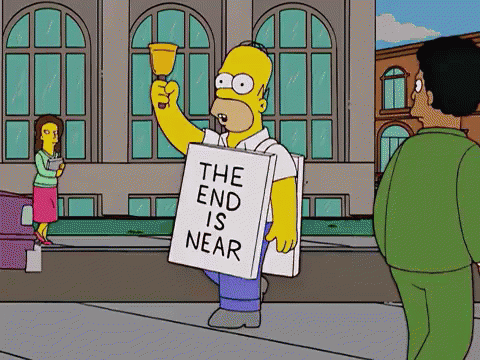 Good news: The End of World is coming, and we will soon be released from our existential crisis! Just kidding, we still have to grapple with this strange world where a random dude will risk being crashed by a car and preach his own "end of world" prophecy with a huge bell on the road when the traffic is the worst. However, aren't you curious about what apocalypse looks like? Will it actually be what the biblical account said that angels will knock at your window at 5 a.m., while you shout that it is not time to work yet, and they will drag you out with your dinosaur pajamas so you don't have a chance to put your nice suit and spray your perfume to be presentable in front of God? Or will all of us just sunk into a bottomless black hole where you saw $$ falling out when banks were torn because they are too big to fit in the hole and you hope it can happen before the end of the world?
At least, fiction writers are interested in the concept of apocalypse. Jeff VanderMeer's trilogy Annihilation, Authority, and Acceptance centers a apocalyptic world beset by environmental damages, and the narrative of survival occurred within that world. All the characters in the novels are  identified by their job titles rather than names. From their journals, we can glimpse into their anxiety about uncertainty of their fate in their exploration of Area X (which resembles a wasteland) after the mysterious codes that revealed to them and the unexpected disappearance of their team members. The innovative and disturbing narrative is worth checking out when Jeff VanderMeer will come to read at Notre Dame.
VanderMeer will read from his latest novel, Borne, at the Eck Center on Wednesday, April 25, 2018, at 7:00PM, and discuss the making of the film Annihilation at a screening at DeBartolo Performing Arts Center on Thursday, April 26, 2018, at 7:00pm. These events are free and open
to the public.
Jeff VanderMeer is the 2016-2017 Trias Writer-in-Residence for Hobart-William Smith College. His most recent fiction is the NYT-bestselling Southern Reach trilogy (Annihilation, Authority, and Acceptance), which won the Shirley Jackson Award and Nebula Award. The trilogy made over 30 year's best lists, including Entertainment Weekly's top 10, and prompted the New Yorker to call the author "the weird Thoreau." The trilogy has been acquired by publishers in 28 other countries, with Paramount Pictures acquiring the movie rights. VanderMeer's nonfiction has appeared in the New York Times, the Guardian, the Washington Post, the Atlantic.com, and the Los Angeles Times. He has taught at the Yale Writers' Conference and the Miami International Book Fair, lectured at MIT, Brown, and the Library of Congress. His forthcoming novel from Farrar, Straus and Giroux is titled Borne. He lives in Tallahassee, Florida, with his wife, the noted editor Ann VanderMeer.
A three-time World Fantasy Award winner and 15-time nominee, VanderMeer  serves as the co-director of Shared Worlds, a unique teen SF/fantasy writing camp located at Wofford College and now entering its tenth year. Previous novels include the Ambergris Cycle, with nonfiction titles including Wonderbook, Booklife, and The Steampunk Bible. Widely regarded as one of the world's best fantasists, Jeff VanderMeer grew up in the Fiji Islands and spent six months traveling through Asia, Africa, and Europe before returning to the United States. These travels have deeply influenced his fiction. He is the recipient of an NEA-funded Florida Individual Artist Fellowship for excellence in fiction and a Florida Artist Enhancement Grant.
His wife Ann VanderMeer was the fiction editor for Weird Tales for five years and won the Hugo for her work there. She now serves as an acquiring editor for Tor.com. She is also an award-winning publisher, and co-editor with Jeff on Best American Fantasy 1 and 2, Fast Ships, Black Sails (pirates), Steampunk 1 and 2, New Weird, The Weird, The Thackery T. Lambshead Cabinet of Curiosities, The Time Traveler's Almanac, and many more. Together, they have taught writing workshops and given lectures all over the world. This literary "power couple" (Boing Boing) has been profiled on Wired.com, NYT blog, and on national NPR.
Ann and Jeff live in Tallahassee, Florida, with two cats.
The reading will be on Wednesday April 25th, 2018, at 7:00 p.m. in the Eck Center Auditorium.
I will see you there.
Best, Lavinia