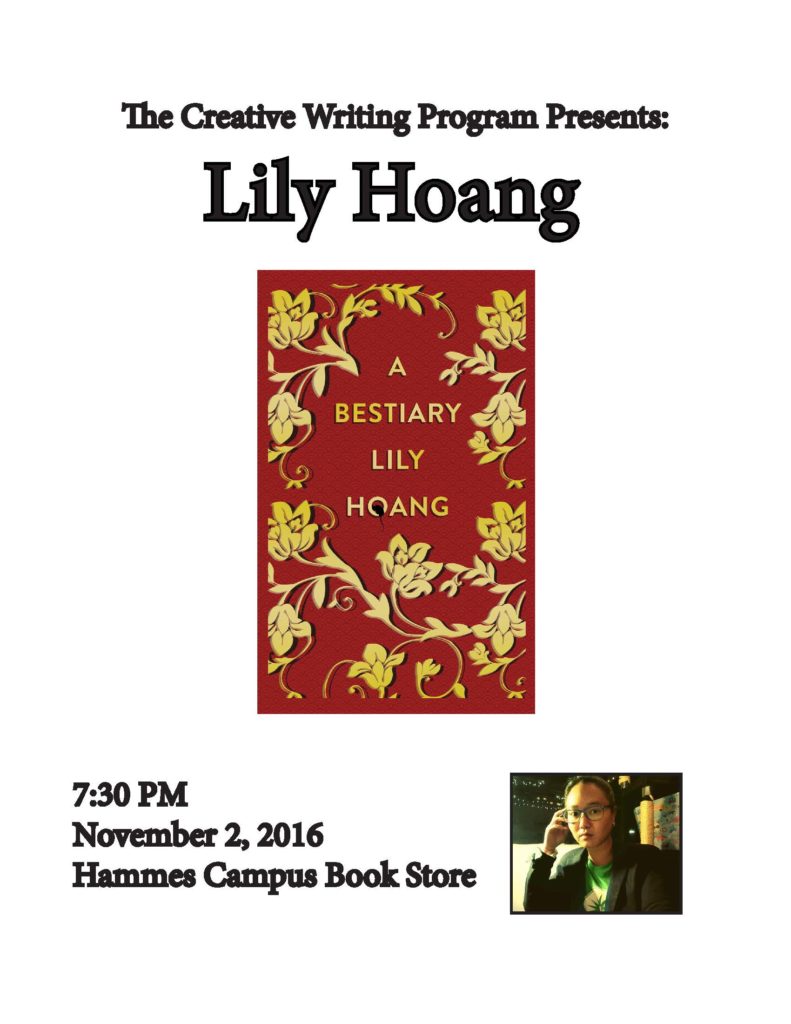 On Writing a Blog About Lily Hoang's Reading
By Moonseok Choi
I trust all of you
have had that moment
curiosity grasps your heart and mind
before Facebook, before Internet
(was there ever such a time)
when research becomes but an excuse,
reading accompanies guilt and secret
yet you skim it once
from the random page it opened on
move backwards
then forwards
close the book, open it
from dedication to acknowledgement
to construct a full reading
out of fascinated peeks of surgical precision,
to enact a one-sided love
mere humans do not deserve.
Yeah, A Bestiary was really good. I might read it again. Poem's over, by the way. But Lily Hoang's reading isn't. She will read Wednesday, November 2, 2016, at Hammes Campus Bookstore on Notre Dame. The reading begins at 7:30 PM. It is free and open to the public.
Lily Hoang is the author of five books, including A Bestiary (winner of the inaugural Cleveland State University Poetry Center's Nonfiction Contest) and Changing (recipient of a PEN Open Books Award). With Joshua Marie Wilkinson, she edited the anthology The Force of What's Possible: Writers on Accessibility and the Avant-Garde. She is Director of the MFA program at New Mexico State University. She serves as Editor at Puerto del Sol and for Jaded Ibis Press. Hoang is interested in narrative in its many guises, whether it is a traditional short story or conceptual experimentation. Although her books have been labeled as "experimental" or "avant-garde," what she loves are narratives, the ways in which a story can happen and influence the reader. She is active in small press publishing and Internet writing communities.
Hoang influenced me alright. I felt an outpouring of things that people might call emotions – pain, laughter, anger, acceptance, grief, and heart just to name a few. They manifested in a public space, where such things must be hidden up sleeves and behind brushed teeth. I'm glad to have had that secret moment, which as the constant irony of the age of social media dictates, is no longer a secret anymore. Yet a shared secret still remains a secret, even when it ostensibly should not be. So do cherish that minute of mine, and perhaps you'll have one of your own to tell me next time.