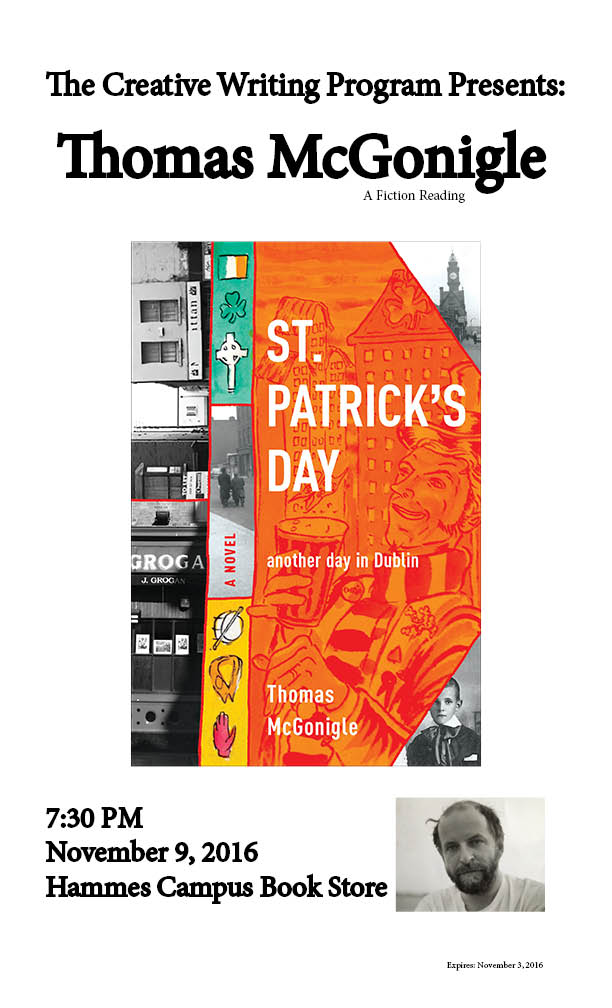 "I've been here for a couple of months now, enough time to eat a barrel full of oranges or train a barrel full of monkeys. I'm trying my best with all that citrus fruit but I can't seem to find any simians. All I have are squirrels. And chipmunks and bunnies, but they have kept their overwhelming fear of humanity."
"I wonder about them. The squirrels. Is it proof of superior intellect that they recognize most humans don't pose a threat? How long has it been since they allowed these lumbering, clothed giants to enter their personal space? Is it genetic or is it learned behavior? Has research ever been conducted by ND biology students? Do you love me?"
We interrupt our unscheduled programming for an important message from our sponsors.
Thomas McGonigle will read Wednesday, November 9, 2016, at Hammes Campus Bookstore on Notre Dame. The reading begins at 7:30 PM. It is free and open to the public.
Thomas McGonigle is the author of novels The Corpse Dream of N. Petkov (Dalkey Archive/Northwestern University Press), Going to Patchogue, (Dalkey Archive), and St. Patrick's Day: another day in Dublin (University of Notre Dame Press), which received the 2016 Notre Dame Review Prize. His poems were published in Arena (Dublin), Poetry Ireland, The Gorey Detail (Ireland), Broadsheet (Dublin) and Screw. His prose was published in various forms in Bomb, Arts Magazine, Los Angeles Times, Chicago Tribune, Newsday, Washington Post, The Gorey Detail, Cream City Review, The Guardian, Notre Dame Review, Art in America and Bookforum. McGonigle is an alumnus of University College Dublin, Beloit College, Hollins College and Columbia University. He worked as a foot messenger for Maple Vail Book Manufacturing Co, NYC for 24 years and taught creative writing at Rutgers University and New York University. McGonigle continues to teach at the City University of New York. He is the founder and editor of Adrift Irish and Irish American Writing.
"By his skillful use of modernist techniques he gives the 'Irish Novel' a long outstanding and much deserved kick up the arse into the twenty-first century." So says Nuala Ni Dhomhnaill, former Ireland Professor of Poetry, on his review of St. Patrick's Day: another day in Dublin. That is high praise indeed, and everyone should come to McGonigle's reading to learn how to kick some arses. I think I'll start with punting campus squirrel studies into the 21st century.
-Moon