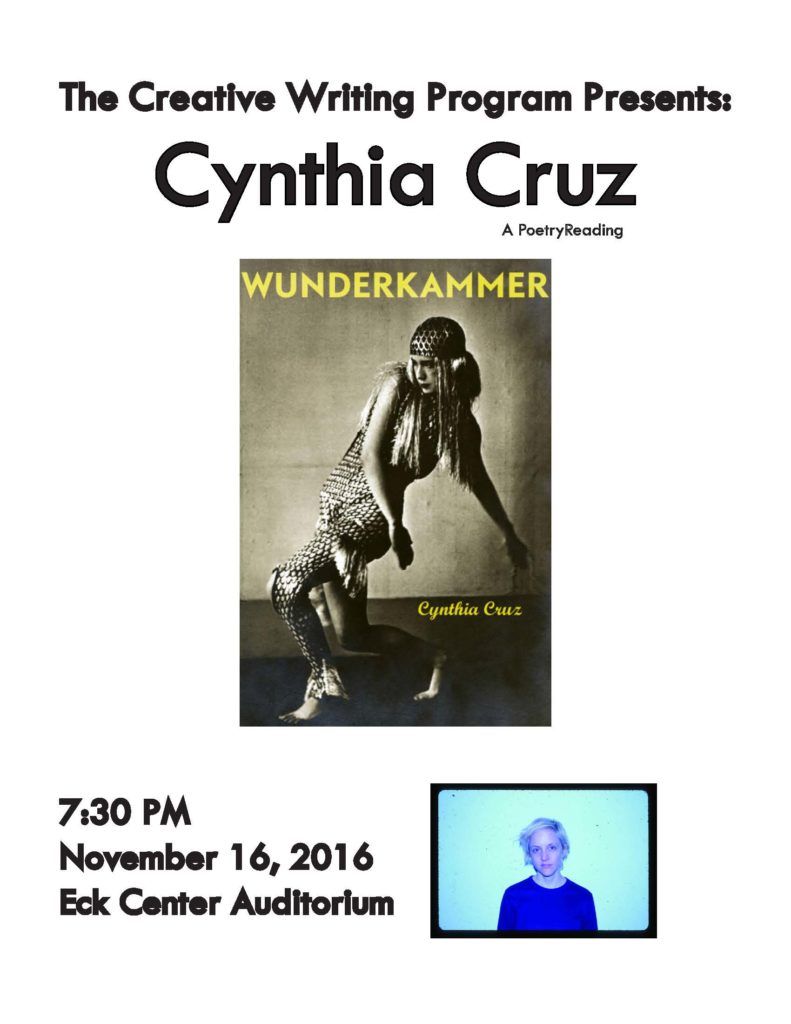 Does anyone know what a Wunderkammer is?
I see you have your hand raised, Wikipedia.
"Cabinets of curiosities were encyclopedic collections of objects whose categorical boundaries were, in Renaissance Europe, yet to be defined. Modern terminology would categorize the objects included as belonging to natural history (sometimes faked), geology, ethnography, archaeology, religious or historical relics, works of art (including cabinet paintings), and antiquities."
Yes, Francesaco Fiorani?
"The Kunstkammer was regarded as a microcosm or theater of the world, and a memory theater. The Kunstkammer conveyed symbolically the patron's control of the world through its indoor, microscopic reproduction."
A most excellent response. Now, can someone tell me why you would title a book of poetry after it?
I guess we'll have to ask the poet herself.
Cynthia Cruz will read Wednesday, November 16, 2016, in the Eck Center Auditorium. The reading begins at 7:30 PM. It is free and open to the public.
Cynthia Cruz is the author of four collections of poetry, with How the End Begins (2016), The Glimmering Room (2012) and Wunderkammer (2014) published by Four Way Books, and Ruin (2006) by Alice James Books. She has published poems in numerous literary journals and magazines including the New Yorker, Kenyon Review, the Paris Review, and the Boston Review, and in anthologies including Isn't it Romantic: 100 Love Poems by Younger Poets (2004), and The Iowa Anthology of New American Poetries (2004). She is the recipient of fellowships from Yaddo, the MacDowell Colony, and a Hodder Fellowship from Princeton University. Cruz teaches writing at Sarah Lawrence College while pursuing a PhD in German Studies at Rutgers University. She has previously taught at the Juilliard School, Fordham University, the Rutgers-Newark MFA Program and Eugene Lang College. Cruz earned her BA at Mills College, her MFA in Creative Writing at Sarah Lawrence College, and her MFA in Art Writing & Criticism at the School of Visual Arts. She and has published essays, interviews, book and art reviews in the LA Review of Books, Hyperallergic, Guernica, The American Poetry Review, and The Rumpus.
So what are the boundaries of Cruz's poetry? What memories has she collected? How is the world controlled and recreated within her poetics? There is no need to answer now. This is all homework, due November 16. Do come if you don't want to flunk.
-Moon