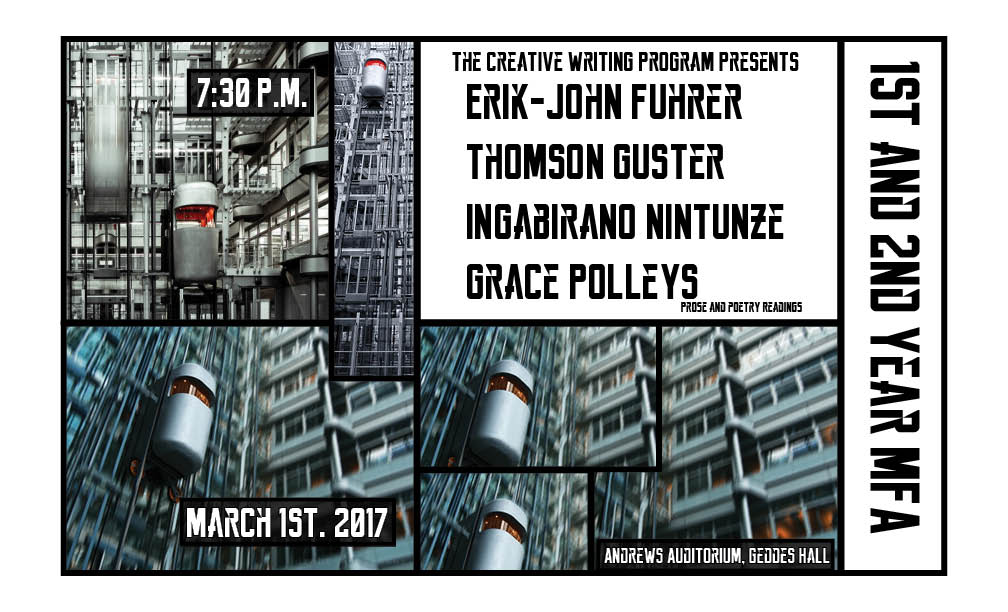 Step right up for your favorite time of the year, excluding bedtime and time to rock. That's right, it's time to get up close and personal with the metaphorically hottest writers in America (or at least Indiana). These word wielders will be reading work that's too fresh and steamy for the general public (at least for now). Have you ever wanted to be where it all happens? Well, this is going to be the center of the creative writing universe (at least for 2 hours).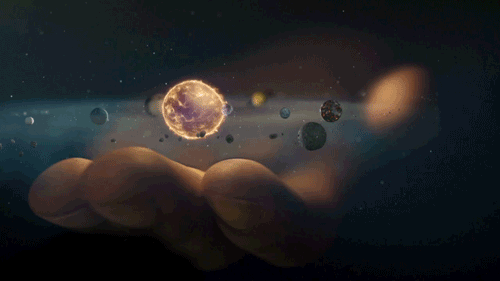 Thomson Guster, Erik-John Fuhrer, Ingabirano Nintunze, and Grace Polleys will read their poetry and prose on Wednesday, March 1, 2017, at Andrews Auditorium, Geddes Hall on Notre Dame's campus. The reading begins at 7:30 PM. It is free and open to the public.
Thomson Guster's recent work includes THE CLONE SAGA, a distorted adaptation of the oft-derided Spider-Man storyline of the same name that explores the empty paranoia of identity, the portability of content across genres and platforms, and the limits of fan fiction; HEAT MAP #10, 'a zine of fictional music writing composed by blind evolutionary logic that amplifies mere snags in the infostream into waveforms that threaten to crash their mode; Op, a series of poems that explore the possibilities for self-expression under deep cover; and Crunch Time, a collection of fight scenes that experiment with duration, intensity, choreography, and the limits of the visual in a textual medium.
Erik-John Fuhrer is currently a PhD student in English and a presidential fellow at Notre Dame. His work has previously appeared in The Long Island Quarterly, First Literary Review East, The Fib Review, The Shotglass Journal, and the Oxonian Review, where he was a finalist for their Third Annual Poetry Competition. Erik's interests lie in literary boundary crossings, manifested most recently in representations of the nonhuman and transgressions between human and nonhuman subjects in modernist literature. He is inspired by hybrid forms of literary expression that elide genre boundaries as well as by quiet, lyric poetry that often achieves the same transgressions more subtly.
Ingabirano Nintunze received a B.A. in English Literature and Telecommunication from Texas A&M University. She has won the Gordone Award for undergraduate poetry and the UWC Writing Award for her short story, "A Midday Train Through Russia." Gabi has worked as a production assistant on several professional video projects, performed as a theatre actress in Austin, Texas, and when she's not writing words, she likes writing music to go along with them. Her writing explores urban and suburban magic, belief systems, genuine representations and romantic tragedy. She likes her protagonists average and her fantasy in excess.
Grace Polleys studied English and music at the University of Denver. Her recent work embodies the spontaneous nature of jazz as well as its chordal complexity and demands the reader's focus to be as strong as the performer. Grace's poetry refuses ego or narrative, and the stories it does tell are distorted and heavily coded, recalling the struggles of constructing AI that can produce creative writing and the inherent, haunting strangeness of the product.
So come one, come all. Bring an open mind and an open mouth to drink up the creative juices, and open really really wide, because there's going to be barrels of it. Feel prose and poetry, fact and fiction, and restraint and release all get messed up in an original brew. This is the past, present, and future that you will witness before anyone else does, if you stop by at Andrews Auditorium on the 1st of March. Believe in me and my hype.