¡Hola! I have been in class for nearly two weeks and am nearing the halfway point of my program this week. I have really enjoyed my classes so far and have definitely recognized improvement on my end in understanding my teachers. Additionally, I see more confidence in myself when approaching native speakers for help, which was definitely a goal of mine coming into the trip.
Now that I have been settled in for over two weeks here, I have been able to go on some cool excursions with ISA this past weekend. On Friday, we had the opportunity to visit a small Mapuche village about thirty minutes outside of Viña. For those unfamiliar with Chilean history, the Mapuche are the indigenous people of Chile. Most of them live in the south of Chile, but there is a pueblo located close to the two cities. We spoke with Patricia, a matriarchal figure in the tribe, who expressed her dissent towards the federal government, which has mistreated her people. Afterwards, we got to enjoy a feast of traditional Mapuche food, which included the popular Chilean food empanadas with a twist.
On Saturday, we had to wake up very early––but for a good reason. We drove out to Cajón del Maipo, a beautiful region located about an hour outside of Santiago, the nation's capital. Straight off the three-hour bus ride, about half of us went ziplining, or canopy, over the river that slices in between the canyons of Cajón del Maipo, while the other half went whitewater rafting through said river. I stand firm in my decision to zipline given that Chile is experiencing winter at the moment. Following our respective activities, the whole group came together for a quick yet nonetheless challenging hike up a trail in the mountains. Despite the difficulties my out-of-shape self faced, the view was totally worth it.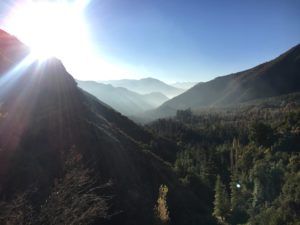 Finally, on Sunday, we drove up the Chilean coast to tour las playas del norte. We visited three unique beaches: Roca Oceánica, Horcón, and Zapallar. Roca Oceánica featured ginormous rocks that we were able to climb and from which we had a distant view of Valpo and Viña. Horcón was a much smaller beach town known for its fishing and seafood, so I had to try a shrimp and cheese empanada, arguably the best empanada I have eaten thus far. Finally, Zapallar was a quieter beach located in a more expensive neighborhood; many of its inhabitants live in Santiago, Viña, or Valpo, and own weekend houses there. Each beach was unique from one another, which made the day even more enjoyable.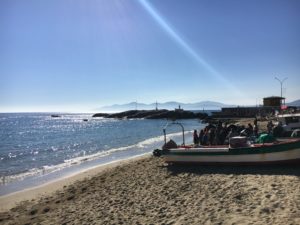 I cannot believe that I only have two and a half more weeks left in this beautiful country! During this upcoming weekend, some friends and I will be traveling to San Pedro de Atacama, and I cannot wait to further explore Chile. Stay tuned!