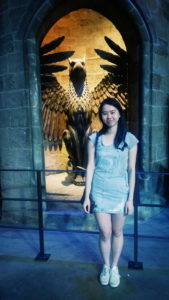 E-mail: hlo@nd.edu
Language: French
Location of Study: Tours, France
Program of Study: L'Institut de Touraine
Sponsors: Nanovic Institute for European Studies, the College of Arts and Letters, and the Center for the Study of Languages and Cultures.
Blog URL: http://sites.nd.edu/sla2018/author/hlo/

A brief personal bio: 
Hello! My name is Ashley Lo and I am a sophomore English major from Pasquerilla West Hall. I grew up in Kaohsiung, Taiwan, spent a few years in Beijing, China in between, and came to the States for college. I'm also studying journalism and involved in school media, as I aspire to be a journalist like Svetlana Alexievich. I'm passionate about social equality, freedom of the press, language and cultures, literature, traveling, and the ocean. I'm fluent in Mandarin and English, and I also know basic Spanish and Taiwanese
Why this summer language abroad opportunity is important to me:
It would not be an overstatement to say that Paris is a literary muse in city form and a necessary pilgrimage to make for a bookworm. The witty genius of Oscar Wilde rests in Cimetière du Père Lachaise; it was on Rue Delambre that Fitzgerald and Hemingway met for the first time; Bastille served as the iconic backdrop of Dickens's Tale; among countless writers, Orwell and Vladimir too breathed croissants and Pȃte à Choux in this moveable feast. France, with its active political scene and rich historical relevance, is unimaginably fascinating for a journalist. In a recent internship hunt, I stumbled upon a Washington Post internship in London only to be dismayed that I'm ineligible due to my lack of fluency in a second European language. For an aspiring foreign journalist, it's not about perfect grammar or marvelous vocabulary, but the ability to engage with locals as an honest bearer of truth. This interaction can only be elegantly done on a personal level, without a translator. French, a language spoken by 29 countries and the most spoken foreign language in the UK, is thus crucial a foreign journalist who wishes to be empowered— and not restrained— by her words.
What I hope to achieve as a result of this summer study abroad experience:
I believe that attending L'Institut de Touraine, staying with a host family, and being fully immersed in a whole new culture and language will be extremely beneficial to my aspiration in becoming a foreign journalist. Not only is language competency vital, I also hope to become more bold and resilient in a place I am totally unfamiliar with. On the journalistic side, I want to be able to conduct interviews in French with the fluency necessary to not disrupt the flow of conversation, allowing my sources to feel comfortable speaking. I want to be more approachable to French speakers– not with perfect French, but a willing and open attitude to engage in their culture by speaking their tongue.
My specific learning goals for language and intercultural learning this summer:
1. At the end of summer, I will have acquired better pronunciation in French. I will be able to have smooth conversations without tripping over my tongue or having to repeat myself constantly.
2. At the end of summer, I will have knowledge of and the capability to discuss politics, social issues and other current affairs with native French speakers.
3. At the end of the summer, I will be able to read and understand French news stories, such as those published by La Croix or Le Monde.
4. At the end of the summer, I will demonstrate the audacity and tolerance for engaging in unfamiliar social, linguistic and culinary interactions on my own.