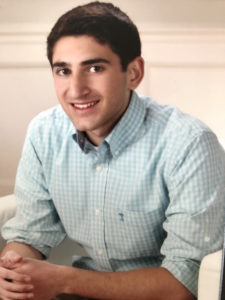 E-mail: dmisiti@nd.edu
Language: Italian
Location of Study: Sorrento, Italy
Program of Study: Sant'Anna Institute
Sponsors: The Albert J. and Helen M. Ravarino Family International Scholars in Italy Award, the College of Arts and Letters, and the Center for the Study of Languages and Cultures
Blog URL: http://sites.nd.edu/sla2018/author/dmisiti/
A brief personal bio:
My name is Domenic Misiti, and I am a junior at Notre Dame majoring in Neuroscience and minoring in Italian. I am originally from Northeast Ohio, and I am now a proud member of the Fisher Hall community here at Notre Dame. I come from an Italian-American family, and I have really enjoyed learning more about my Italian roots through my studies at Notre Dame. I am also a huge sports fan and love all things Cleveland and Notre Dame, and after graduating I hope to attend medical school.
Why this summer language abroad opportunity is important to me:
It has long been a dream of mine to learn the Italian language. Growing up in a big Italian-American family, my Italian heritage has played a huge role in my life, and it's something I am very appreciative of. Going into college at Notre Dame, I decided I wanted to take that appreciation to the next level by finally starting to study the language. I am now six semesters into my education at Notre Dame, and I am happy to say that I have kept my Italian studies a part of it every step of the way. It was also a dream of mine to study abroad in Italy when I first began at Notre Dame, and that dream has only grown with each semester as I have continued my journey towards learning Italian language and culture. I could not be more excited by the opportunity to study in Italy through the SLA grant program. My Italian heritage means so much to me, and I am thrilled for the chance to take my old Italian roots as well as my new Italian knowledge deeper than ever before.
What I hope to achieve as a result of this summer study abroad experience:
I am excited for the opportunity to experience life in Italy while further developing my own understanding of Italian language, culture, and life as a whole. I hope that this summer abroad experience will take my Italian identity deeper than I ever could have imagined. My Italian studies and my Italian roots in general have been a constant part of my life for so long, and now I am eager for the chance to bring my Italian identity to center stage in my life during my time abroad this summer. Overall, I simply hope that my experience in Italy helps me to greatly improve my proficiency in understanding and speaking the Italian language, and that, through life in Italy, I may find a new level of connection with and appreciation for my Italian roots.
My specific learning goals for language and intercultural learning this summer:
By the end of the summer, I will be able to comfortably and competently introduce myself and explain my personal interests and experiences in Italian as well as understand the like from others. By the end of the summer, I will be able to demonstrate increased comfort and confidence in approaching situations of Italian communication that may be above my current comfort level and language abilities. By the end of the summer, I will be able to carry on conversations in Italian with other Italian speakers at a greater speed and accuracy than before through an increased development of proficiency in speaking and listening. By the end of the summer, I will be able to read Italian news and other forms of Italian writing in a way through which, while maybe not understanding everything exactly, I can understand the overall content of the message and be able to summarize the content in Italian myself.