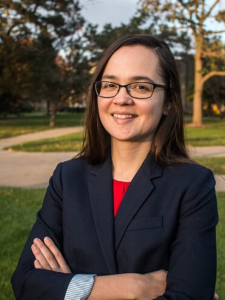 E-mail: sscogin@nd.edu
Language: Nepali
Location of Study: Kathmandu, Nepal
Program of Study: Rangjung Yeshe Institute Intensive Nepali
Sponsors: Kellogg Institute for International Studies, the College of Arts and Letters, and the Center for the Study of Languages and Cultures
Blog URL: http://sites.nd.edu/sla2018/author/sscogin/
A brief personal bio:
I am a PhD student in the political science department. I'm interested in political participation, immigration, education, and post-disaster rebuilding, especially in South Asia. I have a BA from Kenyon College in biology (molecular) and political science and an MA from Marquette University in political science. My professional experience includes living abroad as an elementary school English teacher in Seoul, Korea and working as a Supply Chain Analyst at a county hospital in Minneapolis, MN. I hope to integrate what I have learned from my diverse set of experiences into my future research.
Why this summer language abroad opportunity is important to me:
The SLA Grant will allow me to study Nepali in Kathmandu, Nepal. This opportunity is unique and important since it is a rare language to study in the US and having this language skill will help me with my future fieldwork. The experience will also allow me to get to know the Kathmandu and Nepali communities in an integrated way. For this reason, I am especially excited to live with a host family during the language program.
What I hope to achieve as a result of this summer study abroad experience:
I hope to learn more about Nepal and the communities contained therein as well as to establish a firm foundation of language skills to help my future language studies and fieldwork.
My specific learning goals for language and intercultural learning this summer:
At the end of the summer, I will be able to have general conversations with friends and strangers in Nepali. I will be able to ask questions about their likes, dislikes, experiences, and lives and be able to share about my own. I will be able to read enough Nepali to read news articles and simple novels in Nepali throughout the next academic year. I will be able to write simple documents in Nepali in preparation for future fieldwork.