Dia daoibh! I've been in An Cheathrú Rua for almost a week now and it's still hitting me that I'm here – In Ireland, in Connemara, in Carraroe. An Cheathrú Rua is more beautiful than I ever could have imagined. The houses are nestled into the rocks that line the hills and. I've fallen in love with the stone walls that line the roads and crawl through the fields.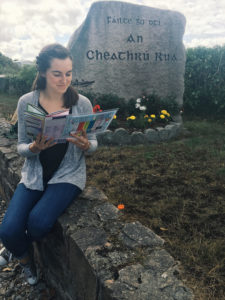 I started the program out in the Elementary course. I was a bit rusty to start and didn't feel quite confident that I would be at the right level to move up to the intermediate. I started out staying in the elementary. Based on the course description, I thought that the course would be a good way to perfect my grammar, and there were a few topics that I hadn't covered yet. However, after a few days in the course, I wasn't feeling challenged and decided to give the intermediate class a try. I moved in after lunch on the second day. I didn't exactly get off to a great start when I was asked by the teacher what I had for lunch today and promptly forgot the word for sandwich. When she asked what was on said sandwich (after I was kindly given the word by a classmate), I also managed to forget the word for cheese, so there was ham on my sandwich and "sin é." Since getting over my nerves, the class is at my level. I feel challenged by some of my classmates who are more advanced than me, but not intimidated. I look forward to learning from them, especially the many linguists we have in our class (It is not uncommon to hear a conversation in Spanish, Portuguese, French, or even Bulgarian pop up even though most everyone's first language is English). While no new grammar concepts have been introduced, I am being challenged with new vocab and to use my Irish in a way that allows me to live in the Gaeltacht.
On Tuesday, we had sean-nos dancing classes. I was tripping over my feet the whole time, but it was a great time. Lots of craic to be had. I look forward to learning more steps and more about the history of sean-nos. It was interesting to hear that of the 18 last Oireachtas winners, 16 were male. Most styles of dance seem to be dominated by females. It doesn't look like I am going to be changing that trend any time soon. On Wednesday, we had sean-nos singing. I wasn't much better at that either. The teacher was a great singer, and although he didn't claim to be a "true" sean-nos singer, he is going to bring his daughters next week, who he says are sean-nos singers.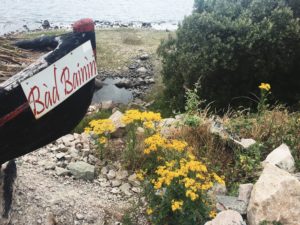 Besides the cultural experiences, the studying, and the classes, the most important (and arguably most difficult) part of this experience is my conversation with the locals. Our house has a mix of levels from beginner to advanced, so we haven't been using Irish with each other at the dinner table or around the house, which is disappointing.  We can't converse together all in Irish, but we've started working together to use Irish phrases for "pass the _____" and "I would like the ____" in addition the hundreds of "go raibh maith agat's" we shower our bean an tí with. I've tried to linger around the kitchen a little longer each night and try to add something to the much more astute and grammatically correct conversations that the advanced students have with her. As I've used more of my Irish, she has been super encouraging.
My proudest moment so far was the conversation I struck up with a local on our walk to the beach on our afternoon off.  We went to Trá an Dóilín.  I had stopped to pet a horse at the house next to his.  My group had walked ahead and so I was straggling behind a bit.  He was standing out by his fence in knee-high wellies.  I returned his "Dia duit" with "Dia is Muire duit" and from there we had a short-lived conversation that went something along the lines of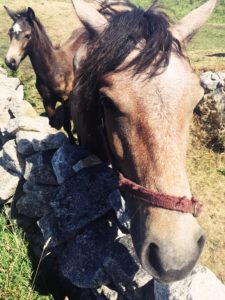 "Are you going to swin?"
"I'm not swimming today, but its lovely out"
"It is lovely, such a nice day"
"Are you on holidays"
"No, I'm learning Irish at the Acadamh"
"Oh, how great, Have a nice day!"
"Goodbye for now!"
It may not sound like much, but I'd like to think it sounded more impressive As Gaeilge.  Even though the coral beach was painful to walk on and I was sunburnt, this short little conversation made the hour long walk more than worth it.