A review of my fourth week in tours, france
"If you are what you eat, then I only want to eat the good stuff." – Remy, Disney/PIXAR's Ratatouille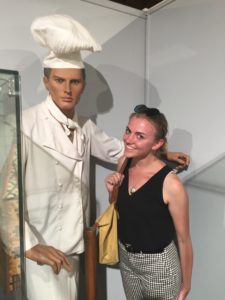 I've passed the halfway point of my time in France, and with only two weeks left, I'm doing my best to appreciate my local favorites (crêperies, boulangeries) and engage in as much conversation as possible. What I've really started to notice this past week is the importance of la nourriture biologique (organic food) and a much more pronounced concern for the environment in general. But this post, I'm going to focus on the food part. Eating biologique, or bio for short, means not using pesticides and keeping your produce purchases local, respecting the season of each food. For example, when I arrived, all of the open-air markets were selling strawberries as it was nearing the end of the strawberry season. Now, when I pass by the fruit stands, the strawberries have been replaced by nectarines and peaches. Of course, the larger grocery stores follow the same track as those in America and import fruits from around the world to keep customers happy. However, the mass-produced, oversized strawberries in the coolers in January definitely pale in comparison to the brightred little berries in wooden boxes that the French go crazy for in May and June.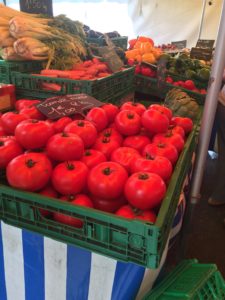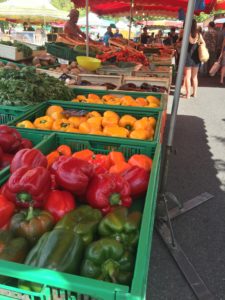 This past Sunday after mass at Sainte Jeanne d'Arc, I met a woman who worked at the open-air market close to my apartment while I was on the hunt for a jar of honey to bring back home. When I started asking her about the different products she sold (which included several cooking oils, tizanes (herbal teas) and herbs and the honey I was searching for), she explained that everything fell into the category of "organic". In fact, it was a super small organization of 9 farmers from the region of the Loire which ensured that everything they sold was from less than 40 km away. The vendor compared her smaller selection of produce to that of the other larger stands which have produce from all over. "You can't always be sure where you're getting your food, and doesn't taste as good." this surprised me because I'd assumed all of the food sold at the open-air markets automatically meant it was local. I guess when I think about it, I did see some stands with avocados and I have yet to hear of avocado farms in France. She added, "even though you have to pay more, the taste of organic, hearty food is better and you don't have to eat as much to feel full." She pulled out her wholegrain bread from her shopping bag to show me and said, "I got this from the cart right over there and it's complet (wholegrain), so it lasts me about a week. I go through a regular baguette a lot faster otherwise." The production and sale of these organic, local food items is a full time job and passion for many, especially once you get into these market settings where (most of) the produce is from local farms. I think the emphasis on good food that has a good flavor is really emphasized because of France's traditional affiliation with gourmet cuisine.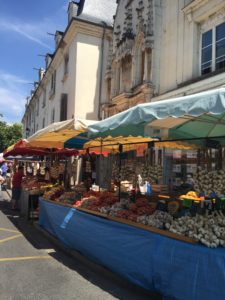 This past week I discovered an open-air market particular to Tours: the foire à l'ail (the garlic fair). It only happens one day of the year, and it was one of the hottest days so far (I think we got to 100 F, but anyway…). The streets around the place du Monstre (Monster Square, named for the contemporary monster statue placed in the middle of a row of trees) were lined with produce stands selling, as you probably guessed, garlic. There were lots of other things for sale, too, and stores in the area took the opportunity to advertise their own wares, garlicky or not. The newest, hottest products added to the fair were chili peppers (also basil, but my pun works better if it's just chilis). My classmate, Catriona, and I were offered cheese from one of the vendors on the street as we searched for refuge from the sun of the awnings over the stands. I took this opportunity to ask this français about this garlic festival and, of course, enjoy some free cheese in the shade. He explained that garlic was the orignal and more traditional item because it's grown in the Touraine region, basilique (basil) and piments (chili peppers) come from the south of France where climates are warmer. Since it's their season as well, and farmers want to reach more of the population, chili and basil plants have started to make an appearance over the last few years. While this fair isn't strictly local or bio, I thought it was another good example of France's appreciation of the food it produces.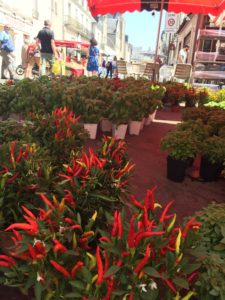 In the classroom, we stick more to the fundamentals of what it means to have organic food in France. That along with ecological concerns has been a major subject of discussion over the past week. The two definitely become interwoven when pesticides and overproduction are brought up. Food is everything in France and many are worried with just how much their agriculture is affecting their health and that of the rest of the environment. This is the driving factor behind the move towards organic and local foods and the creation of the AB (agriculture biologique) label in 1985 to certify that the food meets certain standards like no pesticides or GMOs.
So I have two weeks left and I've since moved up to level C1 in my classes meaning we are focusing more on advancing conversational skills through understanding cultural references and recent events in France. I haven't had as much time to focus on a personal journal in French (I was a bit ambitious at the start of the program), but I'm reading more French news sources, engaging in more French conversations, and enjoying more of Tours as my time in France is more and more limited.
Tout mon amitié ! // In friendship!