When I arrived in France, it welcomed me with rail strikes, about which I had received several traveling alerts. Due to "La grève SNCF" (société nationale des chemins de fer français), the two-hour train from the airport to Gare de Tours was prolonged to four hours, raising the cost to 70 euros. On the train to Tours, at first the announcement was in both French and English; but soon, it was only in French, which was incomprehensible to me at that point (though I took French for one year, the crew spoke too fast and the liaison made the announcement hard to understand). Therefore, when I transferred in a little town in southern France, I was not able to confirm whether I took the right train heading to Tours or I got on the the wrong one taking me to some placesunknown to me. Luckily, I arrived in the Gare at 5:35p.m. and my host family had already waited me there for half an hour. Before I actually lived with a French family, I thought taking the intensive courses for a year would have prepared me well at least for the daily conversation. However, when I actually facing my gentle host parents, I found myself deaf and mute. With fatigues and frustrations, I didn't get jet lag on first night in France, but I was worried for the classes starting on the next day.
On the second day of school, I met Ana, my classmate at Notre Dame, who had been in Tours for seven weeks. Since she knew everything well in the city and the institut, I profited from her familiarity—-on the second day of school, also my third day in France, I went to La Guinguette, the bar by La Loire. It was actually chill; all we did was sitting by the shore and talking in French (though I listened and pretended I understand most of the time).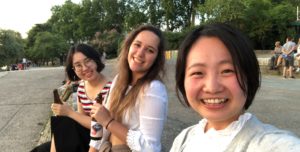 Thanks to Ana, I also befriended with a Japanese girl named "Kae" from the institute (the girl who held the camera in the picture above). It was probably due to the popularity of L'institut de Touraine in north america, I arrived with some more than a hundred english speakers from Canada and US. It was not a huge institute, so the students there were predominantly english speakers, and it was so easy to just hang out with the Americans but one did not come to France to speak English. Therefore, when I befriended with Kae, who couldn't speak English at all, I was forced to speak French all the time (not really, sometimes people in my class talked in English), which was a great exercise for me. If I chatted with an English speaker in French, I could easily use a english word hidden in French accent (since english and french share their words), and he/she would understand, but it wasn't because I knew the correct word in french, but because he/she knew that english word. So when I talked to a non-English speaker, I had to find another way to explicate, and there was no switch between english and french.
My first week had gone fast: I just got over the jet lag, made some new friends and that's it!