Leaving An Cheathrú Rua is going to be the hardest thing.  Although I know I will be back to Ireland, I can't say that I will ever be able to experience Ireland in this way again.  Living in rural Ireland, rather than just visiting, has been such a changing experience.  Living in the Gaeltacht is challenging, but the people here are so proud of their language and want you to learn Irish that they want you to have the best experience.  Sometimes this means slowing down while they speak or repeating something in English explaining what they meant, but they have never been condescending about our relative lack of knowledge compared to their fluency.  They don't use Irish as a reason for them to be better than the American college students taking over their town, but rather as an experience that they want to share with you, that they want you to enjoy.  I won't ever have the community of Irish language surrounding me like I do in Carraroe.  I enjoy the rhythm of the days here- class, tea, class, lunch, class, walk home, dinner, pub (try to find live music), walk home again. I have bought a box of Barry's tea, but I won't be drinking it alongside my friends with Digestive biscuits and the random Irish / English conversation as the advanced, intermediate, and beginner speakers try to mix their common knowledge and communicate.
As I prepare to leave Carraroe, I had not purchased any sort of souvenir.  I hadn't run across anything that I felt I needed or really captured what I wanted to remember about my time here.  I ran into this necklace in Galway, with the Celtic Harp symbol as the charm. While everyone usually thinks of Claddagh and Shamrock symbols as symbols of Ireland, the harp is actually the national emblem of Ireland and is found on the coins (as well as the Guinness pint glasses). While I've heard of a variety of meanings of the symbol, one that I was told is that it represents the tradition of song and story in Ireland. Upon hearing this, I knew that this symbol was something that I wanted to remember Ireland by.
The traditional music sessions, especially when we traveled out to Ros a Mhíl, are some of my favorite memories of the trip. In Ros a Mhíl, we would sit in a small room with anywhere from 4-10 musicians who brought their instruments (or voices) that week. They would play the guitar, violin, concertina, harmonica, or different percussion instruments.  There was no set list or plan, they just showed up with their talents and played.  They never seemed like they were playing for us, just for themselves and the joy of sharing the music.  One would start a song and then anyone else that knew that song would join in.  If it was a song that everyone knew, the people in the pub would join in singing too. Only one musician could keep everyone from joining in, only so that they could hear every note she sang and played: Roisin. Only 18 years old, she played both the guitar and concertina beautifully and had such an incredible voice. She even danced sean nos for us a couple of times and, unsurprisingly, was also incredibly talented at that. Even though everyone in the pub knew the words to "Óró Sé do Bheatha 'Bhaile," they refrained and only sang the lyrics to the chorus because of her incredible voice. But joining her and everyone in the pub in song brought everyone together.  Every week we go to this session, I am in awe and I always say that there is nowhere in America that even comes close to this experience.  These sessions might be the thing that I miss the most.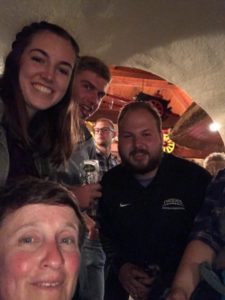 Coming from the US to Ireland, I was not expecting the frequency of conversations surrounding Donald Trump to dramatically increase. Even in rural Carraroe, every local wants to know what you think of Donald Trump. When we were studying adjectives, one of the people we were tasked with describing was Donald Trump, and our young teacher made it clear that we did not have to make an effort to describe him using any positive adjectives. Even my bean an tí's mother wanted to know my feelings on Trump. The conversation got to Donald Trump starting with her feelings on guns in Ireland v. the United States (Ireland having some of the strictest gun regulations in Europe). The consensus in Ireland regarding Trump is an altogether negative one, although without many specific reasons, just a negative view because of the things he says, he is perceived very negatively, even by the older more conservative generation.